Body Awareness for Better Sex
Even if you have body dysmorphia (and/or gender identity disorder), it is possible to attune to your inner energetic channels and enjoy sex more. Even if you have a great relationship with your body, you will still take away from this workshop. We will utilize different movement modalities, including yoga and dance, to explore our bodies in new ways that help increase neuroplasticity and improve interpersonal neurobiology. But no experience is required. Please come as you are – able bodied or disabled by our ableist society; cis, trans and/or some other gender; heterosexual, queer and/or other sexualities are all welcome here. Sex worker(?), you too deserve a chance to love and accept your body and are more than welcome. The instructor has experience with all of these marginalized bodies.
No late entry will be allowed due to the intimate nature of this workshop. Doors will be locked at 10 minutes after the start time.
Water available. Please bring your own cup or bottle.
Open to all 18+
All sexes, genders, races, ethnicities, sexual orientations, relationship orientations, bodies, body types, abilities welcome and celebrated.
Questions may be directed to: [email protected]
Scholarships available.
Please let us know by email if you have any access needs or things that would aid in your learning.
Space Accessibility information: Held at Gallery Erato which is a street level space. One step up is required to enter. A ramp is available for anyone in need. The top floor, where the workshop will be held, is wheelchair accessible. There are two gender neutral restrooms on the top floor. Please avoid wearing any fragrance. Facial masks will be required and proof of vaccination or a negative test taken just prior to class.
About the Educator: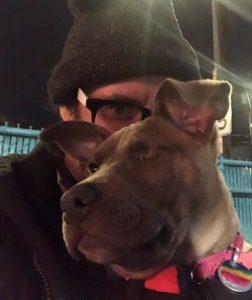 As someone who has been historically excluded from dance and most yoga studios as a gender nonconforming queer trans person, smitty has worked to overcome many barriers in order to access movement spaces. They are now a (certified 200 hour) Yoga Instructor through Poseurs' School of Magic. They have studied modern, lyrical, hip hop and Gaga with Danielle Agami, Isaiah Tilman, Dani Tirell and more. Their work has been performed at the Sex Workers Art Symposium, On the Board's Open Studio, the Winngstad (pdx), Mt.Tabor Theatre (pdx) the Broadway Performance Hall, Theatre Off Jackson, Tacoma Art Museum, etc and at many a burlesque show. In 2004, they started the only QT artist nonprofit focused on intersectional identities, the Conspiracy of Geniuses (CoG). Most recently they graduated from the TAT Lab, a training lab based that teaches artists to incorporate social justice into their curriculum. More information about smitty at smittybuckler.com. More information about CoG at ConspiracyofGeniuses.org.

This event is presented by the Pan Eros Foundation. Please go to Pan-Eros.org for more information.

Even if you have body dysmorphia (and/or gender identity disorder), it is possible to attune to your inner energetic channels and enjoy sex more. Even if you have a great relationship with your body, you will still take away from this workshop. We will utilize different movement modalities, including yoga and dance, to explore our bodies in new ways that help increase neuroplasticity and improve interpersonal neurobiology. But no experience is required. Please come as you are – able bodied or disabled by our ableist society; cis, trans and/or some other gender; heterosexual, queer and/or other sexualities are all welcome here. Sex worker(?), you too deserve a chance to love and accept your body and are more than welcome. The instructor has experience with all of these marginalized bodies. Purchase tickets here! No late entry will be allowed due to the intimate nature of this workshop. Doors will be locked at 10 minutes after the start time. Water available. Please bring your own cup or bottle. Open to all 18+ All sexes, genders, races, ethnicities, sexual orientations, relationship orientations, bodies, body types, abilities welcome and celebrated. Questions may be directed to: [email protected] Scholarships available. Please let us know by email if you have any access needs or things that would aid in your learning. Space Accessibility information: Held at Gallery Erato which is a street level space. One step up is required to enter. A ramp is available for anyone in need. The top floor, where the workshop will be held, is wheelchair accessible. There are two gender neutral restrooms on the top floor. Please avoid wearing any fragrance. Facial masks will be required and proof of vaccination or a negative test taken just prior to class. About the Educator: As someone who has been historically excluded from dance and most yoga studios as a gender nonconforming queer trans person, smitty has worked to overcome many barriers in order to access movement spaces. They are now a (certified 200 hour) Yoga Instructor through Poseurs' School of Magic. They have studied modern, lyrical, hip hop and Gaga with Danielle Agami, Isaiah Tilman, Dani Tirell and more. Their work has been performed at the Sex Workers Art Symposium, On the Board's Open Studio, the Winngstad (pdx), Mt.Tabor Theatre (pdx) the Broadway Performance Hall, Theatre Off Jackson, Tacoma Art Museum, etc and at many a burlesque show. In 2004, they started the only QT artist nonprofit focused on intersectional identities, the Conspiracy of Geniuses (CoG). Most recently they graduated from the TAT Lab, a training lab based that teaches artists to incorporate social justice into their curriculum. More information about smitty at smittybuckler.com. More information about CoG at ConspiracyofGeniuses.org. This event is presented by the Pan Eros Foundation. Please go to Pan-Eros.org for more information.

&media=">

Even if you have body dysmorphia (and/or gender identity disorder), it is possible to attune to your inner energetic channels and enjoy sex more. Even if you have a great relationship with your body, you will still take away from this workshop. We will utilize different movement modalities, including yoga and dance, to explore our bodies in new ways that help increase neuroplasticity and improve interpersonal neurobiology. But no experience is required. Please come as you are – able bodied or disabled by our ableist society; cis, trans and/or some other gender; heterosexual, queer and/or other sexualities are all welcome here. Sex worker(?), you too deserve a chance to love and accept your body and are more than welcome. The instructor has experience with all of these marginalized bodies. Purchase tickets here! No late entry will be allowed due to the intimate nature of this workshop. Doors will be locked at 10 minutes after the start time. Water available. Please bring your own cup or bottle. Open to all 18+ All sexes, genders, races, ethnicities, sexual orientations, relationship orientations, bodies, body types, abilities welcome and celebrated. Questions may be directed to: [email protected] Scholarships available. Please let us know by email if you have any access needs or things that would aid in your learning. Space Accessibility information: Held at Gallery Erato which is a street level space. One step up is required to enter. A ramp is available for anyone in need. The top floor, where the workshop will be held, is wheelchair accessible. There are two gender neutral restrooms on the top floor. Please avoid wearing any fragrance. Facial masks will be required and proof of vaccination or a negative test taken just prior to class. About the Educator: As someone who has been historically excluded from dance and most yoga studios as a gender nonconforming queer trans person, smitty has worked to overcome many barriers in order to access movement spaces. They are now a (certified 200 hour) Yoga Instructor through Poseurs' School of Magic. They have studied modern, lyrical, hip hop and Gaga with Danielle Agami, Isaiah Tilman, Dani Tirell and more. Their work has been performed at the Sex Workers Art Symposium, On the Board's Open Studio, the Winngstad (pdx), Mt.Tabor Theatre (pdx) the Broadway Performance Hall, Theatre Off Jackson, Tacoma Art Museum, etc and at many a burlesque show. In 2004, they started the only QT artist nonprofit focused on intersectional identities, the Conspiracy of Geniuses (CoG). Most recently they graduated from the TAT Lab, a training lab based that teaches artists to incorporate social justice into their curriculum. More information about smitty at smittybuckler.com. More information about CoG at ConspiracyofGeniuses.org. This event is presented by the Pan Eros Foundation. Please go to Pan-Eros.org for more information.

">