Current Art Show
Gallery Erato is pleased to offer artists who create works of art that explore themes of sexuality, gender, relationships, identity, orientation, and love a place to showcase their work. Due to the often explicit nature of the art we show, we do not have photos available online. Please contact our staff to arrange for a virtual or an in-person viewing of the current show.
Getting to and parking at Gallery Erato

Gallery Erato is an art gallery and event space located in historic Pioneer Square. The physical address is 309 1st Ave S Seattle, WA 98104. (map)
When attending events at Gallery Erato, we encourage the use of public transit or a ride share to Pioneer Square. The Gallery is within a quarter mile to bus stops and a light rail station. If traveling by car, consider taking transit from a park-and-ride. For parking a car, we recommend using Call To Park or DowntownSeattleParking.com because both of these sites offer real-time pricing and space availability.
Street parking in Pioneer Square is free after 6pm and on Sundays. Please note that while parking is free on Sundays, there is a still a time limit and your car must be moved every 2 hours. Parking enforcement patrols the neighborhood seven days a week.
Pan Eros Foundation is not responsible for parking fees or parking tickets that may be incurred while attending Pan Eros events. Please check in with event staff about reentry before leaving to update parking, as many of our events lock the doors after a certain time. (Call To Park allows the option of renewing your parking from your smartphone.)
Please do not leave valuables visible in your car; put them in your trunk or bring them inside with you. We have a coat check room available to attendees. Depending on the event, coat check will either be free and self-serve, or staffed with a suggested donation.
Accessibility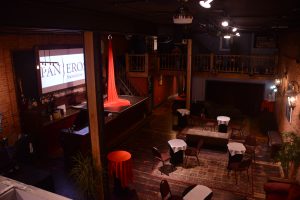 This 6000+ square foot space spans 2 floors. The ground floor Gallery is fully accessible. There is a 3″ lip at the front entry and a portable ramp is available upon request. The lower level Studio is currently only accessible by stairs.
Bathrooms are marked with braille signs. We have the ability to give educators microphones to assist with hearing challenges. Please allow our staff to help out with any other accessibility issues during any event you may be attending. You may also email us at [email protected] in regards to accessibility.
Due to its status as a historic building, we are limited to what kinds of changes we can make to the building. We are constantly investigating and working toward improved accessibility throughout the Gallery and Studio.
Art Gallery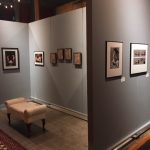 Gallery Erato features a rotating selection of artists whose works focus on sexuality, gender, orientation, identity, relationships, and social mores. With a special focus on works of art that depict or explore "alternative" sexuality, Gallery Erato aims to provide a space to understand and honor the joy in all sexual and romantic expressions. We believe that art can build bridges of understanding and acceptance, as well as providing affirmation to under-represented communities and populations.
Art shown on the Gallery walls changes every four to eight weeks. Smaller original works and merchandise such as prints, books, or pins are often available after a show ends, while supplies last. The Gallery is open for browsing and shopping every Thursday from noon until 6pm, with extended open hours until 9pm every First Thursday as part of Pioneer Square's First Thursday Art Walk.
If you are interested in having your art shown at Gallery Erato, please apply via this online form.
Event Rentals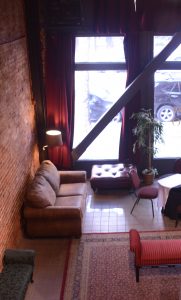 Gallery Erato is available to rent for your private or public event. Please email our Rental Manager at [email protected] for more information, availability, and quotes.
You can download the floor plans here:
309-1st-Ave.-Maud-Building-Main-Floor.pdf
309 1st Ave. Maud Building Basement Floor
Land Acknowledgement
The Pan Eros Foundation acknowledges that our organization gathers on the unceded, traditional land of the tribal nations in Washington. The ancestral homelands of those American Indian tribes that have inhabited this place for centuries, include the Chehalis, Colville, Cowlitz, Hoh, Jamestown S'Klallam, Kalispel, Lower Elwha Klallam, Lummi, Makah, Muckleshoot, Nisqually, Nooksack, Port Gamble S'Klallam, Puyallup, Quileute, Quinault, Samish, Sauk-Suiattle, Shoalwater Bay, Skokomish, Snoqualmie, Spokane, Squaxin Island, Stillaguamish, Suquamish, Swinomish, Tulalip, Upper Skagit, and Yakama. In addition, Pan Eros Foundation recognizes the Duwamish, Wanapum, and Chinook; tribes working for recognition by the U.S. federal government and have a long history in present-day Washington.
This acknowledgment only becomes meaningful when combined with accountable relationships and informed actions and is a first step in honoring the land we are on and their people. We encourage you to find ways to take action to support these communities. We suggest visiting Missing & Murdered Indigenous Women USA as a place to learn more.