Exploring Sexuality and Identity through Writing
When:
October 8, 2022 @ 3:00 pm – 5:00 pm
2022-10-08T15:00:00-07:00
2022-10-08T17:00:00-07:00
Where:
Gallery Erato
309 1st Ave S
Seattle
WA 98104

"When I discover who I am, I'll be free." ― Ralph Ellison, Invisible Man
A growing source of rich clickable content is derived from stories exploiting culture, ethnicity, race, social class, sexual orientation, gender and other identity markers. Is exploring identity in writing still relevant in our society today where identity is bought and sold as a commodity? Can we undo internalized bias and oppression or is it simply narcissistic? How do you, as someone with a privileged identity, sit next to someone without? This class is for anyone whether or not you have one, none or several marginalized identities. For those with privileges, we will push into how deconstructing identity helps develop an accomplice attitude. For those with marginalizations, we will explore how self love can combat internalized bias. For those with both (most everyone) we will do some of both.This class draws from decolonizing methodologies and poets with multiple identities. We will explore how identity of different types can be used to create writing that is both thought-provoking and meaningful.
No late entry will be allowed due to the intimate nature of this workshop. Doors will be locked at 10 minutes after the start time.
Water available. Please bring your own cup or bottle.
Open to all 18+
All sexes, genders, races, ethnicities, sexual orientations, relationship orientations, bodies, body types, abilities welcome and celebrated.
Questions may be directed to: [email protected]
Scholarships available.
Please let us know by email if you have any access needs or things that would aid in your learning.
Space Accessibility information: Held at Gallery Erato which is a street level space. One step up is required to enter. A ramp is available for anyone in need. The top floor, where the workshop will be held, is wheelchair accessible. There are two gender neutral restrooms on the top floor. Please avoid wearing any fragrance. Facial masks will be required and proof of vaccination or a negative test taken just prior to class.
About the Educator: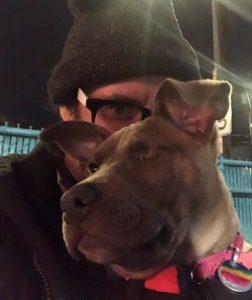 As a queer teenager, smitty escaped their homophobic home and rural town to Spokane where they connected with supportive community and first started leading art and writing classes. They envisioned classes where the students led and helped create curriculum. Over twenty years later this ethos of utilizing alternative pedagogies has shaped them as a professional teaching artist and social justice activist with a focus on marginalized identities. In 2004 they started the NW's only QT artist nonprofit focused on intersectional identities, the Conspiracy of Geniuses (CoG). Most recently they graduated from the TAT Lab, a training lab based that teaches artists to incorporate social justice into their curriculum. More information about smitty at smittybuckler.com. More information about CoG at ConspiracyofGeniuses.org.

This event is presented by the Pan Eros Foundation. Please go to Pan-Eros.org for more information.

"When I discover who I am, I'll be free." ― Ralph Ellison, Invisible Man A growing source of rich clickable content is derived from stories exploiting culture, ethnicity, race, social class, sexual orientation, gender and other identity markers. Is exploring identity in writing still relevant in our society today where identity is bought and sold as a commodity? Can we undo internalized bias and oppression or is it simply narcissistic? How do you, as someone with a privileged identity, sit next to someone without? This class is for anyone whether or not you have one, none or several marginalized identities. For those with privileges, we will push into how deconstructing identity helps develop an accomplice attitude. For those with marginalizations, we will explore how self love can combat internalized bias. For those with both (most everyone) we will do some of both.This class draws from decolonizing methodologies and poets with multiple identities. We will explore how identity of different types can be used to create writing that is both thought-provoking and meaningful. Purchase tickets here! No late entry will be allowed due to the intimate nature of this workshop. Doors will be locked at 10 minutes after the start time. Water available. Please bring your own cup or bottle. Open to all 18+ All sexes, genders, races, ethnicities, sexual orientations, relationship orientations, bodies, body types, abilities welcome and celebrated. Questions may be directed to: [email protected] Scholarships available. Please let us know by email if you have any access needs or things that would aid in your learning. Space Accessibility information: Held at Gallery Erato which is a street level space. One step up is required to enter. A ramp is available for anyone in need. The top floor, where the workshop will be held, is wheelchair accessible. There are two gender neutral restrooms on the top floor. Please avoid wearing any fragrance. Facial masks will be required and proof of vaccination or a negative test taken just prior to class. About the Educator: As a queer teenager, smitty escaped their homophobic home and rural town to Spokane where they connected with supportive community and first started leading art and writing classes. They envisioned classes where the students led and helped create curriculum. Over twenty years later this ethos of utilizing alternative pedagogies has shaped them as a professional teaching artist and social justice activist with a focus on marginalized identities. In 2004 they started the NW's only QT artist nonprofit focused on intersectional identities, the Conspiracy of Geniuses (CoG). Most recently they graduated from the TAT Lab, a training lab based that teaches artists to incorporate social justice into their curriculum. More information about smitty at smittybuckler.com. More information about CoG at ConspiracyofGeniuses.org. This event is presented by the Pan Eros Foundation. Please go to Pan-Eros.org for more information.

&media=">

"When I discover who I am, I'll be free." ― Ralph Ellison, Invisible Man A growing source of rich clickable content is derived from stories exploiting culture, ethnicity, race, social class, sexual orientation, gender and other identity markers. Is exploring identity in writing still relevant in our society today where identity is bought and sold as a commodity? Can we undo internalized bias and oppression or is it simply narcissistic? How do you, as someone with a privileged identity, sit next to someone without? This class is for anyone whether or not you have one, none or several marginalized identities. For those with privileges, we will push into how deconstructing identity helps develop an accomplice attitude. For those with marginalizations, we will explore how self love can combat internalized bias. For those with both (most everyone) we will do some of both.This class draws from decolonizing methodologies and poets with multiple identities. We will explore how identity of different types can be used to create writing that is both thought-provoking and meaningful. Purchase tickets here! No late entry will be allowed due to the intimate nature of this workshop. Doors will be locked at 10 minutes after the start time. Water available. Please bring your own cup or bottle. Open to all 18+ All sexes, genders, races, ethnicities, sexual orientations, relationship orientations, bodies, body types, abilities welcome and celebrated. Questions may be directed to: [email protected] Scholarships available. Please let us know by email if you have any access needs or things that would aid in your learning. Space Accessibility information: Held at Gallery Erato which is a street level space. One step up is required to enter. A ramp is available for anyone in need. The top floor, where the workshop will be held, is wheelchair accessible. There are two gender neutral restrooms on the top floor. Please avoid wearing any fragrance. Facial masks will be required and proof of vaccination or a negative test taken just prior to class. About the Educator: As a queer teenager, smitty escaped their homophobic home and rural town to Spokane where they connected with supportive community and first started leading art and writing classes. They envisioned classes where the students led and helped create curriculum. Over twenty years later this ethos of utilizing alternative pedagogies has shaped them as a professional teaching artist and social justice activist with a focus on marginalized identities. In 2004 they started the NW's only QT artist nonprofit focused on intersectional identities, the Conspiracy of Geniuses (CoG). Most recently they graduated from the TAT Lab, a training lab based that teaches artists to incorporate social justice into their curriculum. More information about smitty at smittybuckler.com. More information about CoG at ConspiracyofGeniuses.org. This event is presented by the Pan Eros Foundation. Please go to Pan-Eros.org for more information.

">