The Modern FemDom – Creating Female Lead Relationships in 2020
When:
August 25, 2020 @ 7:00 pm – 9:00 pm
2020-08-25T19:00:00-07:00
2020-08-25T21:00:00-07:00
Cost:
Tickets range from $20-$45
This is a deep dive class on what it means and how to create a modern FemDom power exchange dynamic. This class will cover discovering who you are as a FemDom. What are you looking for in a submissive partner. How to accept service from your submissive partner as a strong independent woman. How to negotiate 24/7 partner dynamics. How to communicate better in your relationship and much more.
This is an online class via Zoom. You must purchase your ticket in advance. Ticket sales end at 5:00pm on the day of the workshop. Instructions for access will be emailed to you before the workshop begins.
Class time is listed in Pacific Time. Use this Time Zone Converter to see what time the class will be for you: https://www.timeanddate.com/worldclock/converter.html
No late entry will be allowed due to the intimate nature of this workshop. Access will be blocked at 10 minutes after the start time.
Open to all 18+
All sexes, genders, races, ethnicities, sexual orientations, relationship orientations welcome and celebrated.
Scholarships available to those in need.
Questions may be directed to: [email protected]
About the Educator: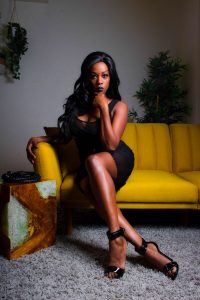 Madame Posh is a Texas based Kink Activist, Lifestyle Educator, and Event Producer, who has been living an alternative kink lifestyle since 2014 based in Dallas-Fort Worth, Texas. Posh, focuses all her projects on creating better spaces for marginalized communities, particularly for BlPOC's and POC's. As a pan-sexual cis-female dominant, self-professed nerd, and politically incorrect goth diva, Posh has been an active part of the DFW & national kink scene since 2017. This proper sailor-mouthed lady delights in welcoming new kinksters to the alternative lifestyle family, the community, and anything DC Universe or GOT. She is passionate about creating authentic inviting spaces for alternative lifestyle and sex education, creating intense unique experiences using the art of BDSM, and everything to do with power exchange and FLR. Her passionate love for the art of rope bondage grows deeper every time she pulls the jute through her fingers and she revels in every opportunity to nurture her skills and continue her spiritual exploration of rope bondage. "Uh, could we add some rope to this?"

She is the owner and producer of DFW KEW 2020, ABE 2021, and is launching multiple projects for the kink community for 2021. June 5th, 2020, she created the Kinky Activist Support Fund or K.A.S.F. Org. K.A.S.F. Org is a non-profit kink organization that supports activists and marginalized communities, through fundraising and direct donations to kinksters. Currently, K.A.S.F. Org is supporting Black Lives Matters and activist working towards the movement. We raise funds to directly aid our kinky community members who are on the front lines of fighting against injustices; currently K.A.S.F. Org has raised over $7000. (https://www.kinkyasf.org/)

She co-leads a rope bondage educational group called BANK and hosts the YouTube channel "The MP Experience" that focuses on sharing knowledge and her learning experiences through her kink journey. She has educated at RopeCraft Austin 2019, Snowbound 2020, TASSP 2019 and at local Dallas groups such as BANK, Modern Mistresses United, Kink or Bust, SILK, and Radical Femme Dommes on topics from primal rope to slave dances to caregivers and littles dynamics.

She has been a featured in a documentary on Barcroft Media's series "Extreme Love", as an interviewee on YouTube BDSM Educator "Evie Lupine's" Channel, performed at RopeCraft Austin 2018, a special guest on the podcast "Someone You Should Know" hosted by Jared Herzogs, special guest interview on 214radio.com's "The Man Lounge" Show with Franky and the Dude and was interviewed for the kinky educational fancon "The Darker Side of Spice."

Madame Posh | [email protected]
IG/Facebook/Twitter | @madameposh @thempexperience @kasforg @thefactorydfw
YouTube Channel | The MP Experience
FetLife | MadamePosh
Websites | www.thempexperience.com www.kinkyasf.com www.thefactorydfw.com
Pronouns | Perceived, I seriously don't care.
Community Labels | Cis-gender Queer Black Woman, Lifestyle FemDom, Sadist, Kink Activist, Educator, Event Producer

This is a deep dive class on what it means and how to create a modern FemDom power exchange dynamic. This class will cover discovering who you are as a FemDom. What are you looking for in a submissive partner. How to accept service from your submissive partner as a strong independent woman. How to negotiate 24/7 partner dynamics. How to communicate better in your relationship and much more. Purchase Tickets Here! This is an online class via Zoom. You must purchase your ticket in advance. Ticket sales end at 5:00pm on the day of the workshop. Instructions for access will be emailed to you before the workshop begins. Class time is listed in Pacific Time. Use this Time Zone Converter to see what time the class will be for you: https://www.timeanddate.com/worldclock/converter.html No late entry will be allowed due to the intimate nature of this workshop. Access will be blocked at 10 minutes after the start time. Open to all 18+ All sexes, genders, races, ethnicities, sexual orientations, relationship orientations welcome and celebrated. Scholarships available to those in need. Questions may be directed to: [email protected] About the Educator: Madame Posh is a Texas based Kink Activist, Lifestyle Educator, and Event Producer, who has been living an alternative kink lifestyle since 2014 based in Dallas-Fort Worth, Texas. Posh, focuses all her projects on creating better spaces for marginalized communities, particularly for BlPOC's and POC's. As a pan-sexual cis-female dominant, self-professed nerd, and politically incorrect goth diva, Posh has been an active part of the DFW & national kink scene since 2017. This proper sailor-mouthed lady delights in welcoming new kinksters to the alternative lifestyle family, the community, and anything DC Universe or GOT. She is passionate about creating authentic inviting spaces for alternative lifestyle and sex education, creating intense unique experiences using the art of BDSM, and everything to do with power exchange and FLR. Her passionate love for the art of rope bondage grows deeper every time she pulls the jute through her fingers and she revels in every opportunity to nurture her skills and continue her spiritual exploration of rope bondage. "Uh, could we add some rope to this?" She is the owner and producer of DFW KEW 2020, ABE 2021, and is launching multiple projects for the kink community for 2021. June 5th, 2020, she created the Kinky Activist Support Fund or K.A.S.F. Org. K.A.S.F. Org is a non-profit kink organization that supports activists and marginalized communities, through fundraising and direct donations to kinksters. Currently, K.A.S.F. Org is supporting Black Lives Matters and activist working towards the movement. We raise funds to directly aid our kinky community members who are on the front lines of fighting against injustices; currently K.A.S.F. Org has raised over $7000. (https://www.kinkyasf.org/) She co-leads a rope bondage educational group called BANK and hosts the YouTube channel "The MP Experience" that focuses on sharing knowledge and her learning experiences through her kink journey. She has educated at RopeCraft Austin 2019, Snowbound 2020, TASSP 2019 and at local Dallas groups such as BANK, Modern Mistresses United, Kink or Bust, SILK, and Radical Femme Dommes on topics from primal rope to slave dances to caregivers and littles dynamics. She has been a featured in a documentary on Barcroft Media's series "Extreme Love", as an interviewee on YouTube BDSM Educator "Evie Lupine's" Channel, performed at RopeCraft Austin 2018, a special guest on the podcast "Someone You Should Know" hosted by Jared Herzogs, special guest interview on 214radio.com's "The Man Lounge" Show with Franky and the Dude and was interviewed for the kinky educational fancon "The Darker Side of Spice." Madame Posh | [email protected] IG/Facebook/Twitter | @madameposh @thempexperience @kasforg @thefactorydfw YouTube Channel | The MP Experience FetLife | MadamePosh Websites | www.thempexperience.com www.kinkyasf.com www.thefactorydfw.com Pronouns | Perceived, I seriously don't care. Community Labels | Cis-gender Queer Black Woman, Lifestyle FemDom, Sadist, Kink Activist, Educator, Event Producer

&media=">

This is a deep dive class on what it means and how to create a modern FemDom power exchange dynamic. This class will cover discovering who you are as a FemDom. What are you looking for in a submissive partner. How to accept service from your submissive partner as a strong independent woman. How to negotiate 24/7 partner dynamics. How to communicate better in your relationship and much more. Purchase Tickets Here! This is an online class via Zoom. You must purchase your ticket in advance. Ticket sales end at 5:00pm on the day of the workshop. Instructions for access will be emailed to you before the workshop begins. Class time is listed in Pacific Time. Use this Time Zone Converter to see what time the class will be for you: https://www.timeanddate.com/worldclock/converter.html No late entry will be allowed due to the intimate nature of this workshop. Access will be blocked at 10 minutes after the start time. Open to all 18+ All sexes, genders, races, ethnicities, sexual orientations, relationship orientations welcome and celebrated. Scholarships available to those in need. Questions may be directed to: [email protected] About the Educator: Madame Posh is a Texas based Kink Activist, Lifestyle Educator, and Event Producer, who has been living an alternative kink lifestyle since 2014 based in Dallas-Fort Worth, Texas. Posh, focuses all her projects on creating better spaces for marginalized communities, particularly for BlPOC's and POC's. As a pan-sexual cis-female dominant, self-professed nerd, and politically incorrect goth diva, Posh has been an active part of the DFW & national kink scene since 2017. This proper sailor-mouthed lady delights in welcoming new kinksters to the alternative lifestyle family, the community, and anything DC Universe or GOT. She is passionate about creating authentic inviting spaces for alternative lifestyle and sex education, creating intense unique experiences using the art of BDSM, and everything to do with power exchange and FLR. Her passionate love for the art of rope bondage grows deeper every time she pulls the jute through her fingers and she revels in every opportunity to nurture her skills and continue her spiritual exploration of rope bondage. "Uh, could we add some rope to this?" She is the owner and producer of DFW KEW 2020, ABE 2021, and is launching multiple projects for the kink community for 2021. June 5th, 2020, she created the Kinky Activist Support Fund or K.A.S.F. Org. K.A.S.F. Org is a non-profit kink organization that supports activists and marginalized communities, through fundraising and direct donations to kinksters. Currently, K.A.S.F. Org is supporting Black Lives Matters and activist working towards the movement. We raise funds to directly aid our kinky community members who are on the front lines of fighting against injustices; currently K.A.S.F. Org has raised over $7000. (https://www.kinkyasf.org/) She co-leads a rope bondage educational group called BANK and hosts the YouTube channel "The MP Experience" that focuses on sharing knowledge and her learning experiences through her kink journey. She has educated at RopeCraft Austin 2019, Snowbound 2020, TASSP 2019 and at local Dallas groups such as BANK, Modern Mistresses United, Kink or Bust, SILK, and Radical Femme Dommes on topics from primal rope to slave dances to caregivers and littles dynamics. She has been a featured in a documentary on Barcroft Media's series "Extreme Love", as an interviewee on YouTube BDSM Educator "Evie Lupine's" Channel, performed at RopeCraft Austin 2018, a special guest on the podcast "Someone You Should Know" hosted by Jared Herzogs, special guest interview on 214radio.com's "The Man Lounge" Show with Franky and the Dude and was interviewed for the kinky educational fancon "The Darker Side of Spice." Madame Posh | [email protected] IG/Facebook/Twitter | @madameposh @thempexperience @kasforg @thefactorydfw YouTube Channel | The MP Experience FetLife | MadamePosh Websites | www.thempexperience.com www.kinkyasf.com www.thefactorydfw.com Pronouns | Perceived, I seriously don't care. Community Labels | Cis-gender Queer Black Woman, Lifestyle FemDom, Sadist, Kink Activist, Educator, Event Producer

">