Living Art
The body is the most sublime canvas. Adorning with paint and make-up celebrate the inherent beauty of each body. Join us for a delightful evening of creativity, beauty, and exhibitionism.
On Saturday, September 21st, be an appreciator or become living art!
The fun starts as soon as doors open at 9pm and and don't end until it's time to go home at 2am.
Watch the creation of art on the bodies of models and other party-goers. Professional bodypainter, Allie Hanlon, will create a masterpiece on stage over the course of the evening. Allie says, "At the end of the day, the work I enjoy the most is what connects to my heart. Geometry, Nature and Spirituality are a huge inspiration for me. I connect with body painting on a soul level. The human canvas is full of endless possibilities, there is nothing quite like it."

Purchase a session with one of our bodypainters for an artistic experience. The sensation of paint applied to bare skin is delightfully decadent. Each session is 30 minutes and includes collaboration time with one of our artists. 30 minutes is enough time for a simple full torso painting, or a detailed painting on a body part, such as the back. Multiple sessions can be combined for more elaborate paintings.
Take advantage of one of the self-serve, complimentary painting stations. We will have a variety of paints and brushes available to unleash your creativity. (Paints are non-toxic and water-soluble, though some staining of the skin may occur.) You are also welcome to bring your own supplies to express your creativity on yourself or your partner. (We also have a Starter Kit available for purchase. With this kit, you will have the basics to have fun painting during the evening. Plus supplies left over to take home for more body painting later!
Celebrate through movement!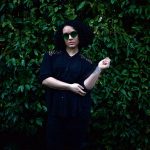 Our DJs will keep the dance floor hopping and your creative energy flowing. We are excited to have Succubass and Cody Morrison of High+Tight fame on the decks.
Succubass is the alias of Jessica Duran, a member of the local collectives TUF and H&T. She is rapidly gaining traction by way of versatility. Complexity both in rhythm and emotional narrative are carefully woven into a brilliant and cohesive chaos, anchored by deep and undeniable grooves; Her sense of intuition — for both listener and composition, is palpable. The massive juxtapositions come on strong and wild, delicately blending and opening themselves to lush resolves.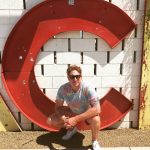 Some people have all the luck. Some take the easy route. Some pick the low hanging fruit. And then there's Cody Morrison and the High+Tight crew. For the last 9+ years, Cody and his merry band of pranksters called High+Tight have been throwing some of the seemingly most effortless parties in the States. Every detail worked out, from sound to decor to door policy. There may be louder parties. There are certainly bigger parties. There are flashier flyers sprinkled with piss in every commode this side of Pike Place Market. And these guys wouldn't want it any other way.
The thought that goes into a High+Tight party means you are getting an experience, an environment: set and setting. And they put just as much thought into their DJ sets. An insatiable hunger for dance floor knowledge both old and new, their work is your gain. But they also know that longer sets for headliners sometimes means taking the back seat. And they do so gladly. When the moment is right, they aren't shy about playing the right music for the right moment. Knowing the arc of the night. Letting the crowd down easy. Keep 'em wanting more. Share in their community and get lost for a lifetime.
Logistics & Important Info
Purchase tickets & painting sessions in advance here.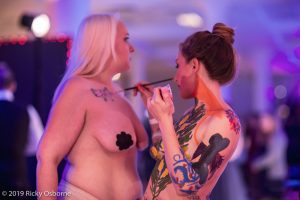 All nipples and genitals must be covered during all painting. Bring your pasties and thong underwear. (Or purchase some at the Gallery.)
This is a 21+ event because there will be alcohol available for purchase at our bar. All proceeds go to the 2020 Seattle Erotic Art Festival.
Self-serve lockers are available for use and are accessible only by stairs. Bring your own lock. A staffed coat and shoe check is available for a donation on the main floor. We will have volunteers available to assist those who cannot traverse stairs who wish to store their items in the lockers.
Body shaming or negative body talk will not be tolerated. (Yes, that means you can't talk negatively about yourself.) All body types and sizes, sexes, genders, races, ethnicities, sexual orientations, relationship orientations, religions are welcome and celebrated.
There will be a photobooth available to capture the ephemeral art of the evening. Please leave your cameras at home, and your phones in your pocket. We will have staff photographers on hand to document the evening.
Ticket Prices
Admission: $25 in advance or $40 at the doors
Starter body painting kits: $50 (Includes an assortment of Snazaroo paints, sponges, brush, etc.)
Body Painting session: $50 (Each session is 30 minutes. Multiple sessions can be combined. This ticket does not include admission.)
Who: Anyone 21+ with ID
When: 9PM to 2AM
Where: Gallery Erato- 309 First Avenue South Seattle, WA 98104