A Hypnokink Unconference
On Saturday, August 17th, Gallery Erato will host It's All In Your Head, a day long educational and social event focusing on the headier types of BDSM play. Openspace education events are participant driven and the topics of discussion are set by the attendees at the beginning of the day.

Is this event for you?
Are scenes where you can't trust your perceptions one of the hottest things imaginable? Is someone shrieking in terror as their partner murmurs calmly to them the most desirable harmony? Are your fantasies physically improbable? You've probably suspected this already, but… it's all in your head.
If fear play, consensual mindfucks, or interrogations are your thing, hypnosis can be a highly effective instrument. If you're a hypnofetishist interested in honing your abilities or delving into darker themes, you'll find like-minded people here. Either way, please join us for a hypnosis unconference focused on all of this varied and dreadful territory. Whether you have a little experience in these areas or a lot, bring your burning curiosity, your exciting skills and scene ideas to share, and new theories you'd like to explore.
Details & Frequently Asked Questions
What's an unconference?
Unconferences use a process called "Open Space Technology" – you may also hear them referred to as openspace events. NEEHU, a national hypnosis conference in Connecticut, started life as an openspace, and has inspired many conferences around the country which you might have attended or heard about. It's All In Your Head will be a return to pure unconference programming, with all of us coming together to create the content.
So there's no official list of classes?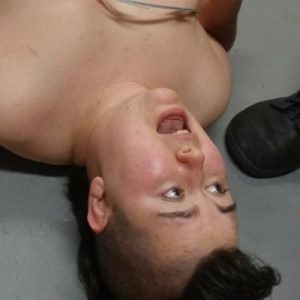 That's right! Unlike a pre-planned conference, with a workshop schedule, what happens at an openspace event is exactly what the participants decide they want to learn about and discuss. Have you ever been to a kink conference and realized that you learned the most during chance conversations in the hall between classes? Unconferences often feel a lot like that "hallway track" environment.
It's All In Your Head will have the perfect mix of introductory material and advanced topics, because it's driven by your curiosity and passion!
Will it be like a GRUE?
If you've been to one of Graydancer's Ropetastic Unconference Extravaganzas, this event will feel familiar in many ways! Graydancer's webinar training on running openspace events for kink communities is a major influence on this event. However, we've also put our own spin on it! It's All In Your Head will include demos to inspire you and get ideas flowing, an adaptation of the schedule system to make it even easier to see what conversations you could join, and more.
What if I've never done hypnosis? What if I don't have anything I could teach?
One of the best ways to bring a group together for a discussion is to start with a question. Do you have questions? Whether your question is "How do you do a hypnotic induction?" or "What are the vital considerations when choosing a knife for a ritual sacrifice scene?" you can post it on the wall. People with a variety of answers to your question- and who are really interested in the thing you asked about- tend to magically appear!
What if I'm interested in a topic that only sort of fits the theme?
You will most likely find people who want to discuss that too! We do ask that topics be limited to consensual & recreational practices (for example, not therapeutic hypnosis and not covert street hypnosis) but otherwise, the sky's the limit!
How long is the event?
On Friday evening, we'll have an optional meet-and-greet munch. We'll let you know when and where closer to the event!
Saturday is the main event. We'll get started at 10 am and learn voraciously until the closing circle at 6:30 pm. At 7 we'll break for dinner, and then gather back together at 9 for the afterparty. By midnight, we'll all be headed home for some well-deserved rest to our beds, with it all in our heads.
Is there a play party?
Yes, but that isn't all it is! The Afterparty will have space to continue discussions, practice what you learned, chat with new friends, or simply do a hot hypnosis scene in a room full of people with similar tastes!
What if I don't have a date for the play party?
There will be plenty to do whether or not you have scene plans. In addition to ongoing unconference conversations, we'll have Speed Trance going on for the first hour of the party- an opportunity to be matched with a variety of folks for five minutes, for conversation or an extremely fast hypnosis scene!
Can I buy a ticket for just the play party?
Sorry, no. The Afterparty is designed as a chance to explore the new connections we've made throughout the day, and will only be open to unconference attendees.
Is lunch included?
Yes! A hearty buffet-style lunch will be provided, so that you can get food whenever you're hungry and get right back to your conversations.
What if I have dietary restrictions?
Vegan and gluten-free options will be available. If you have other needs, please let us know as soon as possible, to aid in our planning!
What about dinner?
Dinner will be on your own. We'll have lists of restaurants nearby, so that you can easily find a group of people to eat with. Gallery Erato will remain open during the break, as well, in case you'd like to pack your own dinner.
What if I need a break from all the people? Will there be an Introverts' Corner like at some GRUEs?
We'll have an Introvert Cave! It will be tucked away in a nook that's separate from the space for relaxing and casual conversation.
Where is this happening? How do I get there and where should I park? Can I get there by public transit?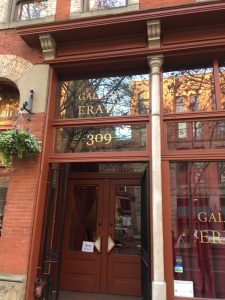 Gallery Erato is an art gallery and event space located in historic Pioneer Square. The physical address is 309 1st Ave S Seattle, WA 98104.
When attending events at Gallery Erato, we encourage the use of public transit or a ride share to Pioneer Square. The Gallery is within a quarter mile to bus stops and a light rail station.
If traveling by car, consider taking transit from a park-and-ride. For parking a car, we recommend using Call To Park or DowntownSeattleParking.com because both of these sites offer real-time pricing and space availability.
Street parking in Pioneer Square is free after 6pm and on Sundays. Pan Eros Foundation is not responsible for parking fees or parking tickets that may be incurred while attending Pan Eros events. Please check in with event staff about reentry before leaving to update parking, as many of our events lock the doors after a certain time. (Call To Park allows the option of renewing your parking from your smartphone.)
Please do not leave valuables visible in your car. Instead, put them in your trunk or bring them inside with you. We have a coat check room available to attendees that will be self-serve and free to use.
Is the space accessible?
The main floor of Gallery Erato is wheelchair accessible. Unfortunately, the downstairs can only be reached by stairs. If stairs are an obstacle for you, we will work with you to make sure that sessions you're interested in take place on the main floor. Have other accessibility concerns? Please contact us!
How much are tickets? Are any discounts available?
Tiered ticket pricing is a way for It's All In Your Head to be accessible for more people. There is no difference in access between the tiers of tickets. To cover the increased cost of credit card processing, last minute food purchases, and staffing, tickets sold at the event are higher than tickets purchased in advance. Scholarships are available through the Pay It Forward Scholarship program.
Early Adopter – $45 – First 20 tickets only SOLD OUT
Pay It Forward Donor — $120 – Attend the event and donate to the scholarship fund
Tier 1 – $65 – On sale through July 31st
Tier 2 – $90 – On sale until midnight before the event opens
Door – $120 – Once doors have opened