From The Vaults: SEAF Art Auction on December 15
Bid on a piece of Seattle Erotic Art Festival history!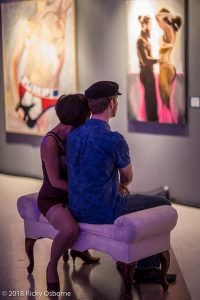 Over the years, the Pan Eros Foundation's art collection has grown due to the incredible generosity of artists and art patrons donating their art. Gallery Erato doesn't have room enough to showcase all of this art. This art deserves to be out in the world and enjoyed, so we are hosting a fun filled evening where you can view and bid on art, hopefully taking home a piece or two to adorn your walls.
Enjoy an evening of entertainment, a silent auction and raffles, while mingling with artists, past jurors, and other collectors of erotic art. Hear the stories of how the art was accepted into the Festival, or how the Foundation came to own it. There will be gourmet nibbles enough for a light dinner, with special experiences that offer unique ways to eat your treats.
The vast majority of this art has been featured in past Seattle Erotic Art Festivals, and will be a walk down memory lane for long time SEAF attendees. We even have a number of art pieces that were featured in the very first SEAF in 2003! Artists from around the world donated their works to benefit SEAF and the Foundation in its mission to make the world a better place by celebrating and cultivating sexuality. Please help us honor these artists by enjoying their art and supporting the Pan Eros Foundation
VIP Supporters get early entry and first option to purchase art before the evening starts, one drink ticket, a gift bag with a piece of art, Red Dragon Caramels, and other sexy gifts.
Purchase Tickets Here
Cost at the door: $40 or VIP Supporter $125 (if not sold out)
Advance: $25 or VIP Supporter $100 (limited to 20)
Open to all 21+
When: 6PM to 10PM (Early arrival for VIPs starts at 5pm)
Where: Gallery Erato- 309 First Avenue South Seattle, WA 98104
Questions may be directed to: [email protected]
All proceeds of this event will go into the Pan Eros general fund to support the continued offering of consent and sexuality education, and the Seattle Erotic Art Festival.