Don't Forget! From the Vaults: SEAF Art Auction and Fundraiser
Saturday night is going to be great fun at our Silent Art Auction and Party! For your enjoyment, savory and sweet amuse bouche will be served by, and on, delicious darlings. Be there to witness tantalizing burlesque performances by the Jesse Belle-Jones and Onyx Asili, two beautiful bondage performances by BlkStar and her daring accomplices, and more sensual sights throughout the night.
Our Performers: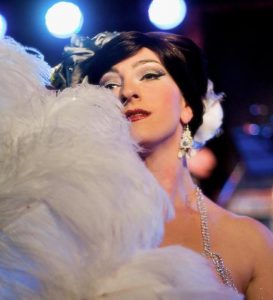 Jesse Belle-Jones is a post-disciplinary artist based in Seattle, WA.  She has taught, performed, and co-produced critically acclaimed material at venues across North America and in the United Kingdom.  Locally, her work has appeared at On the Boards, Triple Door Theatre, The Showbox, Teatro Zinzanni, and beyond. Her collaborative affiliations have ranged from UMO Ensemble to Taylor Mac to Carolee Schneemann.  In November 2017, she completed an 11-month artist residency at Studio Current in Seattle, Washington. She served on the inaugural steering committee for BurlyCon in 2007, retiring after a 5 year tenure.  In 2010 she co-founded the Seattle chapter of Naked Girls Reading, closing after a 7 year run. Offstage, she serves as board president for the Pan ErosFoundation. She has been working with the Seattle Erotic Art Festival since 2009. This is her fourth year serving as Performance Director for the Festival.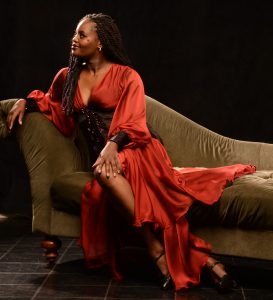 Onyx Asili, the Warrior Next Door, is striving to live her best life because she doesn't believe in getting out of bed to be mediocre. She considers herself a kinky, semi-radical, sex-positive, monoflexible, womanist queer although most people mistake her the girl-next-door.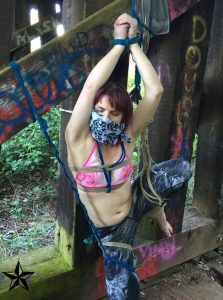 BlkStar and SamanthaVim have been tying partners for two years. Their dynamic changing from laughter to pleasure and pain moans and back again. Both enjoy experimenting with creating new ties. Creating rope art. Pushing things to the edge. Playful kitty's that found the best in each other. BlkStar's shy sadist Rope Top to SamanthaVim's exhibitionist masochist bottom nature. Making a purrfect pair.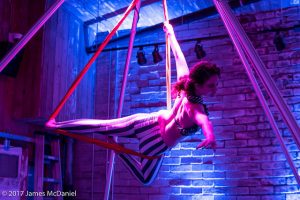 Aurora Violet is a vibrant multidisciplinary performer based in Seattle. Brought up on ballet, tap, and jazz, she has been dancing since she was nine. In 2010 Miss Violet began her journey in aerial arts with a desire to train for bondage suspension.
And a special secret guest star!