Triangle Suspension
When:
January 7, 2023 @ 2:30 pm – 5:30 pm
2023-01-07T14:30:00-08:00
2023-01-07T17:30:00-08:00
Where:
Gallery Erato
309 1st Ave S
Seattle
WA 98104

Cost:
$75 Tying Pair or Self-Tyer, $35 Audit Only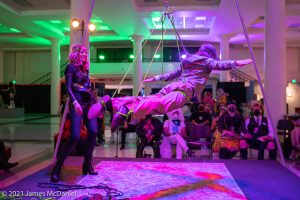 Explore dynamic movement with a minimalist and playful 'circus bondage'-style 3- to 5- point-based rig. This class is hands-on and is self- or partnered-suspension friendly. The class will begin by showing foot cuffs, and optionally a Triskelion chest harness (attendees may also choose to tie whatever upper body harness they prefer). Next, we'll do a tie-along of the 5-point, thigh-supported version of the rig. Finally, we will add hip support (a Butt Rainbow Thigh Tie of Doom will be demonstrated, but attendees can use their choice of harness) and demonstrate a suspension sequence that moves from a seated position, to a 3-point triangle rig (from which potential shapes to explore include running person, splits, pinwheel, lotus, birdcage, pike, and many more), to face up, to an inversion, and finally into a torsion-y side suspension and partial. The final portion of the class will provide attendees an opportunity to work through this sequence, and give the flyer time to learn methods for taking full advantage of the freedom & flow offered by this rig.
Pre-requisites:
Tops: This is a fast-moving class that assumes at least an intermediate level of suspension knowledge. Tops should know, at minimum, suspension-ready hip and chest harness (arms-free preferred, but arms-in may be used at the discretion of the tying pair), attaching support lines, and basics of negotiation for bondage.
Bottoms: Body and health awareness to participate safely at a level that's appropriate for your body. Experience with inversions and suspension ties that heavily load the chest.
Self-suspenders: Same requirements as for tops AND bottoms.
Supplies: Your basic suspension kit. Synthetic/rated rope for uplines and locking carabiners strongly recommended. Flyers should ideally wear snug leggings and ankle-height shoes that can be tied over.
Important Information:
Use of stairs is required to access the hard points for this class. We sincerely apologize for any inconvenience.
No late entry will be allowed due to the safety information given at the beginning of this workshop. Doors will be locked at 10 minutes after the start time.
Water available. Please bring your own cup or bottle.
Attendance is limited to 14 self-tyers/tying pairs and 5 auditors.
All sexes, genders, races, ethnicities, bodies, body types, sexual orientations, relationship orientations, abilities welcome and celebrated.
Questions may be directed to: [email protected]
Scholarships available.
Please let us know by email if you have any access needs or things that would aid in your learning.
About the presenters:

Shay Tiziano (she/her or they/them) is a dynamic bondage performer and renowned self-suspender known for their innovative, intense performances and friendly, attainable, and risk-awareness focused approach to kink education. She is the author of Tying & Flying, the first-ever book about self-suspension, and Creating Captivating Classes, the first-ever book specifically for kink, sexuality, and relationship educators. Based in San Francisco, Shay has over a decade of experience presenting across the US and internationally. She has produced events and showcases including acclaimed bondage and fetish performance event Twisted Windows, BENT, the Bay Area's biggest play party, the Seattle Erotic Art Festival Bondage & Aerial stage, Self-Suspension Open Space, Rope Lab, Friction, and bondage and performances stages at the Folsom Street Fair and San Francisco Pride's Leather Alley.

Angel (he/him) is a self-suspender and rope switch who brings an extensive background in sailing, physics, and general shenanigans to his bondage practices. He is a durable human who loves to experiment.

Mx Bliss (she/they) is a joyful sadomasochist, sensation empath, consent enthusiast, rope switch, self suspender, and lifestyle quinkster (queer kinkster). They identify as Daddy AF, on both sides of the slash.  Bliss is having the time of their life discovering all the ways to connect with BDSM and rope and is eager to share the joy. They co-facilitate AlternaRope, a celebration of diversity in rope and co-hosts the Friction pop-up events. She also produces the Jiffy Kink events. Both in vanilla and kink worlds, MxBliss frequently presents on negotiation, consent, and diversity/equity/inclusion. With some trepidation, she is starting to teach some rope classes. She loves all the feedback, especially the kind that will help her grow and have her intention better mirror the impact of her behavior/words.

Explore dynamic movement with a minimalist and playful 'circus bondage'-style 3- to 5- point-based rig. This class is hands-on and is self- or partnered-suspension friendly. The class will begin by showing foot cuffs, and optionally a Triskelion chest harness (attendees may also choose to tie whatever upper body harness they prefer). Next, we'll do a tie-along of the 5-point, thigh-supported version of the rig. Finally, we will add hip support (a Butt Rainbow Thigh Tie of Doom will be demonstrated, but attendees can use their choice of harness) and demonstrate a suspension sequence that moves from a seated position, to a 3-point triangle rig (from which potential shapes to explore include running person, splits, pinwheel, lotus, birdcage, pike, and many more), to face up, to an inversion, and finally into a torsion-y side suspension and partial. The final portion of the class will provide attendees an opportunity to work through this sequence, and give the flyer time to learn methods for taking full advantage of the freedom & flow offered by this rig. Pre-requisites: Tops: This is a fast-moving class that assumes at least an intermediate level of suspension knowledge. Tops should know, at minimum, suspension-ready hip and chest harness (arms-free preferred, but arms-in may be used at the discretion of the tying pair), attaching support lines, and basics of negotiation for bondage. Bottoms: Body and health awareness to participate safely at a level that's appropriate for your body. Experience with inversions and suspension ties that heavily load the chest. Self-suspenders: Same requirements as for tops AND bottoms. Supplies: Your basic suspension kit. Synthetic/rated rope for uplines and locking carabiners strongly recommended. Flyers should ideally wear snug leggings and ankle-height shoes that can be tied over. Important Information: Use of stairs is required to access the hard points for this class. We sincerely apologize for any inconvenience. No late entry will be allowed due to the safety information given at the beginning of this workshop. Doors will be locked at 10 minutes after the start time. Water available. Please bring your own cup or bottle. Attendance is limited to 14 self-tyers/tying pairs and 5 auditors. All sexes, genders, races, ethnicities, bodies, body types, sexual orientations, relationship orientations, abilities welcome and celebrated. Questions may be directed to: [email protected] Scholarships available. Please let us know by email if you have any access needs or things that would aid in your learning. About the presenters: Shay Tiziano (she/her or they/them) is a dynamic bondage performer and renowned self-suspender known for their innovative, intense performances and friendly, attainable, and risk-awareness focused approach to kink education. She is the author of Tying & Flying, the first-ever book about self-suspension, and Creating Captivating Classes, the first-ever book specifically for kink, sexuality, and relationship educators. Based in San Francisco, Shay has over a decade of experience presenting across the US and internationally. She has produced events and showcases including acclaimed bondage and fetish performance event Twisted Windows, BENT, the Bay Area's biggest play party, the Seattle Erotic Art Festival Bondage & Aerial stage, Self-Suspension Open Space, Rope Lab, Friction, and bondage and performances stages at the Folsom Street Fair and San Francisco Pride's Leather Alley. Angel (he/him) is a self-suspender and rope switch who brings an extensive background in sailing, physics, and general shenanigans to his bondage practices. He is a durable human who loves to experiment. Mx Bliss (she/they) is a joyful sadomasochist, sensation empath, consent enthusiast, rope switch, self suspender, and lifestyle quinkster (queer kinkster). They identify as Daddy AF, on both sides of the slash.  Bliss is having the time of their life discovering all the ways to connect with BDSM and rope and is eager to share the joy. They co-facilitate AlternaRope, a celebration of diversity in rope and co-hosts the Friction pop-up events. She also produces the Jiffy Kink events. Both in vanilla and kink worlds, MxBliss frequently presents on negotiation, consent, and diversity/equity/inclusion. With some trepidation, she is starting to teach some rope classes. She loves all the feedback, especially the kind that will help her grow and have her intention better mirror the impact of her behavior/words.

&media=">

Explore dynamic movement with a minimalist and playful 'circus bondage'-style 3- to 5- point-based rig. This class is hands-on and is self- or partnered-suspension friendly. The class will begin by showing foot cuffs, and optionally a Triskelion chest harness (attendees may also choose to tie whatever upper body harness they prefer). Next, we'll do a tie-along of the 5-point, thigh-supported version of the rig. Finally, we will add hip support (a Butt Rainbow Thigh Tie of Doom will be demonstrated, but attendees can use their choice of harness) and demonstrate a suspension sequence that moves from a seated position, to a 3-point triangle rig (from which potential shapes to explore include running person, splits, pinwheel, lotus, birdcage, pike, and many more), to face up, to an inversion, and finally into a torsion-y side suspension and partial. The final portion of the class will provide attendees an opportunity to work through this sequence, and give the flyer time to learn methods for taking full advantage of the freedom & flow offered by this rig. Pre-requisites: Tops: This is a fast-moving class that assumes at least an intermediate level of suspension knowledge. Tops should know, at minimum, suspension-ready hip and chest harness (arms-free preferred, but arms-in may be used at the discretion of the tying pair), attaching support lines, and basics of negotiation for bondage. Bottoms: Body and health awareness to participate safely at a level that's appropriate for your body. Experience with inversions and suspension ties that heavily load the chest. Self-suspenders: Same requirements as for tops AND bottoms. Supplies: Your basic suspension kit. Synthetic/rated rope for uplines and locking carabiners strongly recommended. Flyers should ideally wear snug leggings and ankle-height shoes that can be tied over. Important Information: Use of stairs is required to access the hard points for this class. We sincerely apologize for any inconvenience. No late entry will be allowed due to the safety information given at the beginning of this workshop. Doors will be locked at 10 minutes after the start time. Water available. Please bring your own cup or bottle. Attendance is limited to 14 self-tyers/tying pairs and 5 auditors. All sexes, genders, races, ethnicities, bodies, body types, sexual orientations, relationship orientations, abilities welcome and celebrated. Questions may be directed to: [email protected] Scholarships available. Please let us know by email if you have any access needs or things that would aid in your learning. About the presenters: Shay Tiziano (she/her or they/them) is a dynamic bondage performer and renowned self-suspender known for their innovative, intense performances and friendly, attainable, and risk-awareness focused approach to kink education. She is the author of Tying & Flying, the first-ever book about self-suspension, and Creating Captivating Classes, the first-ever book specifically for kink, sexuality, and relationship educators. Based in San Francisco, Shay has over a decade of experience presenting across the US and internationally. She has produced events and showcases including acclaimed bondage and fetish performance event Twisted Windows, BENT, the Bay Area's biggest play party, the Seattle Erotic Art Festival Bondage & Aerial stage, Self-Suspension Open Space, Rope Lab, Friction, and bondage and performances stages at the Folsom Street Fair and San Francisco Pride's Leather Alley. Angel (he/him) is a self-suspender and rope switch who brings an extensive background in sailing, physics, and general shenanigans to his bondage practices. He is a durable human who loves to experiment. Mx Bliss (she/they) is a joyful sadomasochist, sensation empath, consent enthusiast, rope switch, self suspender, and lifestyle quinkster (queer kinkster). They identify as Daddy AF, on both sides of the slash.  Bliss is having the time of their life discovering all the ways to connect with BDSM and rope and is eager to share the joy. They co-facilitate AlternaRope, a celebration of diversity in rope and co-hosts the Friction pop-up events. She also produces the Jiffy Kink events. Both in vanilla and kink worlds, MxBliss frequently presents on negotiation, consent, and diversity/equity/inclusion. With some trepidation, she is starting to teach some rope classes. She loves all the feedback, especially the kind that will help her grow and have her intention better mirror the impact of her behavior/words.

">