Shay and MxBliss Present Friction: Through the Looking Glass
When:
January 7, 2023 @ 7:30 pm – January 8, 2023 @ 1:00 am
2023-01-07T19:30:00-08:00
2023-01-08T01:00:00-08:00
Where:
Gallery Erato
309 1st Ave S
Seattle
WA 98104

Cost:
$35 Early Bird (on sale until December 17th), $45 General Admission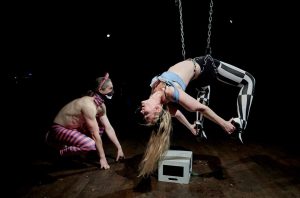 Journey down the rabbit hole and kick off 2023 in a kinky Wonderland! Friction is a pop-up style event focused on bondage, kink, sensuality, and creating joy – together. Hosts MxBliss (of Jiffy Kink and Studio Bound) & Shay Tiziano (of BENT and Twisted Windows) are excited to bring the Friction party back to Gallery Erato in Seattle! Wonderland-themed attire is admired but not required – think risque royalty, horny Hatters, fantasy flamingos, racy rabbits, or whatever your divinely deviant mind can imagine!
Join us early in the evening for a class and icebreaker designed to help you meet fellow attendees (and up your flirting game), followed by curated performances. Stay for the plentiful hardpoints and do all the pokey, stingy, and thuddy things in the dungeon area. At Friction, you can expect a friendly, inclusive environment with entertainment, games, and plenty of shenanigans to see and do.
This event will sell out, so buy your advance tickets here!
Friction Party Schedule:
Doors: 7:30pm
Party Primer and Flirting Class with Shay and MxBliss: 8pm – 8:30pm
Icebreaker Game: 8:30pm – 9pm
Wonderland-themed Spotlight Performance Showcase: 9pm
Ambient Performances starting at 9:20pm
Event ends: 1am
*Note: The downstairs playspace is open from 7:30pm-1am
We will provide some nibbles and juice. You are welcome to bring food and non-alcoholic beverages. Bring your water bottles.

COVID Guidelines:
We are monitoring local COVID infection rates and city/state/CDC guidance as well as the latest information about the variants in order to keep this event as safe and accessible as reasonable while protecting the health of attendees. Requirements may change and we will endeavor to notify ticket holders as soon as possible if they do. At present, we expect that attendees will need to provide proof of vaccination at the door. Sufficient proof of vaccinated status is a state/federally issued vaccine card or a photograph of your card (with a matching name on your ID) showing that you are two weeks past the complete vaccine course. Please note, a negative COVID test is not sufficient if you are not vaccinated – vaccination is required (and boosters are highly recommended). K/n95 masks are encouraged, but not required.

Please write [email protected] with event questions, and [email protected] with venue or ticketing questions.

Journey down the rabbit hole and kick off 2023 in a kinky Wonderland! Friction is a pop-up style event focused on bondage, kink, sensuality, and creating joy – together. Hosts MxBliss (of Jiffy Kink and Studio Bound) & Shay Tiziano (of BENT and Twisted Windows) are excited to bring the Friction party back to Gallery Erato in Seattle! Wonderland-themed attire is admired but not required – think risque royalty, horny Hatters, fantasy flamingos, racy rabbits, or whatever your divinely deviant mind can imagine! Join us early in the evening for a class and icebreaker designed to help you meet fellow attendees (and up your flirting game), followed by curated performances. Stay for the plentiful hardpoints and do all the pokey, stingy, and thuddy things in the dungeon area. At Friction, you can expect a friendly, inclusive environment with entertainment, games, and plenty of shenanigans to see and do. This event will sell out, so buy your advance tickets here! Friction Party Schedule: Doors: 7:30pm Party Primer and Flirting Class with Shay and MxBliss: 8pm – 8:30pm Icebreaker Game: 8:30pm – 9pm Wonderland-themed Spotlight Performance Showcase: 9pm Ambient Performances starting at 9:20pm Event ends: 1am *Note: The downstairs playspace is open from 7:30pm-1am We will provide some nibbles and juice. You are welcome to bring food and non-alcoholic beverages. Bring your water bottles. COVID Guidelines: We are monitoring local COVID infection rates and city/state/CDC guidance as well as the latest information about the variants in order to keep this event as safe and accessible as reasonable while protecting the health of attendees. Requirements may change and we will endeavor to notify ticket holders as soon as possible if they do. At present, we expect that attendees will need to provide proof of vaccination at the door. Sufficient proof of vaccinated status is a state/federally issued vaccine card or a photograph of your card (with a matching name on your ID) showing that you are two weeks past the complete vaccine course. Please note, a negative COVID test is not sufficient if you are not vaccinated – vaccination is required (and boosters are highly recommended). K/n95 masks are encouraged, but not required. Please write [email protected] with event questions, and [email protected] with venue or ticketing questions.

&media=">

Journey down the rabbit hole and kick off 2023 in a kinky Wonderland! Friction is a pop-up style event focused on bondage, kink, sensuality, and creating joy – together. Hosts MxBliss (of Jiffy Kink and Studio Bound) & Shay Tiziano (of BENT and Twisted Windows) are excited to bring the Friction party back to Gallery Erato in Seattle! Wonderland-themed attire is admired but not required – think risque royalty, horny Hatters, fantasy flamingos, racy rabbits, or whatever your divinely deviant mind can imagine! Join us early in the evening for a class and icebreaker designed to help you meet fellow attendees (and up your flirting game), followed by curated performances. Stay for the plentiful hardpoints and do all the pokey, stingy, and thuddy things in the dungeon area. At Friction, you can expect a friendly, inclusive environment with entertainment, games, and plenty of shenanigans to see and do. This event will sell out, so buy your advance tickets here! Friction Party Schedule: Doors: 7:30pm Party Primer and Flirting Class with Shay and MxBliss: 8pm – 8:30pm Icebreaker Game: 8:30pm – 9pm Wonderland-themed Spotlight Performance Showcase: 9pm Ambient Performances starting at 9:20pm Event ends: 1am *Note: The downstairs playspace is open from 7:30pm-1am We will provide some nibbles and juice. You are welcome to bring food and non-alcoholic beverages. Bring your water bottles. COVID Guidelines: We are monitoring local COVID infection rates and city/state/CDC guidance as well as the latest information about the variants in order to keep this event as safe and accessible as reasonable while protecting the health of attendees. Requirements may change and we will endeavor to notify ticket holders as soon as possible if they do. At present, we expect that attendees will need to provide proof of vaccination at the door. Sufficient proof of vaccinated status is a state/federally issued vaccine card or a photograph of your card (with a matching name on your ID) showing that you are two weeks past the complete vaccine course. Please note, a negative COVID test is not sufficient if you are not vaccinated – vaccination is required (and boosters are highly recommended). K/n95 masks are encouraged, but not required. Please write [email protected] with event questions, and [email protected] with venue or ticketing questions.

">