Polglamorous Workshop & Book Event
Robin Beatch is going to be back in Seattle on July 6! Robin will be teaching a workshop entitled "Communication and Problem Solving in Alternative Relationship Dynamics", inspired by her visit to Seattle last August. The workshop starts at 11:00am and is 90 minutes long.
After the workshop, you are welcome to stay or join in for a free book event! After a lunch break, Robin will start reading from her new book, Polyglamorous: A Queer Mom's Misadventures and Lessons in Non-Monogamy, at 1:30pm. There will be time to ask questions and get your book signed, too.
We look forward to seeing you Saturday, July 6th! You can get your workshop tickets either in advance online here, or at Gallery Erato for the 20 minutes before the workshop begins. Books can be purchased online here. We will have books available for purchase at Gallery Erato, too.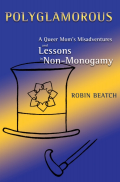 Robin is an international sex educator, intimacy and relationship coach, speaker, performer, and activist based in Vancouver, Canada. She is the author of Call Me Holly: My Years on the Pole and Polyglamorous: A Queer Mom's Misadventures and Lessons in Non-Monogamy. Her unique background as a nurse, stripper, Pro Domme, and Vice President of Metro Vancouver Kink has fueled her passions to help normalize and explore human sexuality. Learn more about Robin's work at robinsnestcoaching.com and alternativesexuality.ca