The Pleasure Talk with Sex Positive World
When:
May 19, 2023 @ 7:00 pm – 10:00 pm
2023-05-19T19:00:00-07:00
2023-05-19T22:00:00-07:00
Where:
Gallery Erato
309 1st Ave S
Seattle
WA 98104

Cost:
Sliding Scale: $15-60. Scholarships available.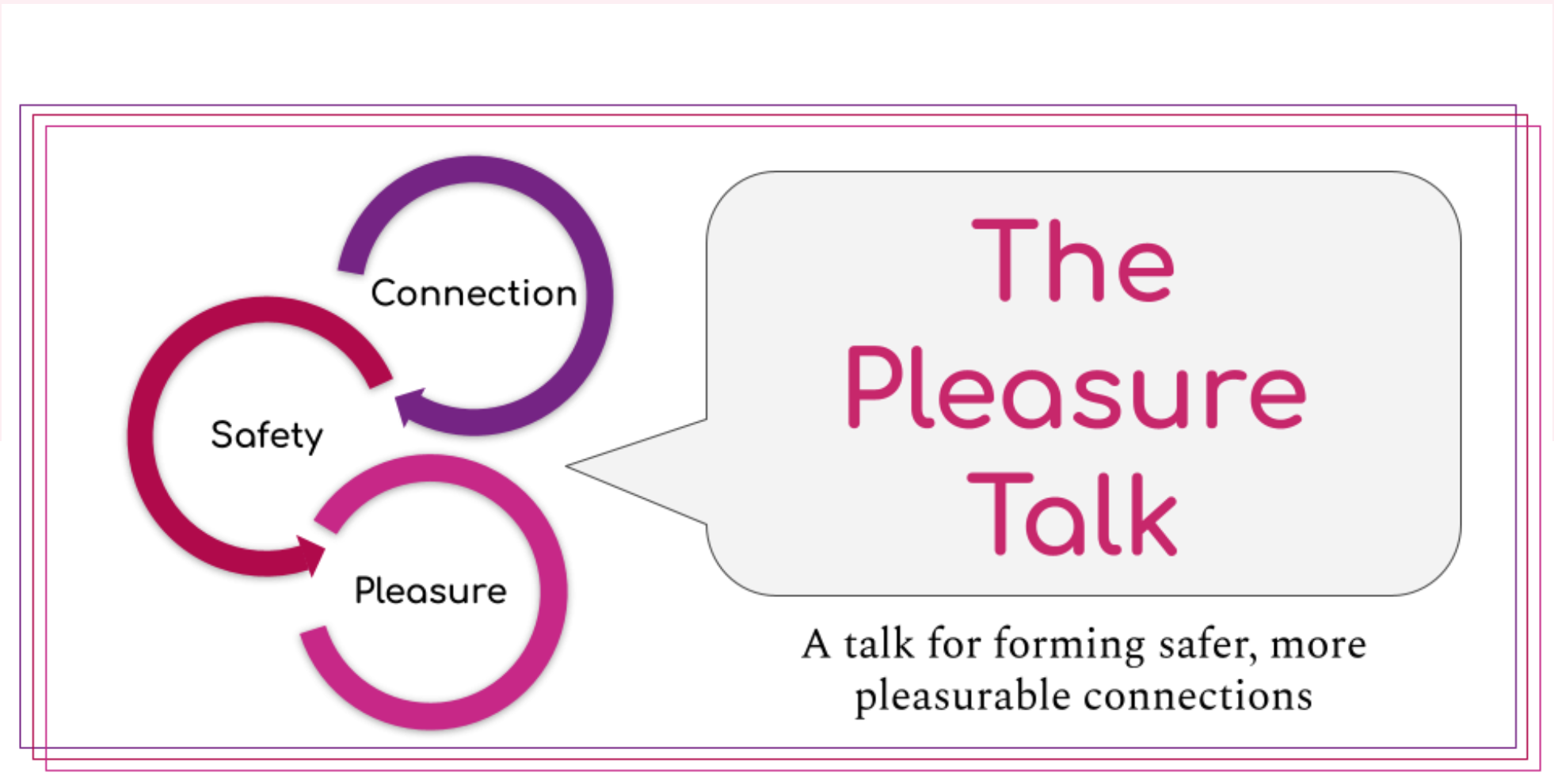 Join us for an interactive workshop on creating safer sex and more pleasurable connections through awesome communication!
"The Talk" has taken many forms with many names over the years, with frameworks for navigating safer sex and healthy boundaries including Evelin Dacker's "STARS" & Reid Mihalko's "Elevator Speech", among others. This class builds upon skills learned using these tools, and offers an updated framework created by and for our Sex Positive community. You can use The Pleasure Talk in your own relationships, at events, and anywhere you find yourself in intimate connections with others.
This workshop was collaboratively created by Dawn Woodard, Avery Deane Swift, Erin Tillman, and Randall Hibbard with support and input from members of our Portland and Los Angeles chapters.
What to expect:
This workshop will be very interactive with opportunities for discussion as a whole group and to practice the pieces of the talk with other attendees. You'll meet the facilitators at the start, we'll set some guidelines for the event, we'll introduce the talk, and then go through the three parts of the talk, followed by an opportunity to practice each in small groups. We will also have a bio break about halfway through. As with all of our workshops, you can always opt out of any activity at any time and you don't even need a reason.
Important Information:
This class is being offered on a sliding fee scale. However, if you need additional financial assistance, please email Leah at [email protected] to ask about our scholarship program.
No late entry will be allowed due to the intimate nature of this workshop. Doors will be locked at 10 minutes after the start time.
Water available. Please bring your own cup or bottle.
Open to all 18+
Attendance is limited to 40 people.
All sexes, genders, races, ethnicities, bodies, body types, sexual orientations, relationship orientations, abilities welcome and celebrated.
Questions may be directed to: [email protected]
Please let us know by email if you have any access needs or things that would aid in your learning.
Presenter Bio:
Jamie (she/they) is the Executive Director of both Sex Positive World and Sex Positive Portland, she got started in community leadership in California in 2018. She is polyamorous (solo poly), queer, and kinky with a love of shibari/rope bondage. She leads discussion groups and classes on consent, pleasure, relationships of all sizes, orientations, and dynamics. Her background is in communications, video production, and marketing; check out her YouTube channel and or social media @ExploringJamie

Join us for an interactive workshop on creating safer sex and more pleasurable connections through awesome communication! "The Talk" has taken many forms with many names over the years, with frameworks for navigating safer sex and healthy boundaries including Evelin Dacker's "STARS" & Reid Mihalko's "Elevator Speech", among others. This class builds upon skills learned using these tools, and offers an updated framework created by and for our Sex Positive community. You can use The Pleasure Talk in your own relationships, at events, and anywhere you find yourself in intimate connections with others. This workshop was collaboratively created by Dawn Woodard, Avery Deane Swift, Erin Tillman, and Randall Hibbard with support and input from members of our Portland and Los Angeles chapters. What to expect: This workshop will be very interactive with opportunities for discussion as a whole group and to practice the pieces of the talk with other attendees. You'll meet the facilitators at the start, we'll set some guidelines for the event, we'll introduce the talk, and then go through the three parts of the talk, followed by an opportunity to practice each in small groups. We will also have a bio break about halfway through. As with all of our workshops, you can always opt out of any activity at any time and you don't even need a reason. Purchase tickets here! Important Information: This class is being offered on a sliding fee scale. However, if you need additional financial assistance, please email Leah at [email protected] to ask about our scholarship program. No late entry will be allowed due to the intimate nature of this workshop. Doors will be locked at 10 minutes after the start time. Water available. Please bring your own cup or bottle. Open to all 18+ Attendance is limited to 40 people. All sexes, genders, races, ethnicities, bodies, body types, sexual orientations, relationship orientations, abilities welcome and celebrated. Questions may be directed to: [email protected] Please let us know by email if you have any access needs or things that would aid in your learning. Presenter Bio: Jamie (she/they) is the Executive Director of both Sex Positive World and Sex Positive Portland, she got started in community leadership in California in 2018. She is polyamorous (solo poly), queer, and kinky with a love of shibari/rope bondage. She leads discussion groups and classes on consent, pleasure, relationships of all sizes, orientations, and dynamics. Her background is in communications, video production, and marketing; check out her YouTube channel and or social media @ExploringJamie

&media=">

Join us for an interactive workshop on creating safer sex and more pleasurable connections through awesome communication! "The Talk" has taken many forms with many names over the years, with frameworks for navigating safer sex and healthy boundaries including Evelin Dacker's "STARS" & Reid Mihalko's "Elevator Speech", among others. This class builds upon skills learned using these tools, and offers an updated framework created by and for our Sex Positive community. You can use The Pleasure Talk in your own relationships, at events, and anywhere you find yourself in intimate connections with others. This workshop was collaboratively created by Dawn Woodard, Avery Deane Swift, Erin Tillman, and Randall Hibbard with support and input from members of our Portland and Los Angeles chapters. What to expect: This workshop will be very interactive with opportunities for discussion as a whole group and to practice the pieces of the talk with other attendees. You'll meet the facilitators at the start, we'll set some guidelines for the event, we'll introduce the talk, and then go through the three parts of the talk, followed by an opportunity to practice each in small groups. We will also have a bio break about halfway through. As with all of our workshops, you can always opt out of any activity at any time and you don't even need a reason. Purchase tickets here! Important Information: This class is being offered on a sliding fee scale. However, if you need additional financial assistance, please email Leah at [email protected] to ask about our scholarship program. No late entry will be allowed due to the intimate nature of this workshop. Doors will be locked at 10 minutes after the start time. Water available. Please bring your own cup or bottle. Open to all 18+ Attendance is limited to 40 people. All sexes, genders, races, ethnicities, bodies, body types, sexual orientations, relationship orientations, abilities welcome and celebrated. Questions may be directed to: [email protected] Please let us know by email if you have any access needs or things that would aid in your learning. Presenter Bio: Jamie (she/they) is the Executive Director of both Sex Positive World and Sex Positive Portland, she got started in community leadership in California in 2018. She is polyamorous (solo poly), queer, and kinky with a love of shibari/rope bondage. She leads discussion groups and classes on consent, pleasure, relationships of all sizes, orientations, and dynamics. Her background is in communications, video production, and marketing; check out her YouTube channel and or social media @ExploringJamie

">