Suspend Your Disbelief: An Intro to Self Suspension
When:
May 21, 2023 @ 10:00 am – 4:00 pm
2023-05-21T10:00:00-07:00
2023-05-21T16:00:00-07:00
Where:
Gallery Erato
309 1st Ave S
Seattle
WA 98104

Cost:
Sliding fee scale $75-$125 for tyers, $20 for spotters
This full day rope intensive is intended for beginner to intermediate self-tiers who are comfortable tying harnesses on the ground and are looking to take their act to the air!
The class material assumes that students come in with no experience suspending themselves or others, but is also relevant to those seeking to build more confidence in their uplines.
The workshop will thoroughly cover attaching to harnesses, tying uplines, and top and bottom lock-offs, with particular focus paid to tips and techniques specific to self-suspension. It will also cover setting up your suspension point, risk and mitigation, and getting comfortable loading a harness in partial and full suspensions.
This workshop will not cover the harness prerequisite, participants should come prepared with their own (refer to prerequisite section for examples).
Students may choose to bring a spotter via the spotter ticket. This person will stay with the self suspender as they tie to ensure the student is stable and safe as they make their way into the air. This is not an audit ticket, as learning to tie up lines is a hands-on activity. Bringing a spotter is not required – instructors and a teaching assistant will be available to spot students.
Covid Precautions
Both proof-of-vaccination and on-site rapid testing required. Please arrive early and take a rapid test upon arrival and continue masking until you have a negative result. Ideally you will bring your own test, but several will be available at the door.
Prerequisites For Students
Must have:
Very comfortable tying a non collapsing single column (somerville or square knot preferred; reverse tension single column does not meet the requirement)
Able to tie a suspendable chest harness
Synthetic or reinforced uplines (we will have a couple extra available)
1-2 climbing rated straps/slings/webbing
Cutting tool (safety scissors or emergency seat belt cutter)
3+ climbing rated carabiners – locking preferred, no wire gate
Ring or Rigging Plate (optional)
Nice to have:
Able to tie a suspendable hip harness
Able to tie a suspendable leg tie (e.g. futomomo, gunslinger, etc.)
Other Important Information:
No late entry will be allowed due to the safety information given at the beginning of this workshop. Doors will be locked at 10 minutes after the start time.
Water available. Please bring your own cup or bottle.
Open to all 18+
Attendance is limited to 10 self-suspenders (spotters are not included in this count).
All sexes, genders, races, ethnicities, bodies, body types, sexual orientations, relationship orientations, abilities welcome and celebrated.
Questions may be directed to: [email protected]
Scholarships available.
Please let us know by email if you have any access needs or things that would aid in your learning.
About the Instructors: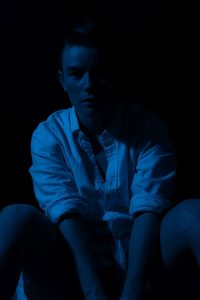 Kasm
Kasm is a queer, kinky switch and self-tier with 5 years of suspension experience. They oscillate between approaches to self-suspension from playful exploration to meditative endurance to auto-masochistic play. They have been a rope instructor for 4 years and have presented at conventions such as Kinkfest and Desert Bound. In the classroom they prioritize personalized instruction and building an environment that is safe to flail in.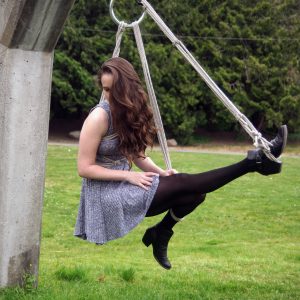 Spontaneity
Spontaneity is a rope switch and self suspender with over 7 years of suspension experience. She has studied with a wide variety of riggers, bottoms, and self suspenders. She brings a highly analytical and adventurous approach to self suspension, informed by many years of fucking around and finding out. She is motivated to teach others so they too can fuck around and find out.

This full day rope intensive is intended for beginner to intermediate self-tiers who are comfortable tying harnesses on the ground and are looking to take their act to the air! The class material assumes that students come in with no experience suspending themselves or others, but is also relevant to those seeking to build more confidence in their uplines. The workshop will thoroughly cover attaching to harnesses, tying uplines, and top and bottom lock-offs, with particular focus paid to tips and techniques specific to self-suspension. It will also cover setting up your suspension point, risk and mitigation, and getting comfortable loading a harness in partial and full suspensions. This workshop will not cover the harness prerequisite, participants should come prepared with their own (refer to prerequisite section for examples). Students may choose to bring a spotter via the spotter ticket. This person will stay with the self suspender as they tie to ensure the student is stable and safe as they make their way into the air. This is not an audit ticket, as learning to tie up lines is a hands-on activity. Bringing a spotter is not required – instructors and a teaching assistant will be available to spot students. Covid Precautions Both proof-of-vaccination and on-site rapid testing required. Please arrive early and take a rapid test upon arrival and continue masking until you have a negative result. Ideally you will bring your own test, but several will be available at the door. Prerequisites For Students Must have: Very comfortable tying a non collapsing single column (somerville or square knot preferred; reverse tension single column does not meet the requirement) Somerville Bowline Tutorial: https://crash-restraint.com/ties/66 Able to tie a suspendable chest harness Shay Tiziano Shinju Tutorial: https://vimeo.com/223417083 Crash Restraint Shinju Tutorial: https://crash-restraint.com/ties/130 Synthetic or reinforced uplines (we will have a couple extra available) Twisted Monk Posh: https://www.twistedmonk.com/collections/rope/products/posh-spun-polyester-options?variant=40544959398003 1-2 climbing rated straps/slings/webbing REI – Black Diamond: https://www.rei.com/product/191859/black-diamond-18-mm-nylon-runner?color=BLUE Cutting tool (safety scissors or emergency seat belt cutter) Clauss Titanium Bonded Bent Snips, 7 inch: https://www.amazon.com/Titanium-Bonded-Bent-Snips-7/dp/B000XB4U0C Benchmade Hook Knife 3+ climbing rated carabiners – locking preferred, no wire gate REI – Petzl: https://www.rei.com/product/100208/petzl-william-screw-lock-carabiner REI – Black Diamond: https://www.rei.com/product/191973/black-diamond-pearlock-screwgate-carabiner Ring or Rigging Plate (optional) Nice to have: Able to tie a suspendable hip harness Shay Tiziano Simple Hip Harness Tutorial https://vimeo.com/223419970 Crash Restraint Swiss Seat: https://crash-restraint.com/ties/129 Able to tie a suspendable leg tie (e.g. futomomo, gunslinger, etc.) Purchase tickets here! Other Important Information: No late entry will be allowed due to the safety information given at the beginning of this workshop. Doors will be locked at 10 minutes after the start time. Water available. Please bring your own cup or bottle. Open to all 18+ Attendance is limited to 10 self-suspenders (spotters are not included in this count). All sexes, genders, races, ethnicities, bodies, body types, sexual orientations, relationship orientations, abilities welcome and celebrated. Questions may be directed to: [email protected] Scholarships available. Please let us know by email if you have any access needs or things that would aid in your learning. About the Instructors: Kasm Kasm is a queer, kinky switch and self-tier with 5 years of suspension experience. They oscillate between approaches to self-suspension from playful exploration to meditative endurance to auto-masochistic play. They have been a rope instructor for 4 years and have presented at conventions such as Kinkfest and Desert Bound. In the classroom they prioritize personalized instruction and building an environment that is safe to flail in. Spontaneity Spontaneity is a rope switch and self suspender with over 7 years of suspension experience. She has studied with a wide variety of riggers, bottoms, and self suspenders. She brings a highly analytical and adventurous approach to self suspension, informed by many years of fucking around and finding out. She is motivated to teach others so they too can fuck around and find out.

&media=">

This full day rope intensive is intended for beginner to intermediate self-tiers who are comfortable tying harnesses on the ground and are looking to take their act to the air! The class material assumes that students come in with no experience suspending themselves or others, but is also relevant to those seeking to build more confidence in their uplines. The workshop will thoroughly cover attaching to harnesses, tying uplines, and top and bottom lock-offs, with particular focus paid to tips and techniques specific to self-suspension. It will also cover setting up your suspension point, risk and mitigation, and getting comfortable loading a harness in partial and full suspensions. This workshop will not cover the harness prerequisite, participants should come prepared with their own (refer to prerequisite section for examples). Students may choose to bring a spotter via the spotter ticket. This person will stay with the self suspender as they tie to ensure the student is stable and safe as they make their way into the air. This is not an audit ticket, as learning to tie up lines is a hands-on activity. Bringing a spotter is not required – instructors and a teaching assistant will be available to spot students. Covid Precautions Both proof-of-vaccination and on-site rapid testing required. Please arrive early and take a rapid test upon arrival and continue masking until you have a negative result. Ideally you will bring your own test, but several will be available at the door. Prerequisites For Students Must have: Very comfortable tying a non collapsing single column (somerville or square knot preferred; reverse tension single column does not meet the requirement) Somerville Bowline Tutorial: https://crash-restraint.com/ties/66 Able to tie a suspendable chest harness Shay Tiziano Shinju Tutorial: https://vimeo.com/223417083 Crash Restraint Shinju Tutorial: https://crash-restraint.com/ties/130 Synthetic or reinforced uplines (we will have a couple extra available) Twisted Monk Posh: https://www.twistedmonk.com/collections/rope/products/posh-spun-polyester-options?variant=40544959398003 1-2 climbing rated straps/slings/webbing REI – Black Diamond: https://www.rei.com/product/191859/black-diamond-18-mm-nylon-runner?color=BLUE Cutting tool (safety scissors or emergency seat belt cutter) Clauss Titanium Bonded Bent Snips, 7 inch: https://www.amazon.com/Titanium-Bonded-Bent-Snips-7/dp/B000XB4U0C Benchmade Hook Knife 3+ climbing rated carabiners – locking preferred, no wire gate REI – Petzl: https://www.rei.com/product/100208/petzl-william-screw-lock-carabiner REI – Black Diamond: https://www.rei.com/product/191973/black-diamond-pearlock-screwgate-carabiner Ring or Rigging Plate (optional) Nice to have: Able to tie a suspendable hip harness Shay Tiziano Simple Hip Harness Tutorial https://vimeo.com/223419970 Crash Restraint Swiss Seat: https://crash-restraint.com/ties/129 Able to tie a suspendable leg tie (e.g. futomomo, gunslinger, etc.) Purchase tickets here! Other Important Information: No late entry will be allowed due to the safety information given at the beginning of this workshop. Doors will be locked at 10 minutes after the start time. Water available. Please bring your own cup or bottle. Open to all 18+ Attendance is limited to 10 self-suspenders (spotters are not included in this count). All sexes, genders, races, ethnicities, bodies, body types, sexual orientations, relationship orientations, abilities welcome and celebrated. Questions may be directed to: [email protected] Scholarships available. Please let us know by email if you have any access needs or things that would aid in your learning. About the Instructors: Kasm Kasm is a queer, kinky switch and self-tier with 5 years of suspension experience. They oscillate between approaches to self-suspension from playful exploration to meditative endurance to auto-masochistic play. They have been a rope instructor for 4 years and have presented at conventions such as Kinkfest and Desert Bound. In the classroom they prioritize personalized instruction and building an environment that is safe to flail in. Spontaneity Spontaneity is a rope switch and self suspender with over 7 years of suspension experience. She has studied with a wide variety of riggers, bottoms, and self suspenders. She brings a highly analytical and adventurous approach to self suspension, informed by many years of fucking around and finding out. She is motivated to teach others so they too can fuck around and find out.

">