Solo Play
When:
September 25, 2020 @ 7:00 pm – 8:30 pm
2020-09-25T19:00:00-07:00
2020-09-25T20:30:00-07:00
Cost:
$15-$35. See ticket link for details.
I often get asked, "Is Solo Play safe?" Unfortunately, the answer is not a simple Yes or No. There are many various types of play and endless scenarios to consider.
In this discussion-based workshop, we will cover topics such as emotional and physical safety, several methods of solo play, ways to minimize risk, and the Do's and the Do Not's, and of course how to make the most out of it!
**CONTENT WARNING: Injuries and Deaths will be discussed. This is understandably a disturbing topic, but it is absolutely vital to be aware of the real worst-case scenarios and therefore will be covered in this workshop
This is an online class via Zoom. You must purchase your ticket in advance. Ticket sales end at 5:00pm on the day of the workshop. Instructions for access will be emailed to you before the workshop begins.
Class time is listed in Pacific Time. Use this Time Zone Converter to see what time the class will be for you: https://www.timeanddate.com/worldclock/converter.html
No late entry will be allowed due to the intimate nature of this workshop. Access will be blocked at 10 minutes after the start time.
Open to all 18+
All sexes, genders, races, ethnicities, sexual orientations, relationship orientations welcome and celebrated.
Scholarships available to those in need.
Questions may be directed to: [email protected]
About the Educator: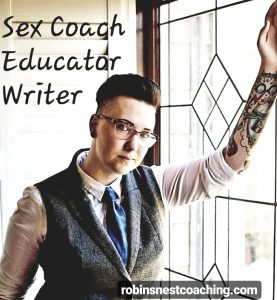 Queer. Kinkster. Nerd. Slut. Educator. Activist.

Robin (she/her) is an international sex educator, sex and relationship coach, and author based in Vancouver, Canada. Her career has involved speaking at universities, conferences, and various organizations on topics such as sexual health, research, body positivity, LGBTQ+, BDSM, and consensual non-monogamy. Much of her current focus is working with doctors, therapists, medical schools and workplaces in improving care and curriculum to be more knowledgeable and compassionate on human sexuality, including alternative sexualities and genders. She has a unique background as a nurse, stripper, Pro Domme, and Vice-President of Metro Vancouver Kink, which has fueled her passions to help normalize and explore human sexuality.

I often get asked, "Is Solo Play safe?" Unfortunately, the answer is not a simple Yes or No. There are many various types of play and endless scenarios to consider. In this discussion-based workshop, we will cover topics such as emotional and physical safety, several methods of solo play, ways to minimize risk, and the Do's and the Do Not's, and of course how to make the most out of it! **CONTENT WARNING: Injuries and Deaths will be discussed. This is understandably a disturbing topic, but it is absolutely vital to be aware of the real worst-case scenarios and therefore will be covered in this workshop Purchase Tickets Here! This is an online class via Zoom. You must purchase your ticket in advance. Ticket sales end at 5:00pm on the day of the workshop. Instructions for access will be emailed to you before the workshop begins. Class time is listed in Pacific Time. Use this Time Zone Converter to see what time the class will be for you: https://www.timeanddate.com/worldclock/converter.html No late entry will be allowed due to the intimate nature of this workshop. Access will be blocked at 10 minutes after the start time. Open to all 18+ All sexes, genders, races, ethnicities, sexual orientations, relationship orientations welcome and celebrated. Scholarships available to those in need. Questions may be directed to: [email protected] About the Educator: Queer. Kinkster. Nerd. Slut. Educator. Activist. Robin (she/her) is an international sex educator, sex and relationship coach, and author based in Vancouver, Canada. Her career has involved speaking at universities, conferences, and various organizations on topics such as sexual health, research, body positivity, LGBTQ+, BDSM, and consensual non-monogamy. Much of her current focus is working with doctors, therapists, medical schools and workplaces in improving care and curriculum to be more knowledgeable and compassionate on human sexuality, including alternative sexualities and genders. She has a unique background as a nurse, stripper, Pro Domme, and Vice-President of Metro Vancouver Kink, which has fueled her passions to help normalize and explore human sexuality.

&media=">

I often get asked, "Is Solo Play safe?" Unfortunately, the answer is not a simple Yes or No. There are many various types of play and endless scenarios to consider. In this discussion-based workshop, we will cover topics such as emotional and physical safety, several methods of solo play, ways to minimize risk, and the Do's and the Do Not's, and of course how to make the most out of it! **CONTENT WARNING: Injuries and Deaths will be discussed. This is understandably a disturbing topic, but it is absolutely vital to be aware of the real worst-case scenarios and therefore will be covered in this workshop Purchase Tickets Here! This is an online class via Zoom. You must purchase your ticket in advance. Ticket sales end at 5:00pm on the day of the workshop. Instructions for access will be emailed to you before the workshop begins. Class time is listed in Pacific Time. Use this Time Zone Converter to see what time the class will be for you: https://www.timeanddate.com/worldclock/converter.html No late entry will be allowed due to the intimate nature of this workshop. Access will be blocked at 10 minutes after the start time. Open to all 18+ All sexes, genders, races, ethnicities, sexual orientations, relationship orientations welcome and celebrated. Scholarships available to those in need. Questions may be directed to: [email protected] About the Educator: Queer. Kinkster. Nerd. Slut. Educator. Activist. Robin (she/her) is an international sex educator, sex and relationship coach, and author based in Vancouver, Canada. Her career has involved speaking at universities, conferences, and various organizations on topics such as sexual health, research, body positivity, LGBTQ+, BDSM, and consensual non-monogamy. Much of her current focus is working with doctors, therapists, medical schools and workplaces in improving care and curriculum to be more knowledgeable and compassionate on human sexuality, including alternative sexualities and genders. She has a unique background as a nurse, stripper, Pro Domme, and Vice-President of Metro Vancouver Kink, which has fueled her passions to help normalize and explore human sexuality.

">