Gateway to Suspension
When:
January 28, 2023 @ 9:00 am – 4:00 pm
2023-01-28T09:00:00-08:00
2023-01-28T16:00:00-08:00
Where:
Gallery Erato
309 1st Ave S
Seattle
WA 98118

Cost:
$210 Tying Pair, $70 Audit Only (solo)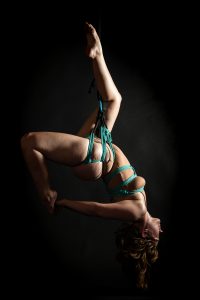 This full day intensive offers an introduction to suspension for intermediate rope tops and bottoms.
Both tops and bottoms should be experienced with consent, negotiation and rope bondage. Specifically tops should be confident in tying structural harnesses ( specifically a suspension safe hip and chest harness). Bottoms should be experienced being tied in a variety of positions and able to verbally communicate while in rope.
This class will cover:
Negotiation
Nerves and anatomy
Uplines and lifting
Bottoming skills
Easy partial positions
Prerequisites: Tops should be able to tie a chest harness, and non-collapsing single column tie.
Required gear:
4 30-ft lengths of rope in hemp, jute, or nylon (5-8mm)
4 pear-shaped or oval carabiners rated for climbing
2 30ft lengths of POSH rope.
( Class bundle with student discount available from : https://www.etsy.com/shop/KinbakuStudio)
Other Important Info:
No late entry will be allowed due to the intimate nature of this workshop. Doors will be locked at 10 minutes after the start time.
Water available. Please bring your own cup or bottle.
Open to all 18+
Attendance is limited to 14 tying pairs. Limited audit-only spots are available.
All sexes, genders, races, ethnicities, bodies, body types, sexual orientations, relationship orientations, abilities welcome and celebrated.
Questions may be directed to: [email protected]
Scholarships available.
Please let us know by email if you have any access needs or things that would aid in your learning.
Part of this class will take place in the basement, which is only accessible by stairs. We apologize for any inconvenience.
About the Educators:

Blaming_lilith (she/her) has been tying since 2016 and discovered her love for suspension in 2018. She ties as a creative outlet and a way to socialize with some of her favorite people. Once a month, she co-hosts the Witchy Rope Enthusiasts' Group (WREG) in Seattle, where she demos simple ties and labs out more creative ideas with wonderfully collaborative bottoms. You can find her on fetlife (blaming_liltih) and instagram (blaminglilith).

Megan (Mz_Magpie on instagram and Fetlife) joined the kink community in 2010. She identifies as a queer woman, switch and nerd. She runs Magpie Kink education (Magpiekink.com) She loves finding new ways to explain complex topics.

This full day intensive offers an introduction to suspension for intermediate rope tops and bottoms. Both tops and bottoms should be experienced with consent, negotiation and rope bondage. Specifically tops should be confident in tying structural harnesses ( specifically a suspension safe hip and chest harness). Bottoms should be experienced being tied in a variety of positions and able to verbally communicate while in rope. Purchase tickets here! This class will cover: Negotiation Nerves and anatomy Uplines and lifting Bottoming skills Easy partial positions Prerequisites: Tops should be able to tie a chest harness, and non-collapsing single column tie. Required gear: 4 30-ft lengths of rope in hemp, jute, or nylon (5-8mm) 4 pear-shaped or oval carabiners rated for climbing 2 30ft lengths of POSH rope. ( Class bundle with student discount available from : https://www.etsy.com/shop/KinbakuStudio) Other Important Info: No late entry will be allowed due to the intimate nature of this workshop. Doors will be locked at 10 minutes after the start time. Water available. Please bring your own cup or bottle. Open to all 18+ Attendance is limited to 14 tying pairs. Limited audit-only spots are available. All sexes, genders, races, ethnicities, bodies, body types, sexual orientations, relationship orientations, abilities welcome and celebrated. Questions may be directed to: [email protected] Scholarships available. Please let us know by email if you have any access needs or things that would aid in your learning. Part of this class will take place in the basement, which is only accessible by stairs. We apologize for any inconvenience. About the Educators: Blaming_lilith (she/her) has been tying since 2016 and discovered her love for suspension in 2018. She ties as a creative outlet and a way to socialize with some of her favorite people. Once a month, she co-hosts the Witchy Rope Enthusiasts' Group (WREG) in Seattle, where she demos simple ties and labs out more creative ideas with wonderfully collaborative bottoms. You can find her on fetlife (blaming_liltih) and instagram (blaminglilith). Megan (Mz_Magpie on instagram and Fetlife) joined the kink community in 2010. She identifies as a queer woman, switch and nerd. She runs Magpie Kink education (Magpiekink.com) She loves finding new ways to explain complex topics.

&media=">

This full day intensive offers an introduction to suspension for intermediate rope tops and bottoms. Both tops and bottoms should be experienced with consent, negotiation and rope bondage. Specifically tops should be confident in tying structural harnesses ( specifically a suspension safe hip and chest harness). Bottoms should be experienced being tied in a variety of positions and able to verbally communicate while in rope. Purchase tickets here! This class will cover: Negotiation Nerves and anatomy Uplines and lifting Bottoming skills Easy partial positions Prerequisites: Tops should be able to tie a chest harness, and non-collapsing single column tie. Required gear: 4 30-ft lengths of rope in hemp, jute, or nylon (5-8mm) 4 pear-shaped or oval carabiners rated for climbing 2 30ft lengths of POSH rope. ( Class bundle with student discount available from : https://www.etsy.com/shop/KinbakuStudio) Other Important Info: No late entry will be allowed due to the intimate nature of this workshop. Doors will be locked at 10 minutes after the start time. Water available. Please bring your own cup or bottle. Open to all 18+ Attendance is limited to 14 tying pairs. Limited audit-only spots are available. All sexes, genders, races, ethnicities, bodies, body types, sexual orientations, relationship orientations, abilities welcome and celebrated. Questions may be directed to: [email protected] Scholarships available. Please let us know by email if you have any access needs or things that would aid in your learning. Part of this class will take place in the basement, which is only accessible by stairs. We apologize for any inconvenience. About the Educators: Blaming_lilith (she/her) has been tying since 2016 and discovered her love for suspension in 2018. She ties as a creative outlet and a way to socialize with some of her favorite people. Once a month, she co-hosts the Witchy Rope Enthusiasts' Group (WREG) in Seattle, where she demos simple ties and labs out more creative ideas with wonderfully collaborative bottoms. You can find her on fetlife (blaming_liltih) and instagram (blaminglilith). Megan (Mz_Magpie on instagram and Fetlife) joined the kink community in 2010. She identifies as a queer woman, switch and nerd. She runs Magpie Kink education (Magpiekink.com) She loves finding new ways to explain complex topics.

">