**Sold Out** Bondage for Beginners
When:
May 13, 2023 @ 1:00 pm – 4:00 pm
2023-05-13T13:00:00-07:00
2023-05-13T16:00:00-07:00
Where:
Gallery Erato
309 1st Ave S
Seattle WA 98104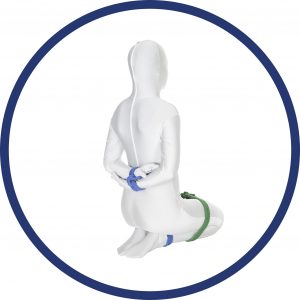 Interested in adding some bondage to your life but not sure where to start? This fun and accessible introductory class will introduce you to the basics of kink and rope bondage. By the time you're done you'll have all the skills you need to safely and confidently start exploring bondage on your own.
This is a bondage class rather than a knots class, so our focus is on teaching a small number of versatile techniques that you can use in all kinds of ways. All the ties in the class are easy to learn and can be used for many different play styles.
The point of bondage is to connect with your partner, so we'll also cover fundamental kink concepts like consent, safewords, negotiation, and aftercare. To help you put it all together, we'll have fun demos of the techniques in action, along with suggestions for how to figure out what kind of kink works best for you.
Single students are welcome, but this class is most fun if you take it with a partner. We'll provide practice rope if you don't have your own. The 38 page color handout includes all the class material as well as additional ties to practice at home.
COVID Protocols:
All attendees must provide proof of current Covid vaccination.
All attendees must wear face masks at all times except when drinking.
We will do our best to accommodate medical exemptions Covid-related accommodations. Please contact us at [email protected] before your class to speak to Full Circle Kink's staff physician.
Important Info:
No late entry will be allowed due to the intimate nature of this workshop. Doors will be locked at 10 minutes after the start time.
Water available. Please bring your own cup or bottle.
Open to all 18+
Attendance is limited to 24 people.
All sexes, genders, races, ethnicities, bodies, body types, sexual orientations, relationship orientations, abilities welcome and celebrated.
Questions may be directed to: [email protected]
Scholarships available.
Please let us know by email if you have any access needs or things that would aid in your learning.
About the Educators:

Full Circle Kink is a Seattle-based kink education group known for high-quality classes on a wide range of topics. Our classes span the spectrum from beginner topics to deep dives on highly technical subjects. Regardless of the topic, our expert instructors combine deep subject matter expertise with a relentless focus on teaching practical, real-world skills.

Interested in adding some bondage to your life but not sure where to start? This fun and accessible introductory class will introduce you to the basics of kink and rope bondage. By the time you're done you'll have all the skills you need to safely and confidently start exploring bondage on your own. This is a bondage class rather than a knots class, so our focus is on teaching a small number of versatile techniques that you can use in all kinds of ways. All the ties in the class are easy to learn and can be used for many different play styles. The point of bondage is to connect with your partner, so we'll also cover fundamental kink concepts like consent, safewords, negotiation, and aftercare. To help you put it all together, we'll have fun demos of the techniques in action, along with suggestions for how to figure out what kind of kink works best for you. Single students are welcome, but this class is most fun if you take it with a partner. We'll provide practice rope if you don't have your own. The 38 page color handout includes all the class material as well as additional ties to practice at home. COVID Protocols: All attendees must provide proof of current Covid vaccination. All attendees must wear face masks at all times except when drinking. We will do our best to accommodate medical exemptions Covid-related accommodations. Please contact us at [email protected] before your class to speak to Full Circle Kink's staff physician. Tickets available here! Important Info: No late entry will be allowed due to the intimate nature of this workshop. Doors will be locked at 10 minutes after the start time. Water available. Please bring your own cup or bottle. Open to all 18+ Attendance is limited to 24 people. All sexes, genders, races, ethnicities, bodies, body types, sexual orientations, relationship orientations, abilities welcome and celebrated. Questions may be directed to: [email protected] Scholarships available. Please let us know by email if you have any access needs or things that would aid in your learning. About the Educators: Full Circle Kink is a Seattle-based kink education group known for high-quality classes on a wide range of topics. Our classes span the spectrum from beginner topics to deep dives on highly technical subjects. Regardless of the topic, our expert instructors combine deep subject matter expertise with a relentless focus on teaching practical, real-world skills.

&media=">

Interested in adding some bondage to your life but not sure where to start? This fun and accessible introductory class will introduce you to the basics of kink and rope bondage. By the time you're done you'll have all the skills you need to safely and confidently start exploring bondage on your own. This is a bondage class rather than a knots class, so our focus is on teaching a small number of versatile techniques that you can use in all kinds of ways. All the ties in the class are easy to learn and can be used for many different play styles. The point of bondage is to connect with your partner, so we'll also cover fundamental kink concepts like consent, safewords, negotiation, and aftercare. To help you put it all together, we'll have fun demos of the techniques in action, along with suggestions for how to figure out what kind of kink works best for you. Single students are welcome, but this class is most fun if you take it with a partner. We'll provide practice rope if you don't have your own. The 38 page color handout includes all the class material as well as additional ties to practice at home. COVID Protocols: All attendees must provide proof of current Covid vaccination. All attendees must wear face masks at all times except when drinking. We will do our best to accommodate medical exemptions Covid-related accommodations. Please contact us at [email protected] before your class to speak to Full Circle Kink's staff physician. Tickets available here! Important Info: No late entry will be allowed due to the intimate nature of this workshop. Doors will be locked at 10 minutes after the start time. Water available. Please bring your own cup or bottle. Open to all 18+ Attendance is limited to 24 people. All sexes, genders, races, ethnicities, bodies, body types, sexual orientations, relationship orientations, abilities welcome and celebrated. Questions may be directed to: [email protected] Scholarships available. Please let us know by email if you have any access needs or things that would aid in your learning. About the Educators: Full Circle Kink is a Seattle-based kink education group known for high-quality classes on a wide range of topics. Our classes span the spectrum from beginner topics to deep dives on highly technical subjects. Regardless of the topic, our expert instructors combine deep subject matter expertise with a relentless focus on teaching practical, real-world skills.

">