Walk All Over Me: Trampling 101
When:
September 20, 2023 @ 7:00 pm – 8:30 pm
2023-09-20T19:00:00-07:00
2023-09-20T20:30:00-07:00
Where:
Gallery Erato
309 1st Ave S
Seattle WA 98104
Whether you love the idea of walking all over your partner or being the one stepped on, this is the class for you! We'll cover some basic techniques to minimize the likelihood of harm, discuss appropriate footwear (or lack thereof), and offer suggestions on how to add other kinks into the mix to spice up your trampling session. Come prepared to practice and participate.
Important Information:
Pay-what-you-can scholarships are available for all Pan Eros Foundation workshops. If you need financial assistance, please email Leah at [email protected]
No late entry will be allowed due to the intimate nature of this workshop. Doors will be locked at 10 minutes after the start time.
Water available. Please bring your own cup or bottle.
Open to all 18+
Attendance is limited to 30 people.
All sexes, genders, races, ethnicities, bodies, body types, sexual orientations, relationship orientations, abilities welcome and celebrated.
Please let us know by email if you have any access needs or things that would aid in your learning.
Questions may be directed to: [email protected]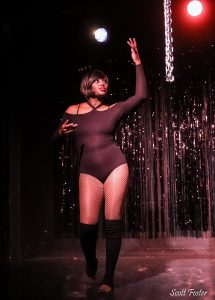 About the Educator:

Onyx Asili, the Warrior Next Door, is striving to live her best life because she doesn't believe in getting out of bed to be mediocre. If she's not hard at work, she's definitely hard at play. You can often catch her living out her literary fantasies as a core member of Noveltease Theatre, cementing her geek cred with her latest nerdlesque act, or simply reveling in the day to day joy of Black Girl Magic.

Whether you love the idea of walking all over your partner or being the one stepped on, this is the class for you! We'll cover some basic techniques to minimize the likelihood of harm, discuss appropriate footwear (or lack thereof), and offer suggestions on how to add other kinks into the mix to spice up your trampling session. Come prepared to practice and participate. Purchase tickets here! Important Information: Pay-what-you-can scholarships are available for all Pan Eros Foundation workshops. If you need financial assistance, please email Leah at [email protected] No late entry will be allowed due to the intimate nature of this workshop. Doors will be locked at 10 minutes after the start time. Water available. Please bring your own cup or bottle. Open to all 18+ Attendance is limited to 30 people. All sexes, genders, races, ethnicities, bodies, body types, sexual orientations, relationship orientations, abilities welcome and celebrated. Please let us know by email if you have any access needs or things that would aid in your learning. Questions may be directed to: [email protected] About the Educator: Onyx Asili, the Warrior Next Door, is striving to live her best life because she doesn't believe in getting out of bed to be mediocre. If she's not hard at work, she's definitely hard at play. You can often catch her living out her literary fantasies as a core member of Noveltease Theatre, cementing her geek cred with her latest nerdlesque act, or simply reveling in the day to day joy of Black Girl Magic.

&media=">

Whether you love the idea of walking all over your partner or being the one stepped on, this is the class for you! We'll cover some basic techniques to minimize the likelihood of harm, discuss appropriate footwear (or lack thereof), and offer suggestions on how to add other kinks into the mix to spice up your trampling session. Come prepared to practice and participate. Purchase tickets here! Important Information: Pay-what-you-can scholarships are available for all Pan Eros Foundation workshops. If you need financial assistance, please email Leah at [email protected] No late entry will be allowed due to the intimate nature of this workshop. Doors will be locked at 10 minutes after the start time. Water available. Please bring your own cup or bottle. Open to all 18+ Attendance is limited to 30 people. All sexes, genders, races, ethnicities, bodies, body types, sexual orientations, relationship orientations, abilities welcome and celebrated. Please let us know by email if you have any access needs or things that would aid in your learning. Questions may be directed to: [email protected] About the Educator: Onyx Asili, the Warrior Next Door, is striving to live her best life because she doesn't believe in getting out of bed to be mediocre. If she's not hard at work, she's definitely hard at play. You can often catch her living out her literary fantasies as a core member of Noveltease Theatre, cementing her geek cred with her latest nerdlesque act, or simply reveling in the day to day joy of Black Girl Magic.

">