Transcending Shame
When:
November 8, 2021 @ 7:00 pm – 8:30 pm
2021-11-08T19:00:00-08:00
2021-11-08T20:30:00-08:00
Course Introduction:
Do you experience guilt, shame and feelings of inferiority around your sexuality/sexual expression, gender identity, and/or race? Do you regularly feel inferior, or "not good enough," especially because of your race, gender expression or sexual orientation? Do you constantly compare yourself to others? Do you see yourself as defective? Do you experience tremendous guilt around your sexuality/sexual expression? This interactive workshop will provide you with tools in order to: identify shame, recognize shaming behavior, and transcend shame.
Course Description:
This workshop tackles the topic of personal shame and the damage that it causes when left unchecked. For participants to create self-safety, it is necessary to interrupt shaming language. This interactive workshop gives participants the opportunity to: understand the meaning of shame; learn the difference between guilt and shame; gain awareness of shaming phrases and behaviors that are commonly used; recognize when they are being shamed; and learn ways to confront others who shame them.
Purchase tickets here!
Important Details:
The Pan Eros Foundation offers a sliding fee scale for ticket prices. You are welcome to choose whichever ticket fits with your financial situation. If you need further financial assistance, please email Leah at [email protected] to ask about our scholarship program.
This is an online class via Zoom. You must purchase your ticket in advance. Ticket sales end at 5:00pm US Pacific Time on the day of the workshop. Instructions for access will be emailed to you before the workshop begins.
No late entry will be allowed due to the intimate nature of this workshop. Access will be blocked at 10 minutes after the start time
Open to all 18+
All sexes, genders, races, ethnicities, sexual orientations, relationship orientations welcome and celebrated.
Questions may be directed to: 

[email protected]

Please let us know by email if you have any access needs or things that would aid in your learning.
About the Educator: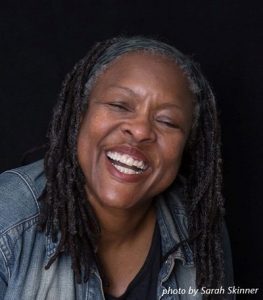 Gloria Jackson-Nefertiti (she/her/hers) is a breast cancer survivor, whose 2013 diagnosis reminded her just how short life is. This served as a catalyst to help her come out as bisexual, polyamorous and sex-positive, for which she had previously experienced tremendous shame. Gloria is also in the process of writin her memoir, with the working title of "A Different Drum: A Black, Autistic, Polyamorous, Mentally Ill, Former Fundamentalist Christian/Cult Memeber and Breast Cancer Survivor WHO JUST WANTS TO FIT IN." She lives in Seattle, WA.

Course Introduction: Do you experience guilt, shame and feelings of inferiority around your sexuality/sexual expression, gender identity, and/or race? Do you regularly feel inferior, or "not good enough," especially because of your race, gender expression or sexual orientation? Do you constantly compare yourself to others? Do you see yourself as defective? Do you experience tremendous guilt around your sexuality/sexual expression? This interactive workshop will provide you with tools in order to: identify shame, recognize shaming behavior, and transcend shame. Course Description: This workshop tackles the topic of personal shame and the damage that it causes when left unchecked. For participants to create self-safety, it is necessary to interrupt shaming language. This interactive workshop gives participants the opportunity to: understand the meaning of shame; learn the difference between guilt and shame; gain awareness of shaming phrases and behaviors that are commonly used; recognize when they are being shamed; and learn ways to confront others who shame them. Purchase tickets here! Important Details: The Pan Eros Foundation offers a sliding fee scale for ticket prices. You are welcome to choose whichever ticket fits with your financial situation. If you need further financial assistance, please email Leah at [email protected] to ask about our scholarship program. This is an online class via Zoom. You must purchase your ticket in advance. Ticket sales end at 5:00pm US Pacific Time on the day of the workshop. Instructions for access will be emailed to you before the workshop begins. No late entry will be allowed due to the intimate nature of this workshop. Access will be blocked at 10 minutes after the start time Open to all 18+ All sexes, genders, races, ethnicities, sexual orientations, relationship orientations welcome and celebrated. Questions may be directed to: [email protected] Please let us know by email if you have any access needs or things that would aid in your learning. About the Educator: Gloria Jackson-Nefertiti (she/her/hers) is a breast cancer survivor, whose 2013 diagnosis reminded her just how short life is. This served as a catalyst to help her come out as bisexual, polyamorous and sex-positive, for which she had previously experienced tremendous shame. Gloria is also in the process of writin her memoir, with the working title of "A Different Drum: A Black, Autistic, Polyamorous, Mentally Ill, Former Fundamentalist Christian/Cult Memeber and Breast Cancer Survivor WHO JUST WANTS TO FIT IN." She lives in Seattle, WA.

&media=">

Course Introduction: Do you experience guilt, shame and feelings of inferiority around your sexuality/sexual expression, gender identity, and/or race? Do you regularly feel inferior, or "not good enough," especially because of your race, gender expression or sexual orientation? Do you constantly compare yourself to others? Do you see yourself as defective? Do you experience tremendous guilt around your sexuality/sexual expression? This interactive workshop will provide you with tools in order to: identify shame, recognize shaming behavior, and transcend shame. Course Description: This workshop tackles the topic of personal shame and the damage that it causes when left unchecked. For participants to create self-safety, it is necessary to interrupt shaming language. This interactive workshop gives participants the opportunity to: understand the meaning of shame; learn the difference between guilt and shame; gain awareness of shaming phrases and behaviors that are commonly used; recognize when they are being shamed; and learn ways to confront others who shame them. Purchase tickets here! Important Details: The Pan Eros Foundation offers a sliding fee scale for ticket prices. You are welcome to choose whichever ticket fits with your financial situation. If you need further financial assistance, please email Leah at [email protected] to ask about our scholarship program. This is an online class via Zoom. You must purchase your ticket in advance. Ticket sales end at 5:00pm US Pacific Time on the day of the workshop. Instructions for access will be emailed to you before the workshop begins. No late entry will be allowed due to the intimate nature of this workshop. Access will be blocked at 10 minutes after the start time Open to all 18+ All sexes, genders, races, ethnicities, sexual orientations, relationship orientations welcome and celebrated. Questions may be directed to: [email protected] Please let us know by email if you have any access needs or things that would aid in your learning. About the Educator: Gloria Jackson-Nefertiti (she/her/hers) is a breast cancer survivor, whose 2013 diagnosis reminded her just how short life is. This served as a catalyst to help her come out as bisexual, polyamorous and sex-positive, for which she had previously experienced tremendous shame. Gloria is also in the process of writin her memoir, with the working title of "A Different Drum: A Black, Autistic, Polyamorous, Mentally Ill, Former Fundamentalist Christian/Cult Memeber and Breast Cancer Survivor WHO JUST WANTS TO FIT IN." She lives in Seattle, WA.

">