Tips, Tricks, and Booby Traps for Finding Play: flirting, navigating consent, and anticipating the next scene
When:
August 6, 2022 @ 4:00 pm – 5:30 pm
2022-08-06T16:00:00-07:00
2022-08-06T17:30:00-07:00
Where:
Gallery Erato
309 1st Ave S
Seattle
WA 98104

Before you head out to the dungeon, come learn best practices (and mistakes made) for getting more play in your life. You'll walk out of this class with practical skills for finding, negotiating, executing, and concluding a scene with special attention to 'pick-up' play.  We'll discuss the art of flirting (without being creepy).  You'll also get a framework for negotiating scenes with someone relatively unknown to you. In the workshop, we'll share precautions and best practices when playing with someone you recently met. Finally, come learn the secret of world-class aftercare. We will reserve time to demo and rehearse your new flirting and communication tools.
Important notes:
No late entry will be allowed due to the intimate nature of this workshop. Doors will be locked at 10 minutes after the start time.
Open to all 18+
Attendance is limited to 50 people.
All sexes, genders, races, ethnicities, bodies, sexual orientations, relationship orientations welcome and celebrated.
Questions may be directed to: [email protected]

Scholarships available.
Please let us know by email if you have any access needs or things that would aid in your learning.
About the Educator: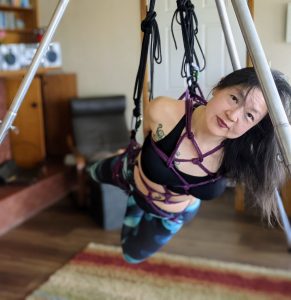 Mx Bliss (she/they) is a joyful sadomasochist, sensation empath, consent enthusiast, rope switch, self suspender, and lifestyle quinkster (queer kinkster). They identify as Daddy AF, on both sides of the slash.  Bliss is having the time of their life discovering all the ways to connect with BDSM and rope and is eager to share the joy. They co-facilitate AlternaRope, a celebration of diversity in rope and co-hosts the Friction pop-up events. She also produces the Jiffy Kink events. Both in vanilla and kink worlds, MxBliss frequently presents on negotiation, consent, and diversity/equity/inclusion. With some trepidation, she is starting to teach some rope classes. She loves all the feedback, especially the kind that will help her grow and have her intention better mirror the impact of her behavior/words.

Fetlife: MxBliss
IG: mx_bliss
https://mxbliss.home.blog/
Provide Feedback: https://forms.gle/2NK6KMJNy4qregwb9

Before you head out to the dungeon, come learn best practices (and mistakes made) for getting more play in your life. You'll walk out of this class with practical skills for finding, negotiating, executing, and concluding a scene with special attention to 'pick-up' play.  We'll discuss the art of flirting (without being creepy).  You'll also get a framework for negotiating scenes with someone relatively unknown to you. In the workshop, we'll share precautions and best practices when playing with someone you recently met. Finally, come learn the secret of world-class aftercare. We will reserve time to demo and rehearse your new flirting and communication tools. Purchase tickets here! Important notes: No late entry will be allowed due to the intimate nature of this workshop. Doors will be locked at 10 minutes after the start time. Open to all 18+ Attendance is limited to 50 people. All sexes, genders, races, ethnicities, bodies, sexual orientations, relationship orientations welcome and celebrated. Questions may be directed to: [email protected] Scholarships available. Please let us know by email if you have any access needs or things that would aid in your learning. About the Educator:  Mx Bliss (she/they) is a joyful sadomasochist, sensation empath, consent enthusiast, rope switch, self suspender, and lifestyle quinkster (queer kinkster). They identify as Daddy AF, on both sides of the slash.  Bliss is having the time of their life discovering all the ways to connect with BDSM and rope and is eager to share the joy. They co-facilitate AlternaRope, a celebration of diversity in rope and co-hosts the Friction pop-up events. She also produces the Jiffy Kink events. Both in vanilla and kink worlds, MxBliss frequently presents on negotiation, consent, and diversity/equity/inclusion. With some trepidation, she is starting to teach some rope classes. She loves all the feedback, especially the kind that will help her grow and have her intention better mirror the impact of her behavior/words. Fetlife: MxBliss IG: mx_bliss https://mxbliss.home.blog/ Provide Feedback: https://forms.gle/2NK6KMJNy4qregwb9

&media=">

Before you head out to the dungeon, come learn best practices (and mistakes made) for getting more play in your life. You'll walk out of this class with practical skills for finding, negotiating, executing, and concluding a scene with special attention to 'pick-up' play.  We'll discuss the art of flirting (without being creepy).  You'll also get a framework for negotiating scenes with someone relatively unknown to you. In the workshop, we'll share precautions and best practices when playing with someone you recently met. Finally, come learn the secret of world-class aftercare. We will reserve time to demo and rehearse your new flirting and communication tools. Purchase tickets here! Important notes: No late entry will be allowed due to the intimate nature of this workshop. Doors will be locked at 10 minutes after the start time. Open to all 18+ Attendance is limited to 50 people. All sexes, genders, races, ethnicities, bodies, sexual orientations, relationship orientations welcome and celebrated. Questions may be directed to: [email protected] Scholarships available. Please let us know by email if you have any access needs or things that would aid in your learning. About the Educator:  Mx Bliss (she/they) is a joyful sadomasochist, sensation empath, consent enthusiast, rope switch, self suspender, and lifestyle quinkster (queer kinkster). They identify as Daddy AF, on both sides of the slash.  Bliss is having the time of their life discovering all the ways to connect with BDSM and rope and is eager to share the joy. They co-facilitate AlternaRope, a celebration of diversity in rope and co-hosts the Friction pop-up events. She also produces the Jiffy Kink events. Both in vanilla and kink worlds, MxBliss frequently presents on negotiation, consent, and diversity/equity/inclusion. With some trepidation, she is starting to teach some rope classes. She loves all the feedback, especially the kind that will help her grow and have her intention better mirror the impact of her behavior/words. Fetlife: MxBliss IG: mx_bliss https://mxbliss.home.blog/ Provide Feedback: https://forms.gle/2NK6KMJNy4qregwb9

">