The Better Blowjob Experience (for the giver)
When:
August 25, 2021 @ 7:00 pm – 8:30 pm
2021-08-25T19:00:00-07:00
2021-08-25T20:30:00-07:00
This class is for those of you having a difficult time with oral play on any body part, or with gags and other contraptions used to hold your mouth open. Do you suffer from migraines, headaches, tmj dysfunction, or have jaw pain? If you do, and if it impacts your ability to enjoy orally-focused play, then this class is for you!
Domme Mx Vice has over 5 years experience in professional treatment of pain, tension, and dysfunction of the jaw, head, and neck. They also know first hand of how a serious upper neck injury stripped away the ability, joy, and interest in play. This class was born out of both of those experiences.
Mx Vice wishes to foster a cozy and intimate experience with their classes. Therefore, class seating is limited to ensure students (solo & couples!) get more time and attention to have their questions addressed.
In this class you will:
Watch Mx Vice give a demonstration on a piece of fruit, sort of like in American Pie to start the class!
Learn how a tight jaw and tense muscles can impact your orally-focused play, including for those bottoms wearing ball gags and other contraptions used to keep the mouth open!
Learn simple techniques you can take home with you and perform anytime that you need them
Have time to ask questions and troubleshoot the techniques! We will learn head/scalp and outer jaw techniques first, followed by inside mouth/jaw techniques last. With time to go over the techniques after each set.
Supplies to have within reach (required!):
70% or higher hand sanitizer, or rubbing alcohol in a spray bottle (wash your hands thoroughly for 30 seconds with soap before class begins! 90% evaporates too quickly and does not penetrate cell walls. 70% is the best!)
Disposable gloves, at least 2 pairs. This can be nitrile, latex, vinyl. They do not have to be hospital grade, they can be food handler's gloves. No rubber gloves for cleaning!
Your toy that you commonly use in your orally-focused scenes or casual play. Optionally cucumbers, bananas, or a piece of fruit with an oval cut into it also work great!
Condoms for these toys if needed or desired.
Paper Towels or tissues handy incase there is excessive saliva and you need to wipe it off.

Sex Workers get priority access!
Sex Workers can take the class for absolutely no cost, or for whatever they want to pay (or donate if a charity is selected). If you know a Sex Worker who would benefit from this class, please share the class with them! Mx Vice wishes to support Sex Workers by making their classes accessible. NO proof required. Sex Work is Work and Mx Vice is honored to support them. Email Leah at [email protected] to reserve your spot.
Dress Code & Consent:
Absolutely NO MAKEUP or glitter!
We plan to record only Mx. Vice's screen for the lecture/demo portion of the class. We will stop the recording for the trooubleshooting/question portion.
[Special COVID disclaimer and where responsibilities lie]
COVID-19 has made in person classes unsafe and as a result this class is adapted with this awareness in mind. You are responsible for ensuring you follow best practices to reduce your risk of surface to face transmission of COVID-19 by cleaning your station thoroughly in preparation for class, while being ready to start class on time. It is best to secure your supplies for this class sooner rather than later. Mx Vice is not responsible for poor risk assessment and practices which could result in transmission of COVID-19 from surface contact. It is advisable you review CDC guidelines for how to clean your space, and then take the time necessary to ensure it is prepared before class begins. Ensure your toys are also cleaned prior to class!
About the Educator: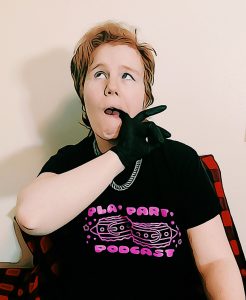 Domme Mx Vice (picutred using one of the techniques you'll learn in the class) is a non binary clever badass who moonlights as a Sex Positive Educator and Coach. Mx Vice brings straightforward information from both their professional experience in healthcare and their own lived experiences to educate & coach. They specialize in communication & boundary setting,, self care, teaching partners as well as, troubleshooting challenges with play & intimacy due to chronic pain and difficulties with accessibility.

Mx Vice is trauma-informed and knows first hand how complex trauma impacts everyone's ability to connect authentically, fully, and to experience joy in their lives. Their wish is to help others gain confidence, get out of their head (or get more into their head!) and embrace connection with themselves & each other.

Mx Vice offers classes both as fundraisers for mostly Sex Positive organizations, as well as for their own bread & butter. Additionally, Mx Vice offers coaching & education to small groups and individuals. To learn more please visit their profile on fetlife under DommeMxVice and click that follow button to see when class dates are announced or to inquire about booking Mx Vice!

This class is for those of you having a difficult time with oral play on any body part, or with gags and other contraptions used to hold your mouth open. Do you suffer from migraines, headaches, tmj dysfunction, or have jaw pain? If you do, and if it impacts your ability to enjoy orally-focused play, then this class is for you! Domme Mx Vice has over 5 years experience in professional treatment of pain, tension, and dysfunction of the jaw, head, and neck. They also know first hand of how a serious upper neck injury stripped away the ability, joy, and interest in play. This class was born out of both of those experiences. Mx Vice wishes to foster a cozy and intimate experience with their classes. Therefore, class seating is limited to ensure students (solo & couples!) get more time and attention to have their questions addressed. In this class you will: Watch Mx Vice give a demonstration on a piece of fruit, sort of like in American Pie to start the class! Learn how a tight jaw and tense muscles can impact your orally-focused play, including for those bottoms wearing ball gags and other contraptions used to keep the mouth open! Learn simple techniques you can take home with you and perform anytime that you need them Have time to ask questions and troubleshoot the techniques! We will learn head/scalp and outer jaw techniques first, followed by inside mouth/jaw techniques last. With time to go over the techniques after each set. Supplies to have within reach (required!): 70% or higher hand sanitizer, or rubbing alcohol in a spray bottle (wash your hands thoroughly for 30 seconds with soap before class begins! 90% evaporates too quickly and does not penetrate cell walls. 70% is the best!) Disposable gloves, at least 2 pairs. This can be nitrile, latex, vinyl. They do not have to be hospital grade, they can be food handler's gloves. No rubber gloves for cleaning! Your toy that you commonly use in your orally-focused scenes or casual play. Optionally cucumbers, bananas, or a piece of fruit with an oval cut into it also work great! Condoms for these toys if needed or desired. Paper Towels or tissues handy incase there is excessive saliva and you need to wipe it off. Purchase tickets here! Sex Workers get priority access! Sex Workers can take the class for absolutely no cost, or for whatever they want to pay (or donate if a charity is selected). If you know a Sex Worker who would benefit from this class, please share the class with them! Mx Vice wishes to support Sex Workers by making their classes accessible. NO proof required. Sex Work is Work and Mx Vice is honored to support them. Email Leah at [email protected] to reserve your spot. Dress Code & Consent: Absolutely NO MAKEUP or glitter! We plan to record only Mx. Vice's screen for the lecture/demo portion of the class. We will stop the recording for the trooubleshooting/question portion. [Special COVID disclaimer and where responsibilities lie] COVID-19 has made in person classes unsafe and as a result this class is adapted with this awareness in mind. You are responsible for ensuring you follow best practices to reduce your risk of surface to face transmission of COVID-19 by cleaning your station thoroughly in preparation for class, while being ready to start class on time. It is best to secure your supplies for this class sooner rather than later. Mx Vice is not responsible for poor risk assessment and practices which could result in transmission of COVID-19 from surface contact. It is advisable you review CDC guidelines for how to clean your space, and then take the time necessary to ensure it is prepared before class begins. Ensure your toys are also cleaned prior to class! About the Educator: Domme Mx Vice (picutred using one of the techniques you'll learn in the class) is a non binary clever badass who moonlights as a Sex Positive Educator and Coach. Mx Vice brings straightforward information from both their professional experience in healthcare and their own lived experiences to educate & coach. They specialize in communication & boundary setting,, self care, teaching partners as well as, troubleshooting challenges with play & intimacy due to chronic pain and difficulties with accessibility. Mx Vice is trauma-informed and knows first hand how complex trauma impacts everyone's ability to connect authentically, fully, and to experience joy in their lives. Their wish is to help others gain confidence, get out of their head (or get more into their head!) and embrace connection with themselves & each other. Mx Vice offers classes both as fundraisers for mostly Sex Positive organizations, as well as for their own bread & butter. Additionally, Mx Vice offers coaching & education to small groups and individuals. To learn more please visit their profile on fetlife under DommeMxVice and click that follow button to see when class dates are announced or to inquire about booking Mx Vice!

&media=">

This class is for those of you having a difficult time with oral play on any body part, or with gags and other contraptions used to hold your mouth open. Do you suffer from migraines, headaches, tmj dysfunction, or have jaw pain? If you do, and if it impacts your ability to enjoy orally-focused play, then this class is for you! Domme Mx Vice has over 5 years experience in professional treatment of pain, tension, and dysfunction of the jaw, head, and neck. They also know first hand of how a serious upper neck injury stripped away the ability, joy, and interest in play. This class was born out of both of those experiences. Mx Vice wishes to foster a cozy and intimate experience with their classes. Therefore, class seating is limited to ensure students (solo & couples!) get more time and attention to have their questions addressed. In this class you will: Watch Mx Vice give a demonstration on a piece of fruit, sort of like in American Pie to start the class! Learn how a tight jaw and tense muscles can impact your orally-focused play, including for those bottoms wearing ball gags and other contraptions used to keep the mouth open! Learn simple techniques you can take home with you and perform anytime that you need them Have time to ask questions and troubleshoot the techniques! We will learn head/scalp and outer jaw techniques first, followed by inside mouth/jaw techniques last. With time to go over the techniques after each set. Supplies to have within reach (required!): 70% or higher hand sanitizer, or rubbing alcohol in a spray bottle (wash your hands thoroughly for 30 seconds with soap before class begins! 90% evaporates too quickly and does not penetrate cell walls. 70% is the best!) Disposable gloves, at least 2 pairs. This can be nitrile, latex, vinyl. They do not have to be hospital grade, they can be food handler's gloves. No rubber gloves for cleaning! Your toy that you commonly use in your orally-focused scenes or casual play. Optionally cucumbers, bananas, or a piece of fruit with an oval cut into it also work great! Condoms for these toys if needed or desired. Paper Towels or tissues handy incase there is excessive saliva and you need to wipe it off. Purchase tickets here! Sex Workers get priority access! Sex Workers can take the class for absolutely no cost, or for whatever they want to pay (or donate if a charity is selected). If you know a Sex Worker who would benefit from this class, please share the class with them! Mx Vice wishes to support Sex Workers by making their classes accessible. NO proof required. Sex Work is Work and Mx Vice is honored to support them. Email Leah at [email protected] to reserve your spot. Dress Code & Consent: Absolutely NO MAKEUP or glitter! We plan to record only Mx. Vice's screen for the lecture/demo portion of the class. We will stop the recording for the trooubleshooting/question portion. [Special COVID disclaimer and where responsibilities lie] COVID-19 has made in person classes unsafe and as a result this class is adapted with this awareness in mind. You are responsible for ensuring you follow best practices to reduce your risk of surface to face transmission of COVID-19 by cleaning your station thoroughly in preparation for class, while being ready to start class on time. It is best to secure your supplies for this class sooner rather than later. Mx Vice is not responsible for poor risk assessment and practices which could result in transmission of COVID-19 from surface contact. It is advisable you review CDC guidelines for how to clean your space, and then take the time necessary to ensure it is prepared before class begins. Ensure your toys are also cleaned prior to class! About the Educator: Domme Mx Vice (picutred using one of the techniques you'll learn in the class) is a non binary clever badass who moonlights as a Sex Positive Educator and Coach. Mx Vice brings straightforward information from both their professional experience in healthcare and their own lived experiences to educate & coach. They specialize in communication & boundary setting,, self care, teaching partners as well as, troubleshooting challenges with play & intimacy due to chronic pain and difficulties with accessibility. Mx Vice is trauma-informed and knows first hand how complex trauma impacts everyone's ability to connect authentically, fully, and to experience joy in their lives. Their wish is to help others gain confidence, get out of their head (or get more into their head!) and embrace connection with themselves & each other. Mx Vice offers classes both as fundraisers for mostly Sex Positive organizations, as well as for their own bread & butter. Additionally, Mx Vice offers coaching & education to small groups and individuals. To learn more please visit their profile on fetlife under DommeMxVice and click that follow button to see when class dates are announced or to inquire about booking Mx Vice!

">