Seduction: Underworld
When:
October 22, 2022 @ 8:00 pm – October 23, 2022 @ 2:00 pm
2022-10-22T20:00:00-07:00
2022-10-23T14:00:00-07:00
Where:
Gallery Erato
309 1st Ave S
Seattle
WA 98104

Cost:
Early Bird Tickets: $32 (available until Sept. 6), Advance Tickets: $42, At the Door: $52

Gates Open 8PM  | 21+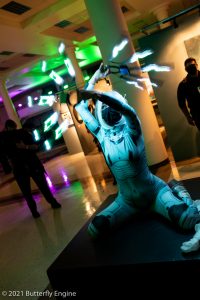 Seattle's sexiest Halloween party returns to Gallery Erato. Music, dancing, ambient performances, and the hottest costumes to make it out of the bedroom await you at this year's Seduction!
Seduction this year is offering two floors of Halloween revelry.  More will be revealed when our party mavens have finalized their decisions.
Please join the Pan Eros Foundation and the Seattle Erotic Art Festival at Gallery Erato on October 22.  And remember, Seduction is a fundraiser for the 2023 Seattle Erotic Art Festival.  By attending Seduction, you make SEAF go!
Tiered Pricing
Tiered ticket pricing is a way for Seduction to be accessible for more people. There is no difference in access between the tiers of tickets. To cover the increased cost of credit card processing and staffing, tickets sold at the event are higher than tickets purchased in advance.
DJs to seduce you onto the dance floor
Suitably sinister and enticing, the music and our go-go dancers will lure you onto two floors for your dancing pleasure. This year, diem, SEAF's own Director of Sound, is recruiting a variety of music artists to delight your ears and get your body moving.
Peruse the spellbinding collection of erotic visual art
Once again, our visual art showcase will explore the darker side of eroticism. You won't be disappointed as we share works that span from the morbidly playful sensuality. Featuring the art of many SEAF alum and local artists and artisans.
Interact, experience, and become a part of Seduction!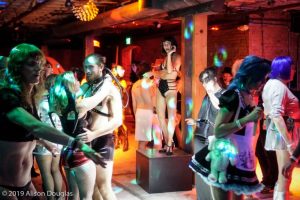 In the past, decorative bondage, fortune telling, John Cornicello's photobooth, and interactive shenanigans have made Seduction more than just a dance party. Each event is delightfully different and we look forward to sharing our plans with you.

If you want to help put Seduction on, we are always looking for sexy volunteers. Email Sophia at [email protected] for more info.

Gates Open 8PM  | 21+ Seattle's sexiest Halloween party returns to Gallery Erato. Music, dancing, ambient performances, and the hottest costumes to make it out of the bedroom await you at this year's Seduction! Seduction this year is offering two floors of Halloween revelry.  More will be revealed when our party mavens have finalized their decisions. Please join the Pan Eros Foundation and the Seattle Erotic Art Festival at Gallery Erato on October 22.  And remember, Seduction is a fundraiser for the 2023 Seattle Erotic Art Festival.  By attending Seduction, you make SEAF go! Tiered Pricing Tiered ticket pricing is a way for Seduction to be accessible for more people. There is no difference in access between the tiers of tickets. To cover the increased cost of credit card processing and staffing, tickets sold at the event are higher than tickets purchased in advance. Tickets on sale now! DJs to seduce you onto the dance floor Suitably sinister and enticing, the music and our go-go dancers will lure you onto two floors for your dancing pleasure. This year, diem, SEAF's own Director of Sound, is recruiting a variety of music artists to delight your ears and get your body moving. Peruse the spellbinding collection of erotic visual art Once again, our visual art showcase will explore the darker side of eroticism. You won't be disappointed as we share works that span from the morbidly playful sensuality. Featuring the art of many SEAF alum and local artists and artisans. Interact, experience, and become a part of Seduction! In the past, decorative bondage, fortune telling, John Cornicello's photobooth, and interactive shenanigans have made Seduction more than just a dance party. Each event is delightfully different and we look forward to sharing our plans with you. If you want to help put Seduction on, we are always looking for sexy volunteers. Email Sophia at [email protected] for more info.

&media=">

Gates Open 8PM  | 21+ Seattle's sexiest Halloween party returns to Gallery Erato. Music, dancing, ambient performances, and the hottest costumes to make it out of the bedroom await you at this year's Seduction! Seduction this year is offering two floors of Halloween revelry.  More will be revealed when our party mavens have finalized their decisions. Please join the Pan Eros Foundation and the Seattle Erotic Art Festival at Gallery Erato on October 22.  And remember, Seduction is a fundraiser for the 2023 Seattle Erotic Art Festival.  By attending Seduction, you make SEAF go! Tiered Pricing Tiered ticket pricing is a way for Seduction to be accessible for more people. There is no difference in access between the tiers of tickets. To cover the increased cost of credit card processing and staffing, tickets sold at the event are higher than tickets purchased in advance. Tickets on sale now! DJs to seduce you onto the dance floor Suitably sinister and enticing, the music and our go-go dancers will lure you onto two floors for your dancing pleasure. This year, diem, SEAF's own Director of Sound, is recruiting a variety of music artists to delight your ears and get your body moving. Peruse the spellbinding collection of erotic visual art Once again, our visual art showcase will explore the darker side of eroticism. You won't be disappointed as we share works that span from the morbidly playful sensuality. Featuring the art of many SEAF alum and local artists and artisans. Interact, experience, and become a part of Seduction! In the past, decorative bondage, fortune telling, John Cornicello's photobooth, and interactive shenanigans have made Seduction more than just a dance party. Each event is delightfully different and we look forward to sharing our plans with you. If you want to help put Seduction on, we are always looking for sexy volunteers. Email Sophia at [email protected] for more info.

">