Seattle Erotic Art Festival
When:
April 29, 2022 @ 6:00 pm – May 1, 2022 @ 4:00 pm
2022-04-29T18:00:00-07:00
2022-05-01T16:00:00-07:00
Where:
Seattle Center Exhibition Hall
301 Mercer Street Seattle
WA 98119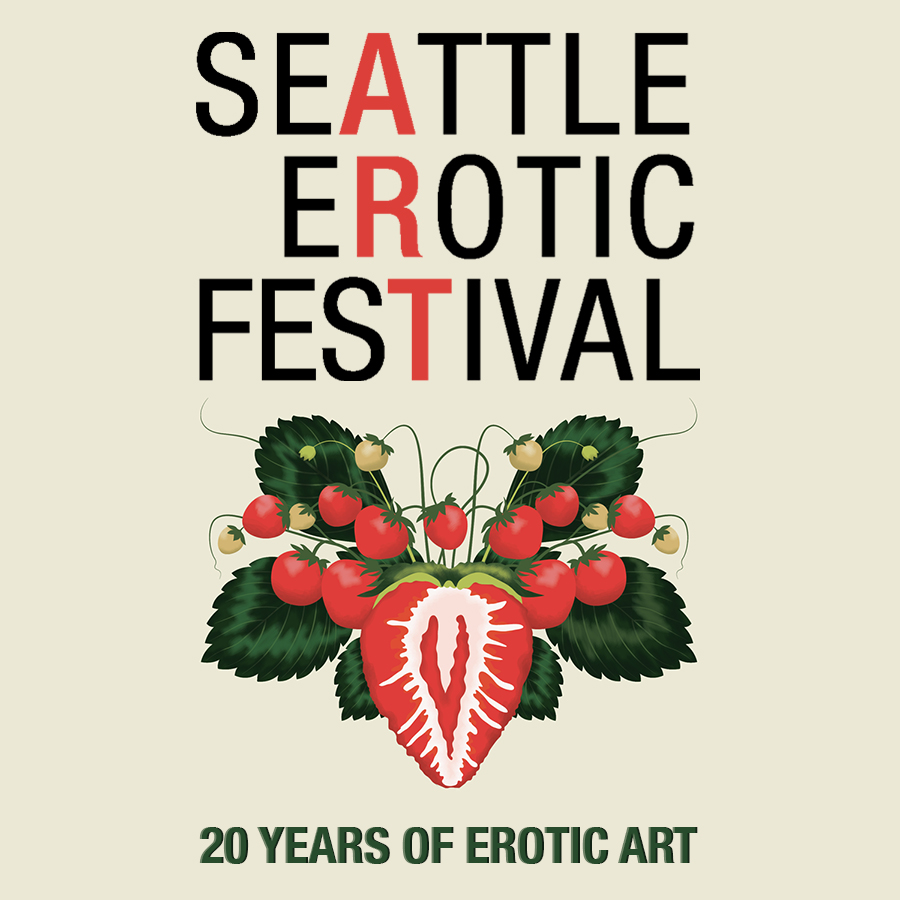 The Seattle Erotic art Festival is an experience unlike any other festival or gallery you have likely ever attended.  Over the course of three days, a curated selection of some of the finest erotic art the world has to offer will grace the floors of the Seattle Center's Exhibition Hall, awaiting your perusal and enjoyment.
During regular festival hours, you are invited to view the art and daily entertainments, from poetry readings to dance to acrobatic displays.  There is also the Festival Store, where you can often find prints by the artists featured in the festival as well as other unique items and annual Seattle Erotic Art Festival merchandise. In the evenings, the vibe changes from a gallery to sexy art party. The Late Night Festival is a sexy, fun time with performers, DJs, bartenders at the ready, and a fantastically energetic crowd.
The Festival art will engage you, titillate you, and make you think.  Not every piece is to everyone's tastes, but there is something there that will speak to you – and what doesn't can lead to some fascinating conversations. Whether you are joining us for the first time and new to the sex positive community, or have attended these events for years – this festival is for you.
More information about artists and schedules will be available at SeattleErotic.org and will updated regularly.
Remember to bring your valid government ID, too. Seattle Erotic Art Festival is an adult only event and you must show proof of age to enter this event. On Friday and Saturday, all attendees must be 21 years of age or older. On Sunday, all attendees must be 18 years of age or older. Regardless of appearance, all attendees will be asked to show age verification.

View up to date COVID-19 Protocols here.

ASL Interpretation will be available, dates and times to be determined. Please contact [email protected] with questions or timing requests.

Photos are from previous Seattle Erotic Art Festivals.

The Seattle Erotic art Festival is an experience unlike any other festival or gallery you have likely ever attended.  Over the course of three days, a curated selection of some of the finest erotic art the world has to offer will grace the floors of the Seattle Center's Exhibition Hall, awaiting your perusal and enjoyment. During regular festival hours, you are invited to view the art and daily entertainments, from poetry readings to dance to acrobatic displays.  There is also the Festival Store, where you can often find prints by the artists featured in the festival as well as other unique items and annual Seattle Erotic Art Festival merchandise. In the evenings, the vibe changes from a gallery to sexy art party. The Late Night Festival is a sexy, fun time with performers, DJs, bartenders at the ready, and a fantastically energetic crowd. The Festival art will engage you, titillate you, and make you think.  Not every piece is to everyone's tastes, but there is something there that will speak to you – and what doesn't can lead to some fascinating conversations. Whether you are joining us for the first time and new to the sex positive community, or have attended these events for years – this festival is for you. More information about artists and schedules will be available at SeattleErotic.org and will updated regularly. Remember to bring your valid government ID, too. Seattle Erotic Art Festival is an adult only event and you must show proof of age to enter this event. On Friday and Saturday, all attendees must be 21 years of age or older. On Sunday, all attendees must be 18 years of age or older. Regardless of appearance, all attendees will be asked to show age verification. View up to date COVID-19 Protocols here. ASL Interpretation will be available, dates and times to be determined. Please contact [email protected] with questions or timing requests. Photos are from previous Seattle Erotic Art Festivals.

&media=">

The Seattle Erotic art Festival is an experience unlike any other festival or gallery you have likely ever attended.  Over the course of three days, a curated selection of some of the finest erotic art the world has to offer will grace the floors of the Seattle Center's Exhibition Hall, awaiting your perusal and enjoyment. During regular festival hours, you are invited to view the art and daily entertainments, from poetry readings to dance to acrobatic displays.  There is also the Festival Store, where you can often find prints by the artists featured in the festival as well as other unique items and annual Seattle Erotic Art Festival merchandise. In the evenings, the vibe changes from a gallery to sexy art party. The Late Night Festival is a sexy, fun time with performers, DJs, bartenders at the ready, and a fantastically energetic crowd. The Festival art will engage you, titillate you, and make you think.  Not every piece is to everyone's tastes, but there is something there that will speak to you – and what doesn't can lead to some fascinating conversations. Whether you are joining us for the first time and new to the sex positive community, or have attended these events for years – this festival is for you. More information about artists and schedules will be available at SeattleErotic.org and will updated regularly. Remember to bring your valid government ID, too. Seattle Erotic Art Festival is an adult only event and you must show proof of age to enter this event. On Friday and Saturday, all attendees must be 21 years of age or older. On Sunday, all attendees must be 18 years of age or older. Regardless of appearance, all attendees will be asked to show age verification. View up to date COVID-19 Protocols here. ASL Interpretation will be available, dates and times to be determined. Please contact [email protected] with questions or timing requests. Photos are from previous Seattle Erotic Art Festivals.

">