Scene Building 101 with Nyx
When:
September 17, 2023 @ 1:00 pm – 2:00 pm
2023-09-17T13:00:00-07:00
2023-09-17T14:00:00-07:00
Where:
Gallery Erato
309 1st Ave S
Seattle
WA 98104

New to playing and unsure where to start? Have some exciting, kinky ideas you're dying to explore and just need some guidance? This informative presentation will go over the basics of establishing and executing a scene successfully, from introducing your ideas to a potential partner to aftercare and post-scene debriefing. We will also talk about books and online resources you can read through at your own pace.
Important Information:
Scholarships are available for all Pan Eros Foundation workshops. If you need financial assistance, please email Leah at [email protected]
No late entry will be allowed due to the intimate nature of this workshop. Doors will be locked at 10 minutes after the start time.
Water available. Please bring your own cup or bottle.
Open to all 18+
Attendance is limited to 40 people.
All sexes, genders, races, ethnicities, bodies, body types, sexual orientations, relationship orientations, abilities welcome and celebrated.
Please let us know by email if you have any access needs or things that would aid in your learning.
Questions may be directed to: [email protected]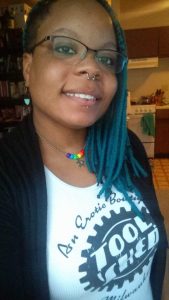 About the Educator:

Nyx (she/her) is a lesbian impact top and lover of petplay and bare butts–especially at the same time! She became active in her local kink scene in 2010 and has been reading, studying, playing, and/or ranting about it ever since. Nyx began her work at the Tool Shed in 2016 in Milwaukee, WI where she shares their mission of providing medically accurate and socially current information on topics of sex and gender in a non-judgmental atmosphere to anyone who visits the store. She has presented at the University of Wisconsin-Oshkosh, Antioch College in Seattle, and most recently, at Pan Eros Foundation's Fetish Finishing Academy.

New to playing and unsure where to start? Have some exciting, kinky ideas you're dying to explore and just need some guidance? This informative presentation will go over the basics of establishing and executing a scene successfully, from introducing your ideas to a potential partner to aftercare and post-scene debriefing. We will also talk about books and online resources you can read through at your own pace. Purchase tickets here! Important Information: Scholarships are available for all Pan Eros Foundation workshops. If you need financial assistance, please email Leah at [email protected] No late entry will be allowed due to the intimate nature of this workshop. Doors will be locked at 10 minutes after the start time. Water available. Please bring your own cup or bottle. Open to all 18+ Attendance is limited to 40 people. All sexes, genders, races, ethnicities, bodies, body types, sexual orientations, relationship orientations, abilities welcome and celebrated. Please let us know by email if you have any access needs or things that would aid in your learning. Questions may be directed to: [email protected] About the Educator: Nyx (she/her) is a lesbian impact top and lover of petplay and bare butts–especially at the same time! She became active in her local kink scene in 2010 and has been reading, studying, playing, and/or ranting about it ever since. Nyx began her work at the Tool Shed in 2016 in Milwaukee, WI where she shares their mission of providing medically accurate and socially current information on topics of sex and gender in a non-judgmental atmosphere to anyone who visits the store. She has presented at the University of Wisconsin-Oshkosh, Antioch College in Seattle, and most recently, at Pan Eros Foundation's Fetish Finishing Academy.

&media=">

New to playing and unsure where to start? Have some exciting, kinky ideas you're dying to explore and just need some guidance? This informative presentation will go over the basics of establishing and executing a scene successfully, from introducing your ideas to a potential partner to aftercare and post-scene debriefing. We will also talk about books and online resources you can read through at your own pace. Purchase tickets here! Important Information: Scholarships are available for all Pan Eros Foundation workshops. If you need financial assistance, please email Leah at [email protected] No late entry will be allowed due to the intimate nature of this workshop. Doors will be locked at 10 minutes after the start time. Water available. Please bring your own cup or bottle. Open to all 18+ Attendance is limited to 40 people. All sexes, genders, races, ethnicities, bodies, body types, sexual orientations, relationship orientations, abilities welcome and celebrated. Please let us know by email if you have any access needs or things that would aid in your learning. Questions may be directed to: [email protected] About the Educator: Nyx (she/her) is a lesbian impact top and lover of petplay and bare butts–especially at the same time! She became active in her local kink scene in 2010 and has been reading, studying, playing, and/or ranting about it ever since. Nyx began her work at the Tool Shed in 2016 in Milwaukee, WI where she shares their mission of providing medically accurate and socially current information on topics of sex and gender in a non-judgmental atmosphere to anyone who visits the store. She has presented at the University of Wisconsin-Oshkosh, Antioch College in Seattle, and most recently, at Pan Eros Foundation's Fetish Finishing Academy.

">