Rope Bottoming
When:
November 6, 2023 @ 7:00 pm – 8:30 pm
2023-11-06T19:00:00-08:00
2023-11-06T20:30:00-08:00
Where:
Gallery Erato
309 1st Ave S
Seattle
WA 98104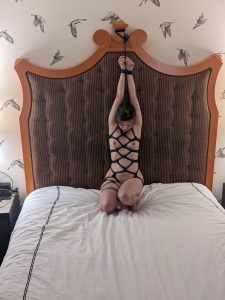 Bottoming is a skill.  But what is it besides "taking it"? This class gives you hands on tools and exercises to be an engaged and skillful bottom regardless of how far along you are in your kink journey. We'll cover essential skills. Pain management, communicating clearly, negotiating to get what you want. You'll learn how to access risk in play and common dangers in rope suspension, impact play and more.
Important Information:
Pay-what-you-can scholarships are available for all Pan Eros Foundation workshops. If you need financial assistance, please email Leah at [email protected]
No late entry will be allowed due to the intimate nature of this workshop. Doors will be locked at 10 minutes after the start time.
Water available. Please bring your own cup or bottle.
Open to all 18+
Attendance is limited to 30 people.
All sexes, genders, races, ethnicities, bodies, body types, sexual orientations, relationship orientations, abilities welcome and celebrated
Please let us know by email if you have any access needs or things that would aid in your learning.
Questions may be directed to: [email protected]
About the Educator:

Mz. Magpie is a kink educator and switch who has been doing kink since 2010. One of her passions is bringing education to kinksters on both sides of the slash.

Bottoming is a skill.  But what is it besides "taking it"? This class gives you hands on tools and exercises to be an engaged and skillful bottom regardless of how far along you are in your kink journey. We'll cover essential skills. Pain management, communicating clearly, negotiating to get what you want. You'll learn how to access risk in play and common dangers in rope suspension, impact play and more. Purchase tickets here! Important Information: Pay-what-you-can scholarships are available for all Pan Eros Foundation workshops. If you need financial assistance, please email Leah at [email protected] No late entry will be allowed due to the intimate nature of this workshop. Doors will be locked at 10 minutes after the start time. Water available. Please bring your own cup or bottle. Open to all 18+ Attendance is limited to 30 people. All sexes, genders, races, ethnicities, bodies, body types, sexual orientations, relationship orientations, abilities welcome and celebrated Please let us know by email if you have any access needs or things that would aid in your learning. Questions may be directed to: [email protected] About the Educator: Mz. Magpie is a kink educator and switch who has been doing kink since 2010. One of her passions is bringing education to kinksters on both sides of the slash.

&media=">

Bottoming is a skill.  But what is it besides "taking it"? This class gives you hands on tools and exercises to be an engaged and skillful bottom regardless of how far along you are in your kink journey. We'll cover essential skills. Pain management, communicating clearly, negotiating to get what you want. You'll learn how to access risk in play and common dangers in rope suspension, impact play and more. Purchase tickets here! Important Information: Pay-what-you-can scholarships are available for all Pan Eros Foundation workshops. If you need financial assistance, please email Leah at [email protected] No late entry will be allowed due to the intimate nature of this workshop. Doors will be locked at 10 minutes after the start time. Water available. Please bring your own cup or bottle. Open to all 18+ Attendance is limited to 30 people. All sexes, genders, races, ethnicities, bodies, body types, sexual orientations, relationship orientations, abilities welcome and celebrated Please let us know by email if you have any access needs or things that would aid in your learning. Questions may be directed to: [email protected] About the Educator: Mz. Magpie is a kink educator and switch who has been doing kink since 2010. One of her passions is bringing education to kinksters on both sides of the slash.

">