Playful Lap Dance
When:
November 9, 2023 @ 7:00 pm – 8:30 pm
2023-11-09T19:00:00-08:00
2023-11-09T20:30:00-08:00
Where:
Gallery Erato
309 1st Ave S
Seattle
WA 98104

Who says we have to take ourselves seriously when giving a lap dance?  The Playful Lap Dance is for those who like to laugh – at the bar, during sex, wherever!  Participants will learn a short choreography to can take with them or use individual moves in whatever order makes you feel good.  Lap dance pairs will have the option of only one person learning the moves, or to switch and allow both participants to learn.
A note on clothing: if wanting to incorporate stripping, please bring a top and bottom layer to remove.
Important Information:
Pay-what-you-can scholarships are available for all Pan Eros Foundation workshops. If you need financial assistance, please email Leah at [email protected]
No late entry will be allowed due to the intimate nature of this workshop. Doors will be locked at 10 minutes after the start time.
Water available. Please bring your own cup or bottle.
Open to all 18+
Attendance is limited to 20 people.
All sexes, genders, races, ethnicities, bodies, body types, sexual orientations, relationship orientations, abilities welcome and celebrated.
Please let us know by email if you have any access needs or things that would aid in your learning.
Questions may be directed to: [email protected]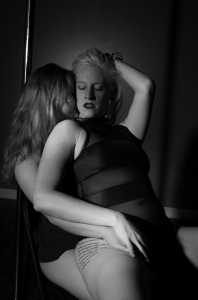 About the Educator:

Jordan (she/her) is a queer dance instructor with a focus on offering structure and support for each individual to find their unique version of empowerment through self and movement. She thrives on learning and expanding access to dance, to empowerment, to sensuality. Whether you have a movement background or are just starting out, are disabled or recovering from an injury, she loves holding space and designing prompts for everyone. Come play and explore!

Who says we have to take ourselves seriously when giving a lap dance?  The Playful Lap Dance is for those who like to laugh – at the bar, during sex, wherever!  Participants will learn a short choreography to can take with them or use individual moves in whatever order makes you feel good.  Lap dance pairs will have the option of only one person learning the moves, or to switch and allow both participants to learn. A note on clothing: if wanting to incorporate stripping, please bring a top and bottom layer to remove. Purchase tickets here! Important Information: Pay-what-you-can scholarships are available for all Pan Eros Foundation workshops. If you need financial assistance, please email Leah at [email protected] No late entry will be allowed due to the intimate nature of this workshop. Doors will be locked at 10 minutes after the start time. Water available. Please bring your own cup or bottle. Open to all 18+ Attendance is limited to 20 people. All sexes, genders, races, ethnicities, bodies, body types, sexual orientations, relationship orientations, abilities welcome and celebrated. Please let us know by email if you have any access needs or things that would aid in your learning. Questions may be directed to: [email protected] About the Educator: Jordan (she/her) is a queer dance instructor with a focus on offering structure and support for each individual to find their unique version of empowerment through self and movement. She thrives on learning and expanding access to dance, to empowerment, to sensuality. Whether you have a movement background or are just starting out, are disabled or recovering from an injury, she loves holding space and designing prompts for everyone. Come play and explore!

&media=">

Who says we have to take ourselves seriously when giving a lap dance?  The Playful Lap Dance is for those who like to laugh – at the bar, during sex, wherever!  Participants will learn a short choreography to can take with them or use individual moves in whatever order makes you feel good.  Lap dance pairs will have the option of only one person learning the moves, or to switch and allow both participants to learn. A note on clothing: if wanting to incorporate stripping, please bring a top and bottom layer to remove. Purchase tickets here! Important Information: Pay-what-you-can scholarships are available for all Pan Eros Foundation workshops. If you need financial assistance, please email Leah at [email protected] No late entry will be allowed due to the intimate nature of this workshop. Doors will be locked at 10 minutes after the start time. Water available. Please bring your own cup or bottle. Open to all 18+ Attendance is limited to 20 people. All sexes, genders, races, ethnicities, bodies, body types, sexual orientations, relationship orientations, abilities welcome and celebrated. Please let us know by email if you have any access needs or things that would aid in your learning. Questions may be directed to: [email protected] About the Educator: Jordan (she/her) is a queer dance instructor with a focus on offering structure and support for each individual to find their unique version of empowerment through self and movement. She thrives on learning and expanding access to dance, to empowerment, to sensuality. Whether you have a movement background or are just starting out, are disabled or recovering from an injury, she loves holding space and designing prompts for everyone. Come play and explore!

">