Emerald City Kings Ball – Night Of The Royal High Court [associated event]
When:
November 26, 2022 @ 7:30 pm – 11:00 pm
2022-11-26T19:30:00-08:00
2022-11-26T23:00:00-08:00
Hear ye! Hear ye!
Come one, come all, come on down to the Emerald City Kings Ball!
Your royal majesties Jabriel Gaymess and Sherwood Ryder have joined forces to bring you a Royal Showcase that you won't forget! It will be a 2-night spectacular celebrating all Kings + Things of Drag at The Factory Luxe – Seattle, WA!
(A different cast each night!!)
11/26/22
Saturday Night "Royal High Court Showcase"
Our closing night event will be the Player's Ball with our featured Seattle Kings and gogo dancers, including a performance by our Imperial Mr. Gay Washinton, King Leo Mane! Think all of the pomp and circumstance, but Queerly Fabulous! You don't want to miss this! Come dressed to impress as you can take home a crown of your own in our "Best Dressed Competition." Being royal never felt so good!
Doors @ 7:30 pm – Show @ 9 pm
The Seattle Erotic Art Festival is a proud sponsor of the Emerald City Kings Ball.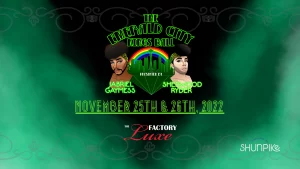 Hear ye! Hear ye! Come one, come all, come on down to the Emerald City Kings Ball! Your royal majesties Jabriel Gaymess and Sherwood Ryder have joined forces to bring you a Royal Showcase that you won't forget! It will be a 2-night spectacular celebrating all Kings + Things of Drag at The Factory Luxe – Seattle, WA! (A different cast each night!!) 11/26/22 Saturday Night "Royal High Court Showcase" Our closing night event will be the Player's Ball with our featured Seattle Kings and gogo dancers, including a performance by our Imperial Mr. Gay Washinton, King Leo Mane! Think all of the pomp and circumstance, but Queerly Fabulous! You don't want to miss this! Come dressed to impress as you can take home a crown of your own in our "Best Dressed Competition." Being royal never felt so good! Doors @ 7:30 pm – Show @ 9 pm The Seattle Erotic Art Festival is a proud sponsor of the Emerald City Kings Ball.

&media=">

Hear ye! Hear ye! Come one, come all, come on down to the Emerald City Kings Ball! Your royal majesties Jabriel Gaymess and Sherwood Ryder have joined forces to bring you a Royal Showcase that you won't forget! It will be a 2-night spectacular celebrating all Kings + Things of Drag at The Factory Luxe – Seattle, WA! (A different cast each night!!) 11/26/22 Saturday Night "Royal High Court Showcase" Our closing night event will be the Player's Ball with our featured Seattle Kings and gogo dancers, including a performance by our Imperial Mr. Gay Washinton, King Leo Mane! Think all of the pomp and circumstance, but Queerly Fabulous! You don't want to miss this! Come dressed to impress as you can take home a crown of your own in our "Best Dressed Competition." Being royal never felt so good! Doors @ 7:30 pm – Show @ 9 pm The Seattle Erotic Art Festival is a proud sponsor of the Emerald City Kings Ball.

">