Diving Deep into Muffing
When:
January 8, 2023 @ 6:00 pm – 9:00 pm
2023-01-08T18:00:00-08:00
2023-01-08T21:00:00-08:00
Where:
Gallery Erato
309 1st Ave S
Seattle
WA 98104

Cost:
$40 Solo, $65 Duo, $25 Scholarship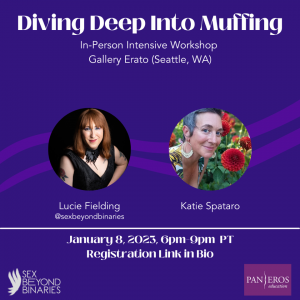 Join Lucie Fielding (therapist, sex educator, and author of Trans Sex), and somatic sex educator. Katie Spataro for an intimate, 3-hour deep dive into the practice of muffing!
Muffing is a sexual activity that involves penetrating the inguinal canals of folks with external
gonads (basically, fingerbanging someone with external gonads from the front). The term "muffing" was coined by Mira Bellwether in her foundational zine Fucking Trans Women (2010) and since then articles and zines have described this activity. But this is the first community workshop of its kind—an intensive, hands-on exploration of muffing.
For folks with external gonads and for those who have sex with folks with external gonads, muffing can be a way of queering up sex, circumventing tremendously limiting culturally proscribed/prescribed understandings of the erotic, and opening a potential universe of pleasure!
There will be instruction, a live demo and an optional hour dedicated to your own HANDS-ON (or fingers in!) play and exploration under the guidance of Katie and Lucie.
Transfeminine bodies will be centered in this workshop but it is open to folks of all genders, sexualities, and experience levels. Come and play!
COVID-19/Flu Transmission Harm Reduction Protocols
Because the winter months have often seen spikes in cold, flu, and COVID-19 infection (exacerbated by the frigid temperatures forcing many to gather indoors in larger numbers) and in an effort to engage in harm reduction and extend care and solidarity with our most vulnerable community members, this event will take place under the following protocols:
Masks are required for all participants and attendees. The facilitators, Katie and Lucie, will remove their masks during the demo, but only for the duration of said demo and in order to facilitate communication and ensure that participants can hear any exchanges between co-facilitators during the demo. Masks will be provided to any participants who need one.
Proof of vaccination for COVID-19 is required. Participants are encouraged—to the extent that it is accessible for them—to have also taken the bivalent boosters approved under emergency use authorization. Both workshop facilitators received the bivalent booster in September/October 2022, and Lucie has also been the recipient of the Monkeypox, Flu (late September 2022), HPV, and Hep A/B vaccines.
Participants are further encouraged to have tested and received a negative test result for COVID-19 no more than one hour before the start of the workshop.
Participants are asked to stay home if they are experiencing any symptoms consonant with cold, flu, and/or COVID-19, including, but not limited to: fevers, chills, nausea/vomiting, sore throat, cough, sneezing.
We invite you to consider these protocols and behaviors not as an imposition, but rather as acts of harm reduction, care, and solidarity with members of our communities who are at heightened risk of severe forms of respiratory illness, immunocompromised people, and caretakers of small children and older adults.
Important Information:
No late entry will be allowed due to the intimate nature of this workshop. Doors will be locked at 10 minutes after the start time.
Water available. Please bring your own cup or bottle.
Attendance is limited to 40 people.
All sexes, genders, races, ethnicities, bodies, body types, sexual orientations, relationship orientations, abilities welcome and celebrated.
Questions may be directed to: [email protected]
Scholarship tickets are available for $25 for those who need them. If you need additional financial assistance, please email Leah at [email protected]
Please let us know by email if you have any access needs or things that would aid in your learning.
About the Educators: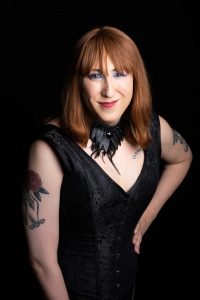 Lucie Fielding, PhD, MA, LMHCA, Resident in Counseling (she/they) is a white, neurodivergent, queer, trans misogyny affected (TMA) femme, and a therapist practicing in Virginia and Washington (on Monacan lands and unceded Duwamish territory, respectively). They specialize in sex therapy, kink-knowledgeable therapy, 2SLGBTQIA-knowledgeable therapy, sex work-affirming therapy; and they work from narrative, imaginal, and somatic frameworks that honor the (intergenerational) wisdom of the body, promote community-care, and support empowered embodied eroticism. She holds an MA in Counseling Psychology from Pacifica Graduate Institute (2018) and a PhD in French from Northwestern University (2008), specializing in erotic literature. Their background in literature attunes them to the ways that cultural scripts inscribe themselves on our bodies and inform our embodied erotic lives. In addition to being a therapist, Lucie is a sex educator who has facilitated workshops for a range of groups, organizations, universities, and agencies. They are the author of Trans Sex: Clinical Approaches to Trans Sexualities and Erotic Embodiments (2021), which was awarded an AASECT Book Award in 2022 (Sexuality Professionals Category) and named a finalist for a 2022 Lambda Literary Award (Lammy) in the Transgender-Nonfiction category. You can find out more about Lucie at https://luciefielding.com or follow them on Instagram (@sexbeyondbinaries).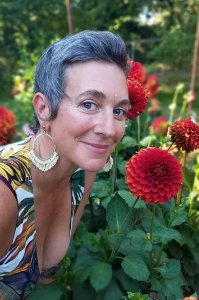 Katie Spataro, CSB (she/her) is a somatic sex educator, sexological bodyworker, holistic pelvic care provider and full spectrum doula who lives and works on the unceded lands of the Duwamish people known as South Seattle. Katie studies and practices at the intersections of birth work and sex work, drawing upon the embodied wisdom of these two lineages to support healing of the personal and collective cultural body. Katie blends various modalities of somatic practice and bodywork in her private practice, and facilitates classes on embodied consent, sexual wellbeing and erotic education through a trauma-informed and healing-centered lens. She is core faculty at the Institute for the Study of Somatic Sex Education and adjunct faculty at Antioch University's Sex Therapy Certificate Program.

Join Lucie Fielding (therapist, sex educator, and author of Trans Sex), and somatic sex educator. Katie Spataro for an intimate, 3-hour deep dive into the practice of muffing! Muffing is a sexual activity that involves penetrating the inguinal canals of folks with external gonads (basically, fingerbanging someone with external gonads from the front). The term "muffing" was coined by Mira Bellwether in her foundational zine Fucking Trans Women (2010) and since then articles and zines have described this activity. But this is the first community workshop of its kind—an intensive, hands-on exploration of muffing. For folks with external gonads and for those who have sex with folks with external gonads, muffing can be a way of queering up sex, circumventing tremendously limiting culturally proscribed/prescribed understandings of the erotic, and opening a potential universe of pleasure! There will be instruction, a live demo and an optional hour dedicated to your own HANDS-ON (or fingers in!) play and exploration under the guidance of Katie and Lucie. Transfeminine bodies will be centered in this workshop but it is open to folks of all genders, sexualities, and experience levels. Come and play! COVID-19/Flu Transmission Harm Reduction Protocols Because the winter months have often seen spikes in cold, flu, and COVID-19 infection (exacerbated by the frigid temperatures forcing many to gather indoors in larger numbers) and in an effort to engage in harm reduction and extend care and solidarity with our most vulnerable community members, this event will take place under the following protocols: Masks are required for all participants and attendees. The facilitators, Katie and Lucie, will remove their masks during the demo, but only for the duration of said demo and in order to facilitate communication and ensure that participants can hear any exchanges between co-facilitators during the demo. Masks will be provided to any participants who need one. Proof of vaccination for COVID-19 is required. Participants are encouraged—to the extent that it is accessible for them—to have also taken the bivalent boosters approved under emergency use authorization. Both workshop facilitators received the bivalent booster in September/October 2022, and Lucie has also been the recipient of the Monkeypox, Flu (late September 2022), HPV, and Hep A/B vaccines. Participants are further encouraged to have tested and received a negative test result for COVID-19 no more than one hour before the start of the workshop. Participants are asked to stay home if they are experiencing any symptoms consonant with cold, flu, and/or COVID-19, including, but not limited to: fevers, chills, nausea/vomiting, sore throat, cough, sneezing. We invite you to consider these protocols and behaviors not as an imposition, but rather as acts of harm reduction, care, and solidarity with members of our communities who are at heightened risk of severe forms of respiratory illness, immunocompromised people, and caretakers of small children and older adults. Important Information: No late entry will be allowed due to the intimate nature of this workshop. Doors will be locked at 10 minutes after the start time. Water available. Please bring your own cup or bottle. Attendance is limited to 40 people. All sexes, genders, races, ethnicities, bodies, body types, sexual orientations, relationship orientations, abilities welcome and celebrated. Questions may be directed to: [email protected] Scholarship tickets are available for $25 for those who need them. If you need additional financial assistance, please email Leah at [email protected] Please let us know by email if you have any access needs or things that would aid in your learning. About the Educators: Lucie Fielding, PhD, MA, LMHCA, Resident in Counseling (she/they) is a white, neurodivergent, queer, trans misogyny affected (TMA) femme, and a therapist practicing in Virginia and Washington (on Monacan lands and unceded Duwamish territory, respectively). They specialize in sex therapy, kink-knowledgeable therapy, 2SLGBTQIA-knowledgeable therapy, sex work-affirming therapy; and they work from narrative, imaginal, and somatic frameworks that honor the (intergenerational) wisdom of the body, promote community-care, and support empowered embodied eroticism. She holds an MA in Counseling Psychology from Pacifica Graduate Institute (2018) and a PhD in French from Northwestern University (2008), specializing in erotic literature. Their background in literature attunes them to the ways that cultural scripts inscribe themselves on our bodies and inform our embodied erotic lives. In addition to being a therapist, Lucie is a sex educator who has facilitated workshops for a range of groups, organizations, universities, and agencies. They are the author of Trans Sex: Clinical Approaches to Trans Sexualities and Erotic Embodiments (2021), which was awarded an AASECT Book Award in 2022 (Sexuality Professionals Category) and named a finalist for a 2022 Lambda Literary Award (Lammy) in the Transgender-Nonfiction category. You can find out more about Lucie at https://luciefielding.com or follow them on Instagram (@sexbeyondbinaries). Katie Spataro, CSB (she/her) is a somatic sex educator, sexological bodyworker, holistic pelvic care provider and full spectrum doula who lives and works on the unceded lands of the Duwamish people known as South Seattle. Katie studies and practices at the intersections of birth work and sex work, drawing upon the embodied wisdom of these two lineages to support healing of the personal and collective cultural body. Katie blends various modalities of somatic practice and bodywork in her private practice, and facilitates classes on embodied consent, sexual wellbeing and erotic education through a trauma-informed and healing-centered lens. She is core faculty at the Institute for the Study of Somatic Sex Education and adjunct faculty at Antioch University's Sex Therapy Certificate Program.

&media=">

Join Lucie Fielding (therapist, sex educator, and author of Trans Sex), and somatic sex educator. Katie Spataro for an intimate, 3-hour deep dive into the practice of muffing! Muffing is a sexual activity that involves penetrating the inguinal canals of folks with external gonads (basically, fingerbanging someone with external gonads from the front). The term "muffing" was coined by Mira Bellwether in her foundational zine Fucking Trans Women (2010) and since then articles and zines have described this activity. But this is the first community workshop of its kind—an intensive, hands-on exploration of muffing. For folks with external gonads and for those who have sex with folks with external gonads, muffing can be a way of queering up sex, circumventing tremendously limiting culturally proscribed/prescribed understandings of the erotic, and opening a potential universe of pleasure! There will be instruction, a live demo and an optional hour dedicated to your own HANDS-ON (or fingers in!) play and exploration under the guidance of Katie and Lucie. Transfeminine bodies will be centered in this workshop but it is open to folks of all genders, sexualities, and experience levels. Come and play! COVID-19/Flu Transmission Harm Reduction Protocols Because the winter months have often seen spikes in cold, flu, and COVID-19 infection (exacerbated by the frigid temperatures forcing many to gather indoors in larger numbers) and in an effort to engage in harm reduction and extend care and solidarity with our most vulnerable community members, this event will take place under the following protocols: Masks are required for all participants and attendees. The facilitators, Katie and Lucie, will remove their masks during the demo, but only for the duration of said demo and in order to facilitate communication and ensure that participants can hear any exchanges between co-facilitators during the demo. Masks will be provided to any participants who need one. Proof of vaccination for COVID-19 is required. Participants are encouraged—to the extent that it is accessible for them—to have also taken the bivalent boosters approved under emergency use authorization. Both workshop facilitators received the bivalent booster in September/October 2022, and Lucie has also been the recipient of the Monkeypox, Flu (late September 2022), HPV, and Hep A/B vaccines. Participants are further encouraged to have tested and received a negative test result for COVID-19 no more than one hour before the start of the workshop. Participants are asked to stay home if they are experiencing any symptoms consonant with cold, flu, and/or COVID-19, including, but not limited to: fevers, chills, nausea/vomiting, sore throat, cough, sneezing. We invite you to consider these protocols and behaviors not as an imposition, but rather as acts of harm reduction, care, and solidarity with members of our communities who are at heightened risk of severe forms of respiratory illness, immunocompromised people, and caretakers of small children and older adults. Important Information: No late entry will be allowed due to the intimate nature of this workshop. Doors will be locked at 10 minutes after the start time. Water available. Please bring your own cup or bottle. Attendance is limited to 40 people. All sexes, genders, races, ethnicities, bodies, body types, sexual orientations, relationship orientations, abilities welcome and celebrated. Questions may be directed to: [email protected] Scholarship tickets are available for $25 for those who need them. If you need additional financial assistance, please email Leah at [email protected] Please let us know by email if you have any access needs or things that would aid in your learning. About the Educators: Lucie Fielding, PhD, MA, LMHCA, Resident in Counseling (she/they) is a white, neurodivergent, queer, trans misogyny affected (TMA) femme, and a therapist practicing in Virginia and Washington (on Monacan lands and unceded Duwamish territory, respectively). They specialize in sex therapy, kink-knowledgeable therapy, 2SLGBTQIA-knowledgeable therapy, sex work-affirming therapy; and they work from narrative, imaginal, and somatic frameworks that honor the (intergenerational) wisdom of the body, promote community-care, and support empowered embodied eroticism. She holds an MA in Counseling Psychology from Pacifica Graduate Institute (2018) and a PhD in French from Northwestern University (2008), specializing in erotic literature. Their background in literature attunes them to the ways that cultural scripts inscribe themselves on our bodies and inform our embodied erotic lives. In addition to being a therapist, Lucie is a sex educator who has facilitated workshops for a range of groups, organizations, universities, and agencies. They are the author of Trans Sex: Clinical Approaches to Trans Sexualities and Erotic Embodiments (2021), which was awarded an AASECT Book Award in 2022 (Sexuality Professionals Category) and named a finalist for a 2022 Lambda Literary Award (Lammy) in the Transgender-Nonfiction category. You can find out more about Lucie at https://luciefielding.com or follow them on Instagram (@sexbeyondbinaries). Katie Spataro, CSB (she/her) is a somatic sex educator, sexological bodyworker, holistic pelvic care provider and full spectrum doula who lives and works on the unceded lands of the Duwamish people known as South Seattle. Katie studies and practices at the intersections of birth work and sex work, drawing upon the embodied wisdom of these two lineages to support healing of the personal and collective cultural body. Katie blends various modalities of somatic practice and bodywork in her private practice, and facilitates classes on embodied consent, sexual wellbeing and erotic education through a trauma-informed and healing-centered lens. She is core faculty at the Institute for the Study of Somatic Sex Education and adjunct faculty at Antioch University's Sex Therapy Certificate Program.

">