Dauntlessly Yours Presents Macabre: A Play Party
When:
January 27, 2023 @ 7:30 pm – January 28, 2023 @ 1:30 am
2023-01-27T19:30:00-08:00
2023-01-28T01:30:00-08:00
Where:
Gallery Erato
309 1st Ave S
Seattle
WA 98104

Cost:
$25 Early Bird, $35 General Admission, $45 Patron Ticket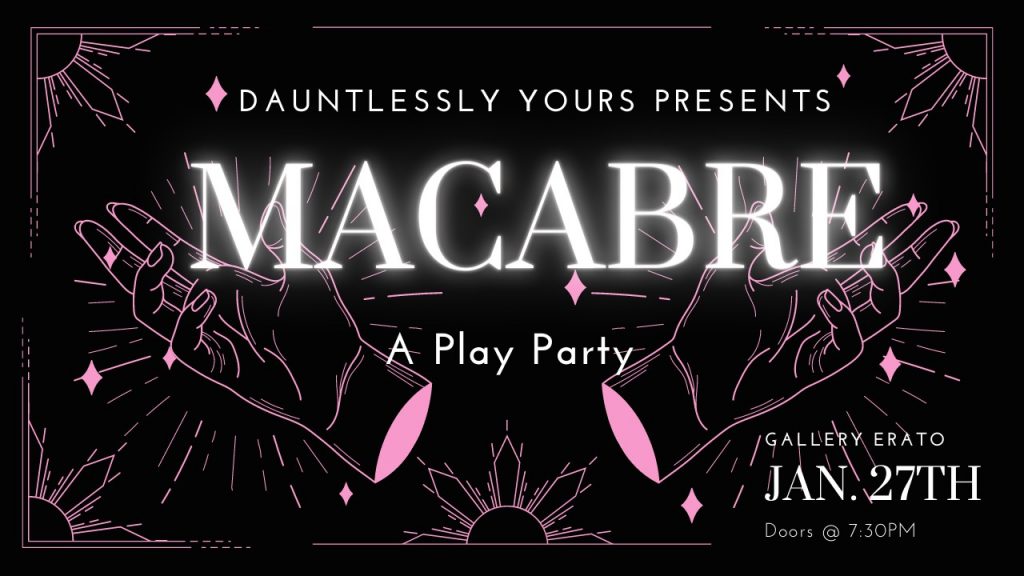 Macabre: dwelling on the gruesome; tending to produce horror in the beholder; ghastly
Join us for Macabre, a play party intended to create space for players new and old who are drawn to the edges of sensuality and sadomasochism. This recurring event invites you to come prepared with your most creative and spine-tingling scene ideas.
The evening begins with a mandatory orientation, which you will have four chances to participate in. If you are unable to attend the orientation, you will not be admitted to the space.
Macabre is an inclusive environment that embraces all sexualities and identities and celebrates queerness in its many forms. We are committed to creating accountable spaces that are open to all races, ethnicities, ability statuses, and sexual orientations. Please note, only the first floor of Gallery Erato is accessible without stairs, and there is a small ramp to navigate at the entrance to the building.
Macabre abides by the Pan Eros Foundation and Gallery Erato policies for play parties. This event benefits the Pan Eros Foundation.
Macabre Schedule:
Doors: 7:30pm
First orientation begins at 7:45pm, and orientations will happen every half hour through 9pm.
The downstairs playspace is open from 8pm-1am
The upstairs playspace is open from 9pm-1am.
You are welcome to bring snacks and non-alcoholic beverages. Please bring your own water bottles, there is a refill station available.

Please write [email protected] with questions.

COVID Guidelines:

We are closely monitoring local COVID infection rates and city/state/CDC guidance as well as the latest information about the variants in order to keep this event as safe and accessible as reasonable while protecting the health of attendees. Requirements may change and we will endeavor to notify ticket holders as soon as possible if they do. At present, we expect that attendees will provide proof of vaccination at the door. Sufficient proof of vaccinated status is a state/federally issued vaccine card or a photograph of your card (with a matching name on your ID) showing that you are two weeks past the complete vaccine course. Please note, a negative COVID test is not sufficient if you are not vaccinated – vaccination is required (and boosters are highly recommended). K/n95 masks are strongly encouraged, but not required.

Macabre: dwelling on the gruesome; tending to produce horror in the beholder; ghastly Join us for Macabre, a play party intended to create space for players new and old who are drawn to the edges of sensuality and sadomasochism. This recurring event invites you to come prepared with your most creative and spine-tingling scene ideas. The evening begins with a mandatory orientation, which you will have four chances to participate in. If you are unable to attend the orientation, you will not be admitted to the space. Macabre is an inclusive environment that embraces all sexualities and identities and celebrates queerness in its many forms. We are committed to creating accountable spaces that are open to all races, ethnicities, ability statuses, and sexual orientations. Please note, only the first floor of Gallery Erato is accessible without stairs, and there is a small ramp to navigate at the entrance to the building. Macabre abides by the Pan Eros Foundation and Gallery Erato policies for play parties. This event benefits the Pan Eros Foundation. Purchase tickets here! Macabre Schedule: Doors: 7:30pm First orientation begins at 7:45pm, and orientations will happen every half hour through 9pm. The downstairs playspace is open from 8pm-1am The upstairs playspace is open from 9pm-1am. You are welcome to bring snacks and non-alcoholic beverages. Please bring your own water bottles, there is a refill station available. Please write [email protected] with questions. COVID Guidelines: We are closely monitoring local COVID infection rates and city/state/CDC guidance as well as the latest information about the variants in order to keep this event as safe and accessible as reasonable while protecting the health of attendees. Requirements may change and we will endeavor to notify ticket holders as soon as possible if they do. At present, we expect that attendees will provide proof of vaccination at the door. Sufficient proof of vaccinated status is a state/federally issued vaccine card or a photograph of your card (with a matching name on your ID) showing that you are two weeks past the complete vaccine course. Please note, a negative COVID test is not sufficient if you are not vaccinated – vaccination is required (and boosters are highly recommended). K/n95 masks are strongly encouraged, but not required.

&media=">

Macabre: dwelling on the gruesome; tending to produce horror in the beholder; ghastly Join us for Macabre, a play party intended to create space for players new and old who are drawn to the edges of sensuality and sadomasochism. This recurring event invites you to come prepared with your most creative and spine-tingling scene ideas. The evening begins with a mandatory orientation, which you will have four chances to participate in. If you are unable to attend the orientation, you will not be admitted to the space. Macabre is an inclusive environment that embraces all sexualities and identities and celebrates queerness in its many forms. We are committed to creating accountable spaces that are open to all races, ethnicities, ability statuses, and sexual orientations. Please note, only the first floor of Gallery Erato is accessible without stairs, and there is a small ramp to navigate at the entrance to the building. Macabre abides by the Pan Eros Foundation and Gallery Erato policies for play parties. This event benefits the Pan Eros Foundation. Purchase tickets here! Macabre Schedule: Doors: 7:30pm First orientation begins at 7:45pm, and orientations will happen every half hour through 9pm. The downstairs playspace is open from 8pm-1am The upstairs playspace is open from 9pm-1am. You are welcome to bring snacks and non-alcoholic beverages. Please bring your own water bottles, there is a refill station available. Please write [email protected] with questions. COVID Guidelines: We are closely monitoring local COVID infection rates and city/state/CDC guidance as well as the latest information about the variants in order to keep this event as safe and accessible as reasonable while protecting the health of attendees. Requirements may change and we will endeavor to notify ticket holders as soon as possible if they do. At present, we expect that attendees will provide proof of vaccination at the door. Sufficient proof of vaccinated status is a state/federally issued vaccine card or a photograph of your card (with a matching name on your ID) showing that you are two weeks past the complete vaccine course. Please note, a negative COVID test is not sufficient if you are not vaccinated – vaccination is required (and boosters are highly recommended). K/n95 masks are strongly encouraged, but not required.

">