[Consent Academy] Consent Basics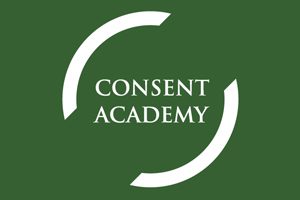 We all need to be able to talk about Consent. Most of us have learned the idea that No means No, but Consent goes way beyond that. It is present in our lives every single day.  Explore with us how to move beyond simply giving or accepting a No. Get some tips, tricks, and tools for talking about Consent, whether it's about a new relationship, sex, or a first hug. Learn how to move towards an informed Yes and a better understanding of what it means to live in a Consent Culture.
This is an online class via Zoom. You must purchase your ticket in advance. Registration ends at 5:30pm on the day of the workshop. Instructions for access will be emailed to you before the workshop begins.
Class time is listed in Pacific Time. Use this Time Zone Converter to see what time the class will be for you: https://www.timeanddate.com/worldclock/converter.html
No late entry will be allowed due to the intimate nature of this workshop. Access will be blocked at 10 minutes after the start time.
Open to all 18+
All sexes, genders, races, ethnicities, sexual orientations, relationship orientations welcome and celebrated.
Questions may be directed to: [email protected]
Please let us know by email if you have any access needs or things that would aid in your learning.
About the Educators:
The Consent Academy is a group of dedicated educators and activists who provide quality consent training and consultations. We have come together to promote Consent Culture through education, speaking out, and supporting organizations that want to do better. We talk a lot about consent and consensual activity. It's the cornerstone of what we teach and who we are. And while that is easy to say, we know that living a dedication to consent takes work, awareness, and a willingness to engage.

We all need to be able to talk about Consent. Most of us have learned the idea that No means No, but Consent goes way beyond that. It is present in our lives every single day.  Explore with us how to move beyond simply giving or accepting a No. Get some tips, tricks, and tools for talking about Consent, whether it's about a new relationship, sex, or a first hug. Learn how to move towards an informed Yes and a better understanding of what it means to live in a Consent Culture. This is an online class via Zoom. You must purchase your ticket in advance. Registration ends at 5:30pm on the day of the workshop. Instructions for access will be emailed to you before the workshop begins. Class time is listed in Pacific Time. Use this Time Zone Converter to see what time the class will be for you: https://www.timeanddate.com/worldclock/converter.html No late entry will be allowed due to the intimate nature of this workshop. Access will be blocked at 10 minutes after the start time. Open to all 18+ All sexes, genders, races, ethnicities, sexual orientations, relationship orientations welcome and celebrated. Questions may be directed to: [email protected] Please let us know by email if you have any access needs or things that would aid in your learning. About the Educators: The Consent Academy is a group of dedicated educators and activists who provide quality consent training and consultations. We have come together to promote Consent Culture through education, speaking out, and supporting organizations that want to do better. We talk a lot about consent and consensual activity. It's the cornerstone of what we teach and who we are. And while that is easy to say, we know that living a dedication to consent takes work, awareness, and a willingness to engage.

&media=">

We all need to be able to talk about Consent. Most of us have learned the idea that No means No, but Consent goes way beyond that. It is present in our lives every single day.  Explore with us how to move beyond simply giving or accepting a No. Get some tips, tricks, and tools for talking about Consent, whether it's about a new relationship, sex, or a first hug. Learn how to move towards an informed Yes and a better understanding of what it means to live in a Consent Culture. This is an online class via Zoom. You must purchase your ticket in advance. Registration ends at 5:30pm on the day of the workshop. Instructions for access will be emailed to you before the workshop begins. Class time is listed in Pacific Time. Use this Time Zone Converter to see what time the class will be for you: https://www.timeanddate.com/worldclock/converter.html No late entry will be allowed due to the intimate nature of this workshop. Access will be blocked at 10 minutes after the start time. Open to all 18+ All sexes, genders, races, ethnicities, sexual orientations, relationship orientations welcome and celebrated. Questions may be directed to: [email protected] Please let us know by email if you have any access needs or things that would aid in your learning. About the Educators: The Consent Academy is a group of dedicated educators and activists who provide quality consent training and consultations. We have come together to promote Consent Culture through education, speaking out, and supporting organizations that want to do better. We talk a lot about consent and consensual activity. It's the cornerstone of what we teach and who we are. And while that is easy to say, we know that living a dedication to consent takes work, awareness, and a willingness to engage.

">