Bondage for Immobilization
When:
November 11, 2023 @ 1:00 pm – 4:00 pm
2023-11-11T13:00:00-08:00
2023-11-11T16:00:00-08:00
Where:
Gallery Erato
309 1st Ave S
Seattle
WA 98104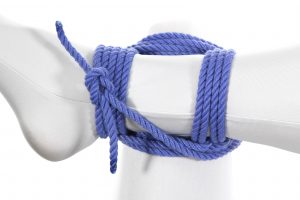 As well as being a great addition to other kinds of play, bondage is a lot of fun in its own right. This class focuses on techniques for strict, immobilizing bondage. If you fantasize about watching your partner squirm helplessly in your rope, this is the class for you.
One of the best ways to truly immobilize someone is to tie them to the bed (or the couch, or the rack). Although it's easy to tie someone fairly securely, it is surprisingly hard to completely immobilize them. Making everything tighter isn't the answer: overly tight bondage isn't more secure, and it can be uncomfortable or even dangerous. We'll take a look at ties and techniques that are strict and secure without being unsafe.
There are times, however, when you don't have any furniture to tie to. For those situations, the hogtie is a great choice. One of the classic bondage positions, the hogtie is tremendously fun and versatile. The traditional hogtie is a physically demanding tie, but we'll look at options for making it more comfortable as well as more challenging. We'll also talk about how to adapt the hogtie to different body types and physical limitations.
Important details:
Scholarships are available for all Pan Eros Foundation workshops. If you need financial assistance, please email Leah at [email protected]
This is an intermediate level class. You should be familiar with basic kink concepts and should be able to tie a single column tie.
You will need to bring your own rope to this class. We recommend at least two 10-15′ lengths and at least one 20-30′ length.
All sexes, genders, races, ethnicities, sexual orientations, relationship orientations, bodies, body types, ability levels welcome and celebrated.
No late entry will be allowed due to the nature of this workshop. Doors will be locked at 10 minutes after the start time.
Open to all 18+
Water available. Please bring your own bottle or cup.
Attendance is limited to 24 people.
Questions may be directed to: [email protected]
COVID Protocols:

We require proof of a covid vaccine within the last 2 years. If you need a medical exemption to this policy, please contact us at at [email protected] at least 3 days before class.

We will announce the masking policy for this class on 10/14. If you buy tickets for a class before the covid policy has been finalized, please understand that masks may or may not be required.

About the Educators:

Full Circle Kink is a Seattle-based kink education group known for high-quality classes on a wide range of topics. Our classes span the spectrum from beginner topics to deep dives on highly technical subjects. Regardless of the topic, our expert instructors combine deep subject matter expertise with a relentless focus on teaching practical, real-world skills.

As well as being a great addition to other kinds of play, bondage is a lot of fun in its own right. This class focuses on techniques for strict, immobilizing bondage. If you fantasize about watching your partner squirm helplessly in your rope, this is the class for you. One of the best ways to truly immobilize someone is to tie them to the bed (or the couch, or the rack). Although it's easy to tie someone fairly securely, it is surprisingly hard to completely immobilize them. Making everything tighter isn't the answer: overly tight bondage isn't more secure, and it can be uncomfortable or even dangerous. We'll take a look at ties and techniques that are strict and secure without being unsafe. There are times, however, when you don't have any furniture to tie to. For those situations, the hogtie is a great choice. One of the classic bondage positions, the hogtie is tremendously fun and versatile. The traditional hogtie is a physically demanding tie, but we'll look at options for making it more comfortable as well as more challenging. We'll also talk about how to adapt the hogtie to different body types and physical limitations. Important details: Scholarships are available for all Pan Eros Foundation workshops. If you need financial assistance, please email Leah at [email protected] This is an intermediate level class. You should be familiar with basic kink concepts and should be able to tie a single column tie. You will need to bring your own rope to this class. We recommend at least two 10-15′ lengths and at least one 20-30′ length. All sexes, genders, races, ethnicities, sexual orientations, relationship orientations, bodies, body types, ability levels welcome and celebrated. No late entry will be allowed due to the nature of this workshop. Doors will be locked at 10 minutes after the start time. Open to all 18+ Water available. Please bring your own bottle or cup. Attendance is limited to 24 people. Questions may be directed to: [email protected] COVID Protocols: We require proof of a covid vaccine within the last 2 years. If you need a medical exemption to this policy, please contact us at at [email protected] at least 3 days before class. We will announce the masking policy for this class on 10/14. If you buy tickets for a class before the covid policy has been finalized, please understand that masks may or may not be required. Purchase tickets here! About the Educators: Full Circle Kink is a Seattle-based kink education group known for high-quality classes on a wide range of topics. Our classes span the spectrum from beginner topics to deep dives on highly technical subjects. Regardless of the topic, our expert instructors combine deep subject matter expertise with a relentless focus on teaching practical, real-world skills.

&media=">

As well as being a great addition to other kinds of play, bondage is a lot of fun in its own right. This class focuses on techniques for strict, immobilizing bondage. If you fantasize about watching your partner squirm helplessly in your rope, this is the class for you. One of the best ways to truly immobilize someone is to tie them to the bed (or the couch, or the rack). Although it's easy to tie someone fairly securely, it is surprisingly hard to completely immobilize them. Making everything tighter isn't the answer: overly tight bondage isn't more secure, and it can be uncomfortable or even dangerous. We'll take a look at ties and techniques that are strict and secure without being unsafe. There are times, however, when you don't have any furniture to tie to. For those situations, the hogtie is a great choice. One of the classic bondage positions, the hogtie is tremendously fun and versatile. The traditional hogtie is a physically demanding tie, but we'll look at options for making it more comfortable as well as more challenging. We'll also talk about how to adapt the hogtie to different body types and physical limitations. Important details: Scholarships are available for all Pan Eros Foundation workshops. If you need financial assistance, please email Leah at [email protected] This is an intermediate level class. You should be familiar with basic kink concepts and should be able to tie a single column tie. You will need to bring your own rope to this class. We recommend at least two 10-15′ lengths and at least one 20-30′ length. All sexes, genders, races, ethnicities, sexual orientations, relationship orientations, bodies, body types, ability levels welcome and celebrated. No late entry will be allowed due to the nature of this workshop. Doors will be locked at 10 minutes after the start time. Open to all 18+ Water available. Please bring your own bottle or cup. Attendance is limited to 24 people. Questions may be directed to: [email protected] COVID Protocols: We require proof of a covid vaccine within the last 2 years. If you need a medical exemption to this policy, please contact us at at [email protected] at least 3 days before class. We will announce the masking policy for this class on 10/14. If you buy tickets for a class before the covid policy has been finalized, please understand that masks may or may not be required. Purchase tickets here! About the Educators: Full Circle Kink is a Seattle-based kink education group known for high-quality classes on a wide range of topics. Our classes span the spectrum from beginner topics to deep dives on highly technical subjects. Regardless of the topic, our expert instructors combine deep subject matter expertise with a relentless focus on teaching practical, real-world skills.

">