Awesome Boundaries with Sex Positive World
When:
May 18, 2023 @ 7:00 pm – 10:00 pm
2023-05-18T19:00:00-07:00
2023-05-18T22:00:00-07:00
Where:
Gallery Erato
309 1st Ave S
Seattle
WA 98104

Cost:
Sliding Scale: $15-60. Scholarships available.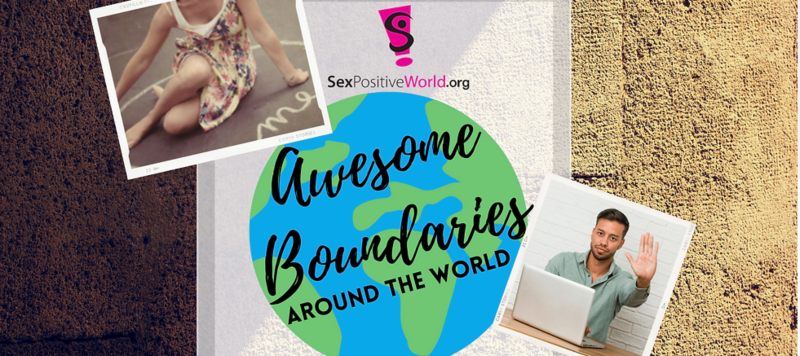 At one time or another we've all said yes when we wanted to say no, no when we wanted to say yes, and maybe when we really didn't mean it.  In one way or another we've pushed someone's boundaries, invaded their personal space or had ours invaded.  We've experienced conversations or touch we didn't want or gone in for some kind of touch without waiting, or accepted a lukewarm yes.
Whether you've been taught to go against your own boundaries in order to please others or to push hard for what you want, or a mix of both, this workshop is a place to explore together how we each got to where we are today with boundaries and how to get to a better place in how we set and receive boundaries.
During this workshop we'll:
Learn how to say "no", gently and caringly yet with authority and finality.
Learn how to explore safely using negotiation, changing our yes to a no when appropriate while giving and getting feedback.
Explore cultural differences in what looks and feels like a healthy boundary
Learn how to deal with someone who doesn't respect our boundaries
We'll discuss and demonstrate physical maneuvers to evade unwanted touch and, for COVID safety, sudden or slowly evolving lack of physical distancing.
Learn more about fight, flight, freeze and fawn responses in yourself and others.
This is a practical class where we work with actual situations sharing useful tools for bettering our boundaries and how well we perceive and support the boundaries of others.
There will be several break outs into smaller groups for discussion and practice. You'll be amazed at what comes up that you didn't even expect and how much you can learn about yourself, your boundary style and your self-talk when negotiating in real time with others.
This event is being offered by Jamie Cawelti, Executive Director of Sex Positive World and Sex Positive Portland. Come enjoy this opportunity to meet people from the Seattle area who care about healthy boundaries.
Participation in any and all activities is by discretion of each participant, no one will be expected to do anything they are not comfortable with – as a matter of fact, it is a "hell yes" or not at all.
Important Information:
This class is being offered on a sliding fee scale. However, if you need additional financial assistance, please email Leah at [email protected] to ask about our scholarship program.
No late entry will be allowed due to the intimate nature of this workshop. Doors will be locked at 10 minutes after the start time.
Water available. Please bring your own cup or bottle.
Open to all 18+
Attendance is limited to 40 people.
All sexes, genders, races, ethnicities, bodies, body types, sexual orientations, relationship orientations, abilities welcome and celebrated.
Questions may be directed to: [email protected]
Please let us know by email if you have any access needs or things that would aid in your learning.
Presenter Bio:
Jamie (she/they) is the Executive Director of both Sex Positive World and Sex Positive Portland, she got started in community leadership in California in 2018. She is polyamorous (solo poly), queer, and kinky with a love of shibari/rope bondage. She leads discussion groups and classes on consent, pleasure, relationships of all sizes, orientations, and dynamics. Her background is in communications, video production, and marketing; check out her YouTube channel and or social media @ExploringJamie

At one time or another we've all said yes when we wanted to say no, no when we wanted to say yes, and maybe when we really didn't mean it.  In one way or another we've pushed someone's boundaries, invaded their personal space or had ours invaded.  We've experienced conversations or touch we didn't want or gone in for some kind of touch without waiting, or accepted a lukewarm yes. Whether you've been taught to go against your own boundaries in order to please others or to push hard for what you want, or a mix of both, this workshop is a place to explore together how we each got to where we are today with boundaries and how to get to a better place in how we set and receive boundaries. During this workshop we'll: Learn how to say "no", gently and caringly yet with authority and finality. Learn how to explore safely using negotiation, changing our yes to a no when appropriate while giving and getting feedback. Explore cultural differences in what looks and feels like a healthy boundary Learn how to deal with someone who doesn't respect our boundaries We'll discuss and demonstrate physical maneuvers to evade unwanted touch and, for COVID safety, sudden or slowly evolving lack of physical distancing. Learn more about fight, flight, freeze and fawn responses in yourself and others. This is a practical class where we work with actual situations sharing useful tools for bettering our boundaries and how well we perceive and support the boundaries of others. There will be several break outs into smaller groups for discussion and practice. You'll be amazed at what comes up that you didn't even expect and how much you can learn about yourself, your boundary style and your self-talk when negotiating in real time with others. This event is being offered by Jamie Cawelti, Executive Director of Sex Positive World and Sex Positive Portland. Come enjoy this opportunity to meet people from the Seattle area who care about healthy boundaries. Participation in any and all activities is by discretion of each participant, no one will be expected to do anything they are not comfortable with – as a matter of fact, it is a "hell yes" or not at all. Purchase tickets here! Important Information: This class is being offered on a sliding fee scale. However, if you need additional financial assistance, please email Leah at [email protected] to ask about our scholarship program. No late entry will be allowed due to the intimate nature of this workshop. Doors will be locked at 10 minutes after the start time. Water available. Please bring your own cup or bottle. Open to all 18+ Attendance is limited to 40 people. All sexes, genders, races, ethnicities, bodies, body types, sexual orientations, relationship orientations, abilities welcome and celebrated. Questions may be directed to: [email protected] Please let us know by email if you have any access needs or things that would aid in your learning. Presenter Bio: Jamie (she/they) is the Executive Director of both Sex Positive World and Sex Positive Portland, she got started in community leadership in California in 2018. She is polyamorous (solo poly), queer, and kinky with a love of shibari/rope bondage. She leads discussion groups and classes on consent, pleasure, relationships of all sizes, orientations, and dynamics. Her background is in communications, video production, and marketing; check out her YouTube channel and or social media @ExploringJamie

&media=">

At one time or another we've all said yes when we wanted to say no, no when we wanted to say yes, and maybe when we really didn't mean it.  In one way or another we've pushed someone's boundaries, invaded their personal space or had ours invaded.  We've experienced conversations or touch we didn't want or gone in for some kind of touch without waiting, or accepted a lukewarm yes. Whether you've been taught to go against your own boundaries in order to please others or to push hard for what you want, or a mix of both, this workshop is a place to explore together how we each got to where we are today with boundaries and how to get to a better place in how we set and receive boundaries. During this workshop we'll: Learn how to say "no", gently and caringly yet with authority and finality. Learn how to explore safely using negotiation, changing our yes to a no when appropriate while giving and getting feedback. Explore cultural differences in what looks and feels like a healthy boundary Learn how to deal with someone who doesn't respect our boundaries We'll discuss and demonstrate physical maneuvers to evade unwanted touch and, for COVID safety, sudden or slowly evolving lack of physical distancing. Learn more about fight, flight, freeze and fawn responses in yourself and others. This is a practical class where we work with actual situations sharing useful tools for bettering our boundaries and how well we perceive and support the boundaries of others. There will be several break outs into smaller groups for discussion and practice. You'll be amazed at what comes up that you didn't even expect and how much you can learn about yourself, your boundary style and your self-talk when negotiating in real time with others. This event is being offered by Jamie Cawelti, Executive Director of Sex Positive World and Sex Positive Portland. Come enjoy this opportunity to meet people from the Seattle area who care about healthy boundaries. Participation in any and all activities is by discretion of each participant, no one will be expected to do anything they are not comfortable with – as a matter of fact, it is a "hell yes" or not at all. Purchase tickets here! Important Information: This class is being offered on a sliding fee scale. However, if you need additional financial assistance, please email Leah at [email protected] to ask about our scholarship program. No late entry will be allowed due to the intimate nature of this workshop. Doors will be locked at 10 minutes after the start time. Water available. Please bring your own cup or bottle. Open to all 18+ Attendance is limited to 40 people. All sexes, genders, races, ethnicities, bodies, body types, sexual orientations, relationship orientations, abilities welcome and celebrated. Questions may be directed to: [email protected] Please let us know by email if you have any access needs or things that would aid in your learning. Presenter Bio: Jamie (she/they) is the Executive Director of both Sex Positive World and Sex Positive Portland, she got started in community leadership in California in 2018. She is polyamorous (solo poly), queer, and kinky with a love of shibari/rope bondage. She leads discussion groups and classes on consent, pleasure, relationships of all sizes, orientations, and dynamics. Her background is in communications, video production, and marketing; check out her YouTube channel and or social media @ExploringJamie

">