A Casual Introduction to Knot-Based Bondage
When:
March 26, 2023 @ 12:00 pm – 3:00 pm
2023-03-26T12:00:00-07:00
2023-03-26T15:00:00-07:00
Where:
Gallery Erato
309 1st Ave S
Seattle
WA 98104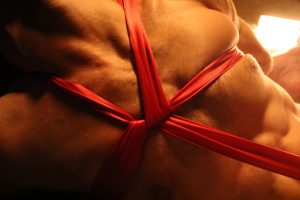 This workshop will help you get started with erotic knot-based bondage. This quick, hands-on three-hour workshop will touch on safety, basic terminology and skills, some fun tricks to try on your partners and expand the idea of what we can make knots with. This workshop specifically de-emphasizes virtuosity in favor of simply having fun with rope and bodies. Obviously, no experience necessary.
We will have some extra rope available (and ribbon, neck ties and robe ties), but we strongly recommend that you get yourself some good bondage rope and bring that.
Important Information: 
No late entry will be allowed due to the intimate nature of this workshop. Doors will be locked at 10 minutes after the start time.
Water available. Please bring your own cup or bottle.
Open to all 18+
Attendance is limited to 24 people.
All sexes, genders, races, ethnicities, bodies, body types, sexual orientations, relationship orientations, abilities welcome and celebrated.
Questions may be directed to: [email protected]
Scholarships available.
Please let us know by email if you have any access needs or things that would aid in your learning.
About the Educator:

Daniel McGlothlen is the queer/gender queer proprietor of visiblerestraint.com (NSFW), a kinky, queer porn site that's been around for a couple of decades. They are a kink performer, educator and enthusiast.  They have been facilitating Pan Eros Foundation's Hypnokink Enthusiasts Group (HEG) for about a year and Men Tying Men for about 3 years.  They have taught workshops for Pan Eros Foundation, Seattle Leather Service Corps, Dog House Leather, Seattle Men in Leather, Can You Knot (in Los Angeles), and PNW Leathermen's Campout (in Portland). Daniel is also pursuing a bachelor's degree in Psychology, with an emphasis on Sexuality and Gender Studies.  Daniel lives in Tacoma with their husband Craig.

This event is presented by the Pan Eros Foundation. Please go to Pan-Eros.org for more information.

This workshop will help you get started with erotic knot-based bondage. This quick, hands-on three-hour workshop will touch on safety, basic terminology and skills, some fun tricks to try on your partners and expand the idea of what we can make knots with. This workshop specifically de-emphasizes virtuosity in favor of simply having fun with rope and bodies. Obviously, no experience necessary. We will have some extra rope available (and ribbon, neck ties and robe ties), but we strongly recommend that you get yourself some good bondage rope and bring that. Purchase tickets here! Important Information:  No late entry will be allowed due to the intimate nature of this workshop. Doors will be locked at 10 minutes after the start time. Water available. Please bring your own cup or bottle. Open to all 18+ Attendance is limited to 24 people. All sexes, genders, races, ethnicities, bodies, body types, sexual orientations, relationship orientations, abilities welcome and celebrated. Questions may be directed to: [email protected] Scholarships available. Please let us know by email if you have any access needs or things that would aid in your learning. About the Educator: Daniel McGlothlen is the queer/gender queer proprietor of visiblerestraint.com (NSFW), a kinky, queer porn site that's been around for a couple of decades. They are a kink performer, educator and enthusiast.  They have been facilitating Pan Eros Foundation's Hypnokink Enthusiasts Group (HEG) for about a year and Men Tying Men for about 3 years.  They have taught workshops for Pan Eros Foundation, Seattle Leather Service Corps, Dog House Leather, Seattle Men in Leather, Can You Knot (in Los Angeles), and PNW Leathermen's Campout (in Portland). Daniel is also pursuing a bachelor's degree in Psychology, with an emphasis on Sexuality and Gender Studies.  Daniel lives in Tacoma with their husband Craig. This event is presented by the Pan Eros Foundation. Please go to Pan-Eros.org for more information.

&media=">

This workshop will help you get started with erotic knot-based bondage. This quick, hands-on three-hour workshop will touch on safety, basic terminology and skills, some fun tricks to try on your partners and expand the idea of what we can make knots with. This workshop specifically de-emphasizes virtuosity in favor of simply having fun with rope and bodies. Obviously, no experience necessary. We will have some extra rope available (and ribbon, neck ties and robe ties), but we strongly recommend that you get yourself some good bondage rope and bring that. Purchase tickets here! Important Information:  No late entry will be allowed due to the intimate nature of this workshop. Doors will be locked at 10 minutes after the start time. Water available. Please bring your own cup or bottle. Open to all 18+ Attendance is limited to 24 people. All sexes, genders, races, ethnicities, bodies, body types, sexual orientations, relationship orientations, abilities welcome and celebrated. Questions may be directed to: [email protected] Scholarships available. Please let us know by email if you have any access needs or things that would aid in your learning. About the Educator: Daniel McGlothlen is the queer/gender queer proprietor of visiblerestraint.com (NSFW), a kinky, queer porn site that's been around for a couple of decades. They are a kink performer, educator and enthusiast.  They have been facilitating Pan Eros Foundation's Hypnokink Enthusiasts Group (HEG) for about a year and Men Tying Men for about 3 years.  They have taught workshops for Pan Eros Foundation, Seattle Leather Service Corps, Dog House Leather, Seattle Men in Leather, Can You Knot (in Los Angeles), and PNW Leathermen's Campout (in Portland). Daniel is also pursuing a bachelor's degree in Psychology, with an emphasis on Sexuality and Gender Studies.  Daniel lives in Tacoma with their husband Craig. This event is presented by the Pan Eros Foundation. Please go to Pan-Eros.org for more information.

">