4 S's of Predicament Rope Bondage
When:
March 19, 2023 @ 1:00 pm – 3:00 pm
2023-03-19T13:00:00-07:00
2023-03-19T15:00:00-07:00
Where:
Gallery Erato
309 1st Ave S
Seattle
WA 98104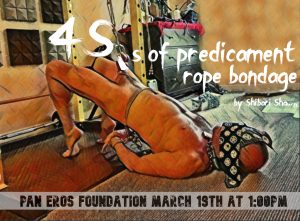 This rope bondage workshop will be a hands-on class with active participation. The workshop is fully inclusive and open for individuals of all genders and skill levels. We will briefly analyze the methodology of predicament bondage looking at the 4 S's: Sustainable, Stress, Suffer, and Sweat. We will look at various predicament positions and discuss creative approaches for "turn up the heat". The technical ties we will cover will be single column/double column ties, lashing to a pole, and ebi shibari (shrimp tie).
Important Information:
No late entry will be allowed due to the intimate nature of this workshop. Doors will be locked at 10 minutes after the start time.
Water available. Please bring your own cup or bottle.
Open to all 18+
Attendance is limited to 40 people.
All sexes, genders, races, ethnicities, bodies, body types, sexual orientations, relationship orientations, abilities welcome and celebrated.
Questions may be directed to: [email protected]
Scholarships available.
Please let us know by email if you have any access needs or things that would aid in your learning.
About the Educator:

Shibari Shawn is a local gay shibari artist and rope bondage educator. He started working with rope bondage in 2016. He has taken rope workshops with Iowa Friction in Cedar Rapids, IA, Studio Friction in Denver, CO, VoxBody in Oakland, CA, and RopeBurn in San Francisco, CA. Shawn has participated in international shibari conferences including RopeCraft in Chicago, G.R.U.E in Wisconsin, Tethered to Wifi out of Rhode Island, and Meet The Master series with Hajime Kinoko by Avalon in Australia. In 2019, Shawn started teaching classes by organizing the Homer Shibari Dojo in Homer, Alaska. In November 2021, Shawn presented 2 rope bondage workshops at the CLAW21 conference in Los Angeles and participated in the Bound and Beautiful art installation. In Seattle, he organizes monthly ropebondage events with the Seattle Leather Service Corps.  You can follow his work under the handle Bound To Be Knotty on social media.

FB: Shibari Shawn
Twitter: ToKnotty
Instagram: shibarishawnb2bk
Fetlife: bound2bKNOTTY

This rope bondage workshop will be a hands-on class with active participation. The workshop is fully inclusive and open for individuals of all genders and skill levels. We will briefly analyze the methodology of predicament bondage looking at the 4 S's: Sustainable, Stress, Suffer, and Sweat. We will look at various predicament positions and discuss creative approaches for "turn up the heat". The technical ties we will cover will be single column/double column ties, lashing to a pole, and ebi shibari (shrimp tie). Purchase tickets here! Important Information: No late entry will be allowed due to the intimate nature of this workshop. Doors will be locked at 10 minutes after the start time. Water available. Please bring your own cup or bottle. Open to all 18+ Attendance is limited to 40 people. All sexes, genders, races, ethnicities, bodies, body types, sexual orientations, relationship orientations, abilities welcome and celebrated. Questions may be directed to: [email protected] Scholarships available. Please let us know by email if you have any access needs or things that would aid in your learning. About the Educator: Shibari Shawn is a local gay shibari artist and rope bondage educator. He started working with rope bondage in 2016. He has taken rope workshops with Iowa Friction in Cedar Rapids, IA, Studio Friction in Denver, CO, VoxBody in Oakland, CA, and RopeBurn in San Francisco, CA. Shawn has participated in international shibari conferences including RopeCraft in Chicago, G.R.U.E in Wisconsin, Tethered to Wifi out of Rhode Island, and Meet The Master series with Hajime Kinoko by Avalon in Australia. In 2019, Shawn started teaching classes by organizing the Homer Shibari Dojo in Homer, Alaska. In November 2021, Shawn presented 2 rope bondage workshops at the CLAW21 conference in Los Angeles and participated in the Bound and Beautiful art installation. In Seattle, he organizes monthly ropebondage events with the Seattle Leather Service Corps.  You can follow his work under the handle Bound To Be Knotty on social media. FB: Shibari Shawn Twitter: ToKnotty Instagram: shibarishawnb2bk Fetlife: bound2bKNOTTY

&media=">

This rope bondage workshop will be a hands-on class with active participation. The workshop is fully inclusive and open for individuals of all genders and skill levels. We will briefly analyze the methodology of predicament bondage looking at the 4 S's: Sustainable, Stress, Suffer, and Sweat. We will look at various predicament positions and discuss creative approaches for "turn up the heat". The technical ties we will cover will be single column/double column ties, lashing to a pole, and ebi shibari (shrimp tie). Purchase tickets here! Important Information: No late entry will be allowed due to the intimate nature of this workshop. Doors will be locked at 10 minutes after the start time. Water available. Please bring your own cup or bottle. Open to all 18+ Attendance is limited to 40 people. All sexes, genders, races, ethnicities, bodies, body types, sexual orientations, relationship orientations, abilities welcome and celebrated. Questions may be directed to: [email protected] Scholarships available. Please let us know by email if you have any access needs or things that would aid in your learning. About the Educator: Shibari Shawn is a local gay shibari artist and rope bondage educator. He started working with rope bondage in 2016. He has taken rope workshops with Iowa Friction in Cedar Rapids, IA, Studio Friction in Denver, CO, VoxBody in Oakland, CA, and RopeBurn in San Francisco, CA. Shawn has participated in international shibari conferences including RopeCraft in Chicago, G.R.U.E in Wisconsin, Tethered to Wifi out of Rhode Island, and Meet The Master series with Hajime Kinoko by Avalon in Australia. In 2019, Shawn started teaching classes by organizing the Homer Shibari Dojo in Homer, Alaska. In November 2021, Shawn presented 2 rope bondage workshops at the CLAW21 conference in Los Angeles and participated in the Bound and Beautiful art installation. In Seattle, he organizes monthly ropebondage events with the Seattle Leather Service Corps.  You can follow his work under the handle Bound To Be Knotty on social media. FB: Shibari Shawn Twitter: ToKnotty Instagram: shibarishawnb2bk Fetlife: bound2bKNOTTY

">